Truth for Life - March 11, 2017
March 11
Sinful Beyond Measure
. . . Sin . . . Sinful beyond measure. - Romans 7:13
Beware of thinking lightly of sin. At the time of conversion, the conscience is so tender that we are afraid of the slightest sin. Young converts have a holy timidity, a godly fear of offending God. But sadly very soon the fine bloom upon these first ripe fruits is removed by the rough handling of the surrounding world: The sensitive plant of young piety turns into a willow in later life, too pliable, too easily yielding.
It is sadly true that even a Christian may grow by degrees so callous that the sin that once startled him does not alarm him in the least. By degrees men get familiar with sin. The ear in which the cannon has been booming will not notice slight sounds. At first a little sin startles us; but soon we say, "Is it not a little one?" Then there comes another, larger, and then another, until by degrees we begin to regard sin as but a small matter; and this is followed by an unholy presumption: "We have not fallen into open sin. True, we tripped a little, but we stood upright for the most part. We may have uttered one unholy word, but as for most of our conversation, it has been consistent." So we toy with sin; we throw a cloak over it; we call it by dainty names.
Christian, beware of thinking lightly of sin. Take heed in case you fall little by little. Sin a little thing? Is it not a poison? Who knows its deadliness? Sin a little thing? Do not the little foxes spoil the grapes? Doesn't the tiny coral insect build a rock that wrecks a navy? Do not little strokes fell lofty oaks? Will not continual drippings wear away stones? Sin a little thing? It put a crown of thorns on Jesus' head and pierced His heart! It made Him suffer anguish, bitterness, and woe. If you could weigh the least sin in the scales of eternity, you would run from it as from a serpent and abhor the slightest appearance of evil.
Look upon all sin as that which crucified the Savior, and you will see it to be "sinful beyond measure."
Family Bible reading plan
verse 1 Exodus 22
verse 2 John 1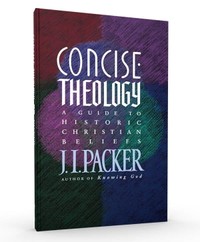 Concise Theology: A Guide to Historic Christian Beliefs
Distinguished theologian, J.I. Packer, presents a comprehensive inventory of Christian beliefs and theological tenants in straightforward language that's easy to understand. Covering a wide sweep of topics, including revelation, omniscience, predestination, regeneration, and justification, to name a few, Packer applies his unique insight into the Scripture, and to the nature of God, to explain 94 essential beliefs in brief, clear summaries. Concise Theology is not only a 'must have' resource for followers of Christ to fully understand the permanent foundations of Christianity, but also serves a timeless reference guide to revisit over and over throughout a believer's journey of understanding.
Click here to learn more about Truth For Life 
From Morning & Evening revised and edited by Alistair Begg copyright © 2003. Used by permission of Crossway Books, a publishing ministry of Good News Publishers, Wheaton, IL 60187, www.crossway.org.