March 12
Love Your Neighbor
You shall love your neighbor. - Matthew 5:43
"Love your neighbor." Perhaps he rolls in riches, and you are poor and living in your humble dwelling next-door to his mansion. Every day you see his estates, his fine clothes, and his extravagant parties. God has given him these gifts; covet not his wealth, and think no hard thoughts concerning him. Be content with what you have, if you cannot better it, but do not look upon your neighbor and wish that he was like you. Love him, and then you will not envy him.
Perhaps, on the other hand, you are rich, and the poor live nearby. Do not scorn to call them neighbors. Admit that you are bound to love them. The world calls them your inferiors. In what way are they inferior? They are far more your equals than your inferiors, for "He made from one man every nation of mankind to live on all the face of the earth."1 Your clothes are better than theirs, but you are in no way better than them. They are men, and what are you more than that? Pay attention that you love your neighbor even though he be in rags or sunken in the depths of poverty.
But perhaps you say, "I cannot love my neighbors because no matter what I do for them they respond with ingratitude and contempt." All the more reason for the heroism of love. Would you be a featherbed warrior instead of bearing the rough fight of love? He who dares the most shall win the most; and if the path of love is rough, tread it boldly, still loving your neighbors through thick and thin. Heap coals of fire on their heads, and if they are hard to please, do not seek to please them, but to please your Master; and remember if they spurn your love, your Master has not spurned it, and your deed is as acceptable to Him as if it had been acceptable to them.
Love your neighbor, for in so doing you are following the footsteps of Christ.
1) Acts 17:26
Family Bible reading plan
verse 1 Exodus 23
verse 2 John 2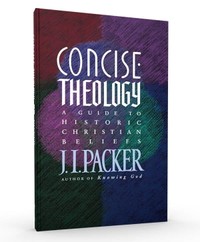 Concise Theology: A Guide to Historic Christian Beliefs
Distinguished theologian, J.I. Packer, presents a comprehensive inventory of Christian beliefs and theological tenants in straightforward language that's easy to understand. Covering a wide sweep of topics, including revelation, omniscience, predestination, regeneration, and justification, to name a few, Packer applies his unique insight into the Scripture, and to the nature of God, to explain 94 essential beliefs in brief, clear summaries. Concise Theology is not only a 'must have' resource for followers of Christ to fully understand the permanent foundations of Christianity, but also serves a timeless reference guide to revisit over and over throughout a believer's journey of understanding.
Click here to learn more about Truth For Life 
From Morning & Evening revised and edited by Alistair Begg copyright © 2003. Used by permission of Crossway Books, a publishing ministry of Good News Publishers, Wheaton, IL 60187, www.crossway.org.