Truth for Life - May 27, 2017
May 27
Mephibosheth's Example
So Mephibosheth lived in Jerusalem, for he ate always at the king's table. Now he was lame in both his feet. - 2 Samuel 9:13
Mephibosheth was not an attractive guest at the royal table; yet he had an open invitation because King David could see in his face the features of the beloved Jonathan. Like Mephibosheth, we may exclaim to the King of Glory, "What is Your servant, that You should show regard for a dead dog such as I?" But still the Lord invites us to share intimately with Him, because He sees in our countenances the remembrance of His dearly-beloved Jesus.
It is on account of Jesus that the Lord's people are dear to God. Such is the love that the Father bears to His only begotten that for His sake He raises His lowly brothers and sisters from poverty and exile to enjoy the king's court, noble rank, and royal provision. Their deformity shall not rob them of their privileges. Lameness is no bar to sonship; the disabled is as much the heir as if he could run like a gazelle.
Our ability to enter may be impaired but not our right of entry. A king's table is a noble hiding-place for lame legs, and at the gospel feast we learn to rejoice in infirmities because the power of Christ rests upon us. Yet serious disability may spoil the journey of the best-loved saints. Here is one feasted by David, and yet so lame in both his feet that he could not go up with the king when he fled from the city and was therefore maligned and injured by his servant.
Saints whose faith is weak and whose knowledge is limited are great losers; they are exposed to many enemies and cannot follow the king wherever he goes. This disease is frequently the result of a fall. Bad nursing in their spiritual infancy often causes converts to fall into a despondency from which they never recover, and sin in other cases brings broken bones. Lord, help the lame to leap like the hart, and satisfy all Your people with the bread of Your table!
Family Bible reading plan
verse 1 Numbers 36
verse 2 Psalms 80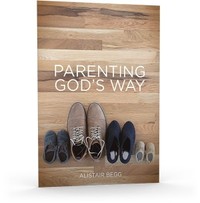 Parenting God's Way
For the last three decades, the idea of the traditional family has been under cultural assault. Every movement from the so-called sexual revolution to same-sex parenting has taken it's toll on the foundational building blocks of our society. How do parents navigate these challenges? God, the perfect Father, provides the answers. In this short, but wisdom-rich booklet, Alistair Begg, gives practical, biblical instruction on what it looks like to be a father and to be a mother . . . God's way.
Click here to learn more about Truth For Life 
From Morning & Evening revised and edited by Alistair Begg copyright © 2003. Used by permission of Crossway Books, a publishing ministry of Good News Publishers, Wheaton, IL 60187, www.crossway.org.