May 28
Your Troubles Will End Soon
Whom he justified he also glorified. - Romans 8:30
Here is a precious truth for you, believer. You may be poor or suffering or unknown, but for your encouragement take a moment to review your calling and the consequences that flow from it, and especially the blessed result spoken of here. As surely as you are God's child today, so surely will all your trials soon come to an end, and you shall be rich to an extent that is hard to imagine.
Wait awhile, and your weary head will wear the crown of glory, and the worker's hand shall grasp the palm-branch of victory. Do not bemoan your troubles, but rather rejoice that before long you will be where no longer "shall there be mourning nor crying nor pain anymore."1 The chariots of fire are at your door, and it will take only a moment to transport you to the glorified. The everlasting song is almost on your lip. The portals of heaven stand open for you.
Do not think that you can fail to enter into your rest. If He has called you, nothing can divide you from His love. Distress cannot sever the bond; the fire of persecution cannot burn the link; the hammer of hell cannot break the chain. You are secure; that voice which called you at first shall call you yet again from earth to heaven, from death's dark gloom to immortality's unuttered splendors. Rest assured, the heart of Him who has justified you beats with infinite love toward you. You will soon be with the glorified, where your portion is; you are only waiting here to be made ready for the inheritance, and with that done, the wings of angels shall carry you far away, to the mount of peace and joy and blessedness, where
Far from a world of grief and sin,
With God eternally shut in,
you shall rest forever and ever. 
Family Bible reading plan
verse 1 Deuteronomy 1
verse 2 Psalms 81, 82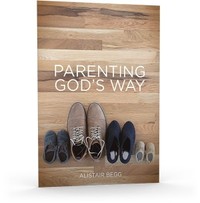 Parenting God's Way
For the last three decades, the idea of the traditional family has been under cultural assault. Every movement from the so-called sexual revolution to same-sex parenting has taken it's toll on the foundational building blocks of our society. How do parents navigate these challenges? God, the perfect Father, provides the answers. In this short, but wisdom-rich booklet, Alistair Begg, gives practical, biblical instruction on what it looks like to be a father and to be a mother . . . God's way.
Click here to learn more about Truth For Life 
From Morning & Evening revised and edited by Alistair Begg copyright © 2003. Used by permission of Crossway Books, a publishing ministry of Good News Publishers, Wheaton, IL 60187, www.crossway.org.