"Self" Apologetics
The Apostle Paul actively engaged the people of his generation, logically and persuasively "destroying arguments and every lofty opinion raised against the knowledge of God, and taking every thought captive to obey Christ" (2 Corinthians 10:5). Such is the work of apologetics, evangelism, and discipleship. But this is not only the work we should seek to do in the minds and hearts of others, it is a job that starts with our own thoughts and feelings. Earlier in the same letter Paul wrote, "we would not be outwitted by Satan; for we are not ignorant of his designs" (2 Corinthians 2:11). Consider the first record of the Tempter's work. He was insidiously twisting and contorting the commands of God in unsuspecting minds. He was tragically successful in leading those who should have known better to rationalize and justify their compromise with a series of distorted thoughts and feelings. We can read of Eve's sinful negotiations and we can easily imagine Adam's. So be careful. Police your heart and mind, deny and biblically counter any line of thinking or set of feelings that are not in keeping with the truth God has revealed in his word. Don't underestimate the battle that goes on in your mind. Be ruthless with self-serving "arguments" and "lofty opinions." With hope in Christ and our eyes in the Book, may we see increasing success in taking our own thoughts captive to obey Christ.
-- Pastor Mike
AUGUST OFFER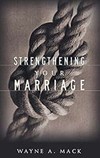 Do you know what biblical love is?  It certainly bears little resemblance to what passes for love in the world today.  When the people of our culture speak of "love" they are usually referring to something that impulsively springs from feelings of happiness, warmth, attraction, affection or pleasure. But the Bible uses the word to describe something very deliberate, usually without reference or thought to motives driven by good feelings.

In our marriage, understanding biblical love is critical.  This month we have chosen a book that will challenge you to live out biblical love in this very important relationship.  The book is titled Strengthening Your Marriage by Wayne Mack.  Whether you are in your first few years of marriage or celebrating your golden anniversary, this book provides practical encouragement for your most important earthly relationship. Request Strengthening Your Marriage with your donation of any amount this August.
Click Here to visit Focal Point Ministries' website