BIBLE VERSE OF THE DAY: "My sheep listen to my voice; I know them, and they follow me." - John 10:27
God Will Lead Your Way
by Lynette Kittle
How are you making decisions in life? Do you believe it's all up to you or do you rely on God to direct your steps?
You may believe since God gave you free will, it's for you to choose what to do and where to go. And yes, God has given you the ability to choose but He wants you to choose His ways.
Proverbs 3:5-6 encourages you to, "Trust in the Lord with all your heart and lean not on your own understanding; in all your ways submit to Him, and he will make your paths straight."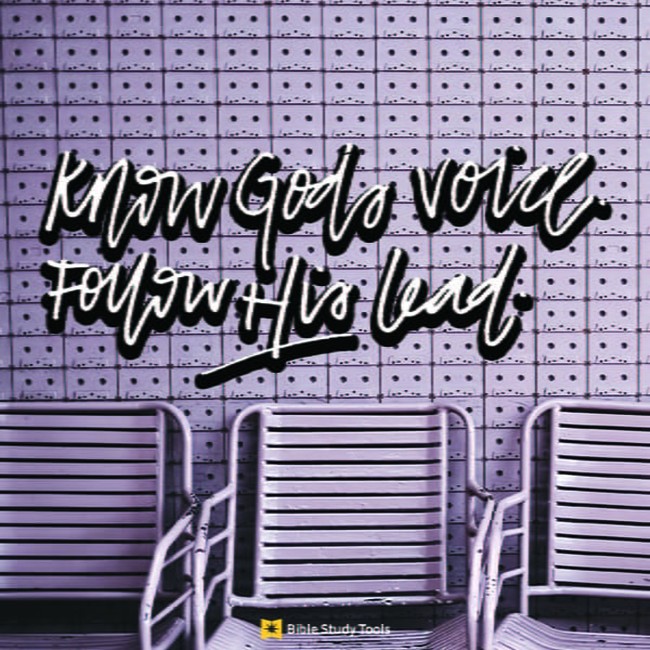 So by choosing to follow God, you don't have to depend on your own knowledge because He will lead you. By doing so, you'll gain the ability to hear His voice. John 10:27 describes how "My sheep listen to my voice; I know them, and they follow me."
Of course, you still have the choice to listen to God or go your own way. If you choose to venture out on your own, you may want to ask yourself if are you listening to your own voice or following another's leading?
If you're not sure how to distinguish the various thoughts that come into your mind, 2 Corinthians 10:5 directs you to "take captive every thought to make it obedient to Christ."
So in a practical, living-it-out daily kind of way, what does this look like?
When the devil tried to lead Jesus astray in the wilderness, Luke 4:1-13 describes how He handled bringing thoughts into captivity. He turned to God's truth in responding, understanding "The weapons we fight with are not the weapons of the world. On the contrary, they have divine power to demolish strongholds" (2 Corinthians 10:4).
As Hebrews 4:12 explains, "The word of God is alive and active. Sharper than any double-edged sword, it penetrates even to dividing soul and spirit, joints and marrow it judges the thoughts and attitudes of the heart."
Through studying the Scriptures, Jesus was prepared to reject wrong thoughts from leading Him astray. Like Him, you, too, can prepare yourself to recognize and take ungodly thoughts captive by studying God's Word (2 Timothy 2:15).
If you want to be confident you are hearing God's voice and following His leading, the key is to know God's Word. Studying Scripture equips you to recognize His voice and gives you the ability to distinguish between what is true or false.
---
Lynette Kittle is married with four daughters. She enjoys writing about faith, marriage, parenting, relationships, and life. Her writing has been published by Focus on the Family, Decision, Today's Christian Woman, iBelieve.com, kirkcameron.com, Ungrind.org, and more. She has an M.A. in Communication from Regent University and serves as an associate producer for Soul Check TV.
Want more Your Daily Bible Verse? We also have a podcast! This podcast features different verses than the written devotional you just read, but carries the same commitment to a closer look at Scripture each day. You can find out more by clicking the link below!