Mini Miracles Prove God Cares (Mark 6:42) - Your Daily Bible Verse - April 1
Mini Miracles Prove God Cares
By Shawn McEvoy
So they all ate and were filled. Mark 6:42
The title of my post today strikes me as oxymoronic. Miracles, after all, are defined as acts of God, amazing and marvelous events, and "seals of a divine mission" (Easton's 1897 Bible Dictionary). Generally speaking, there's nothing small about them.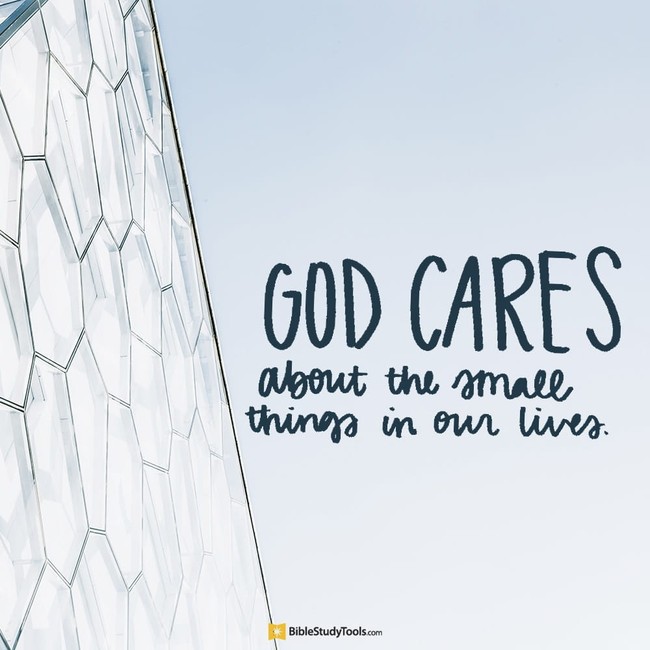 What I'm talking about then, are instances of heavenly intervention in the lives of believers that impact what we would consider "minor" areas of our existence, the things that cause us to make statements like: "It showed me that God cares about even the small things in our lives," always as if that's a profoundly shocking proclamation. Nobody ever responds by saying, "Well, duh…"
I think that's because it never stops being a mind-blowing concept - the Creator of the universe, who hears the prayers and praises of billions simultaneously and loves each one the same, provided, perhaps, just the right amount of money for a struggling single mom to buy her child a pair of shoes. It's not the parting of the Red Sea to preserve for Himself a people, or the resurrection of His son to purchase the redemption of humanity. It's, for lack of a better term, a mini-miracle.
I see an even greater personalization in mini-miracles, in God drawing delight from blessing our socks off in ways that speak to our individual hearts. The idea also gave me greater permission to attribute to the Lord all sorts of transpirings that I had chalked up to my own efforts, happenstance, or even worse, had gone without noticing.
If, for instance, I told you about the time we thought we'd lost my wife's keys - including several costly ones - only to find them sitting precariously on a single steel beam of the trailer behind our moving van, maybe you'd respond the way my friend Scott did: "You got lucky, dude." Yeah, well, that's why Karen says sometimes these events are "just for us." I saw those keys, I knew the bumpy route we had traveled, I was astounded, I was humbled. I decided that giving credit to the Lord for things that bless you is never wrong, as suggested by James 1:17.
I just don't do it enough.
I wonder how many mini-miracles I've missed out on by being impatient, angry, or inattentive. Donald Miller, in Blue Like Jazz, has Moses tell those worshipping the golden calf: "Your problem is not that God is not fulfilling, your problem is that you are spoiled" (92). Romans 1:20 would seem to indicate that the Lord's hand is evident everywhere - "people can clearly see His invisible qualities." I like that verse very much, because I like to think of myself as on the lookout for God.
But that brings me to the other ways to miss miracles - by not accepting them or expecting them, by resenting them or wanting to earn them. I quote from Blue Like Jazz again, where Miller admits, "I love to give to charity, but I don't want to be charity. This is why I have so much trouble with grace" (84).
Can we get past the affront of accepting a free gift? If we can, we might see the Lord trying to say through the Feeding of the 5,000 and even today, "Here I Am, stay here, spend more time, no need to go away, please accept this, put yourself in My hands, keep your eyes open, I love you."
After all, says Matthew 7:11, "If you sinful people know how to give good gifts to your children, how much more will your heavenly Father give good gifts to those who ask him?" Mini-miracles are the treats God brings home to His kids, those who seek him with childlike faith, those who consider themselves "the little things in life." Well, duh…
Today, try bringing something small home to a loved one to remind yourself of how much joy the Lord gets from giving.
Editor's note: This content was adapted from the original article "Mini-Miracles" which can be read in full here.
We want to experience God through the Bible… we really do!
But our good intentions fall flat when reading the Bible just doesn't seem to help us experience God in a real way. What should feel alive often feels confusing and boring and irrelevant. But it doesn't have to.
In the How to Study the Bible podcast, pastor and Bible teacher Nicole Unice brings life back to reading the Bible by walking listeners through her Alive Method of Bible study, helping us personally encounter God through his Word by giving us a practical, clear road map for understanding, interpreting and applying Scripture to our lives. Just click below to start listening now!