The Sword of the Spirit - Your Daily Bible Verse - December 8
BIBLE VERSE OF THE DAY: Finally, be strong in the Lord and in his mighty power. 11 Put on the full armor of God, so that you can take your stand against the devil's schemes. - Ephesians 6:10-12
The Sword of the Spirit
By Greg Laurie
The one piece of armor that is both offensive and defensive is the sword. When I go into battle, I don't beat my enemy with my shield or try to defeat him with my belt or chase him down with my sandal or throw my helmet at him. I pull my sword out of the sheath and I use it.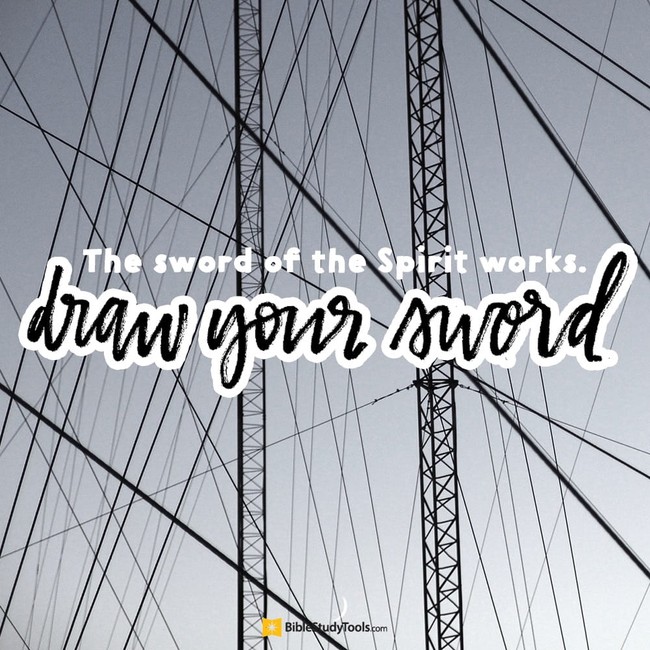 Ephesians 6:17 tells us to take up the sword of the Spirit. When we are tempted, the most effective weapon that God has given to us as believers is the sword of the Spirit, which is the Word of God.
Jesus modeled this so beautifully during His temptation in the wilderness. When the devil tried temptation after temptation against Him, Jesus used the sword of the Spirit (see Luke 4:1–13). The devil said, "Why don't you turn a rock into a piece of bread. I know you are hungry."
Jesus said, "It is written, 'Man shall not live by bread alone, but by every word that comes out of the mouth of God.' "
Then the devil said, "Why don't you worship me right now?"
Jesus responded, "It is written, 'You shall worship the Lord God only. Him only you shall serve.' "
"Why don't you cast yourself off of here, and the angels will catch you," Satan said, quoting Scripture out of context.
Jesus responded, bringing the Scripture back into context, "It has been said, 'You shall not tempt the Lord your God.' "
The sword of the Spirit works. So draw your sword, Christian.
Heavenly Father, arm us with your Word and with your Holy inspiration. Teach us to stand our ground against the enemy while helping those in distress, and give us the wisdom to know the difference between the two. Amen.
*Editor's Note: The following was adapted from Draw Your Sword by Greg Laurie. To read the full devotional, follow this link.
Want to go beyond a minute in the Word today? Continue over to BibleStudyTools.com!
We want to experience God through the Bible… we really do!
But our good intentions fall flat when reading the Bible just doesn't seem to help us experience God in a real way. What should feel alive often feels confusing and boring and irrelevant. But it doesn't have to.
In the How to Study the Bible podcast, pastor and Bible teacher Nicole Unice brings life back to reading the Bible by walking listeners through her Alive Method of Bible study, helping us personally encounter God through his Word by giving us a practical, clear road map for understanding, interpreting and applying Scripture to our lives. Just click below to start listening now!