Praying God's Will for One Another (James 5:16) - Your Daily Bible Verse - December 31
Praying God's Will for One Another (James 5:16)
By Lynette Kittle
Today's Bible Verse: "Therefore, confess your sins to each other and pray for each other so that you may be healed. The prayer of a righteous person is powerful and effective" - James 5:16
Prayer is powerful and effective, and God's word tells us to pray for each other so that we can be healed of the wounds, hurts, disappointments, and failures suffered in a fallen world.
Yet even in praying for one another, an effort seeming so selfless and noble, we can be tempted to be prideful and to follow our own thinking in how to pray for each other.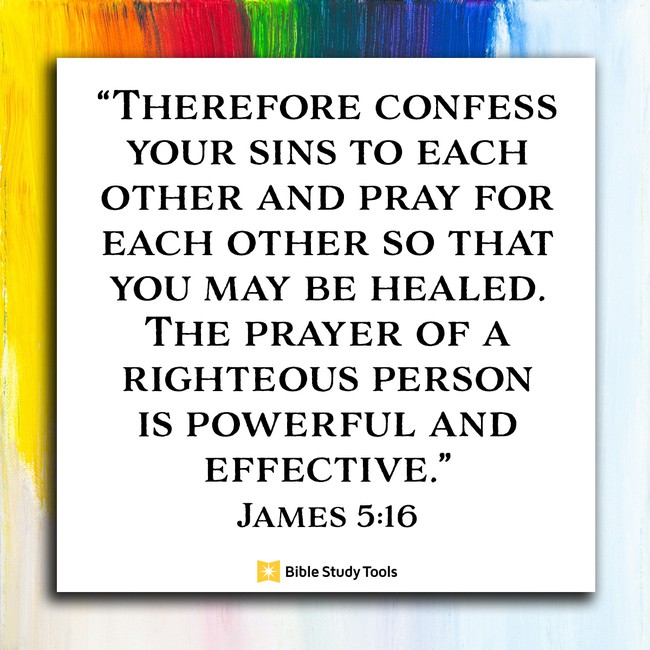 In the "Jung Frankenstein" episode of the sitcom, Kings of Queens, the lead character Doug Heffernan (Kevin James), starts seeing a therapist about his overeating habits. When his wife on the show Carrie Heffernan (Leah Remini), sees the positive results occurring from his visits, she starts thinking of the ways she would like him to grow and improve in ways to make her life better.
Her observances lead her to start passing notes to his therapist, pressuring him to direct her husband's counseling sessions in ways that will benefit her. As she sees noted improvements in Doug's behaviors and attitudes, Carrie starts adding more and more items to her list of what she wants the counselor to address.
How Am I Praying for Others?
While watching the show's storyline play out, it challenged me to examine myself to see how I'm praying for others. It encouraged me to ask myself if I ever attempt to use the same type of approach with God, as Carrie did with Doug's therapist?
Do I ever try to direct God through my prayers to do what I want Him to do in another's life, instead of seeking His will in how to pray for them? Do I find myself asking God to lead my husband, children, coworkers, and friends in ways I want them to go?
Likewise, how do I pray for my enemies, for those who hate me? Am I praying out of my own hurt and selfish desires for them, or am I truly seeking to pray God's will for their lives?
Scripture advises to "Trust in the Lord with all your heart and lean not on your own understanding" (Proverbs 3:5).
Yet how often am I tempted to think I know better how to pray for someone? Still, Romans 12:3 warns us to not think more highly of ourselves than we ought.
Of course, unlike the counselor, we can't push, bully, or twist God's arm to do what we think He should be doing in their lives. However, when we submit to His will in how to pray for them, our prayers have the potential to be powerful and effective in their lives.
How Do We Pray God's Will For One Another?
So how do we pray God's will for one another rather than our own?
We can start by asking to God help us to be sensitive to the leading of the Holy Spirit in praying for one another. "And pray in the Spirit on all occasions with all kinds of prayers and requests. With this in mind, be alert and always keep on praying for all the Lord's people" (Ephesians 6:18)
As well we can filter our prayers for one another through God's word, by correctly handling His word of truth (2 Timothy 2:15), so that we are praying His will for them rather than our own.
---
Lynette Kittle is married with four daughters. She enjoys writing about faith, marriage, parenting, relationships, and life. Her writing has been published by Focus on the Family, Decision, Today's Christian Woman, iBelieve.com, kirkcameron.com, Ungrind.org, Startmarriageright.com, growthtrac.com, and more. She has an M.A. in Communication from Regent University and serves as an associate producer for Soul Check TV.
We want to experience God through the Bible… we really do!
But our good intentions fall flat when reading the Bible just doesn't seem to help us experience God in a real way. What should feel alive often feels confusing and boring and irrelevant. But it doesn't have to.
In the How to Study the Bible podcast, pastor and Bible teacher Nicole Unice brings life back to reading the Bible by walking listeners through her Alive Method of Bible study, helping us personally encounter God through his Word by giving us a practical, clear road map for understanding, interpreting and applying Scripture to our lives. Just click below to start listening now!