Our Strong Foundation in a Shaky World (Hebrews 13:8) - Your Daily Bible Verse - January 14
Our Strong Foundation in a Shaky World
By Lynette Kittle
Jesus Christ is the same yesterday and today and forever - Hebrews 13:8
In a world where places and opportunities we believed would always be around, like jobs, stores, restaurants, and businesses, have closed down, many people are becoming fearful of what tomorrow will bring.
Thriving cities and communities where residents once felt safe have been shaken by ongoing unrest and upheaval.
Churches we believed would always have open doors have been shut.
Consequently, the disruptive chaos and uncertainty to everyday life has been shaking the core of people's confidence in what the world has to offer them. Many are feeling hopeless amidst the mayhem.
Yet Jesus remains the same. He hasn't and isn't changing. Not ever.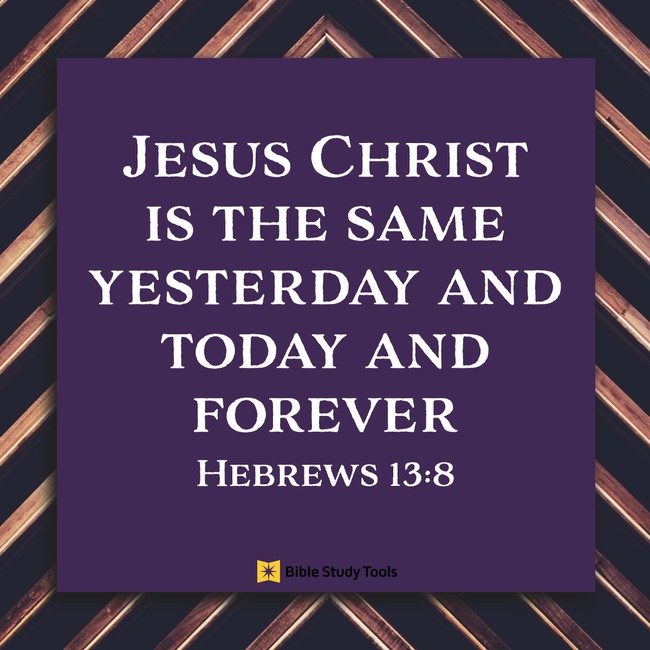 While the upheaval around the world is causing troubled hearts to be driven by fear, Jesus assures us in John 14:1, "Do not let your hearts be troubled. You believe in God; believe also in Me."
Even in the most turbulent of times, we can live in peace knowing Jesus remains our cornerstone (Ephesians 2:20), and our strong foundation (1 Corinthians 3:11). We don't have to fear whether or not we can rely on Him the next day, month, or years to come.
Because we can count on Him, Proverbs 3:25 urges us to, "Have no fear of sudden disaster or of the ruin that overtakes the wicked."
God has given us His Word that Jesus will be the same today, just like He was yesterday, and just like He will be tomorrow and forever. Unlike the crumbling foundations of the world, nothing can crack or destroy our Cornerstone.
And unlike those who don't know Christ as their Savior, we can rest in Him. Like Proverbs 3:24 assures us, "When you lie down, you will not be afraid; when you lie down, your sleep will be sweet."
Even when the world seems like it is falling apart, we have the assurance and steadfast knowledge of knowing Jesus is with us. As Joshua 1:9 reassures, God will be with us wherever we go, so we don't have to be afraid or discouraged. All the trouble in the world isn't powerful enough to keep Him away from us.
Like our parents and grandparents would grab our hand as children to keep us close and safe while walking across the street or venturing into crowded areas, in tumultuous times we can rely on God to do the same. He truly is wherever we go and when He sees we are about to walk through unstable areas, He will be there for us, too.
As Isaiah 41:10 assures, "So do not fear, for I am with you; do not be dismayed, for I am your God. I will strengthen you and help you; I will uphold you with my righteous right hand."
Because perfect love casts out fear (1 John 4:18), we don't have to live in fear of what tomorrow might bring. We can rest in confidence, knowing as Hebrews 13:5 reassures, Jesus will never leave us or forsake us.
---
Lynette Kittle is married with four daughters. She enjoys writing about faith, marriage, parenting, relationships, and life. Her writing has been published by Focus on the Family, Decision, Today's Christian Woman, iBelieve.com, kirkcameron.com, Ungrind.org, Startmarriageright.com, growthtrac.com, and more. She has an M.A. in Communication from Regent University and serves as an associate producer for Soul Check TV.
We want to experience God through the Bible… we really do!
But our good intentions fall flat when reading the Bible just doesn't seem to help us experience God in a real way. What should feel alive often feels confusing and boring and irrelevant. But it doesn't have to.
In the How to Study the Bible podcast, pastor and Bible teacher Nicole Unice brings life back to reading the Bible by walking listeners through her Alive Method of Bible study, helping us personally encounter God through his Word by giving us a practical, clear road map for understanding, interpreting and applying Scripture to our lives. Just click below to start listening now!