You Will Be Free Indeed (John 8:36) - Your Daily Bible Verse - July 15
You Will Be Free Indeed (John 8:36)
By: Amanda Idleman
Today's Bible Verse: "So if the Son sets you free, you will be free indeed." - John 8:36
Jesus came to Earth so we could live as free people.
The Bible tells us that God offers us access to freedom from sin, death, fear, heartbreak, relational brokenness, and he offers healing for our bodies too.
It is truly impossible to fully comprehend the extent of God's grace for us.
That is not to say that loss and suffering are not something we endure as Christians, but it does mean that our pain is never wasted. When we invite God into our story, he flips the scripts of our lives. He redeems the moments that felt as though they had no meaning, purpose, and we can look back and see threads of hope weaved into these dark spaces.
God shines light into our despair and uses our weakness to be a testimony of His abundant grace when we give our lives over to Him.
God is with us through every season of our life, and even in death he promises a greater future free of pain and suffering in Heaven. We have access to an unreasonable sense of hope when Jesus is a part of our lives. We can live confident that God is working every part of our lives out for our good (Romans 8:28).
What does it look like to walk in the freedom God promises us?
1. By his wounds we are set free from the curse of sin and death.
1 Peter 2:24 says, "He himself bore our sins in his body on the tree, that we might die to sin and live to righteousness. By his wounds you have been healed."
Jesus' died on the cross in place of us. Our perfect God cannot be in relationship with sin-filled humanity. That is why in the Old Testament, God required rituals and sacrifice from his people. But God knew that the rituals were insufficient and came up with an unbelievable plan to give up his Son so that we can be marked as righteous ones and have full access to God's kingdom.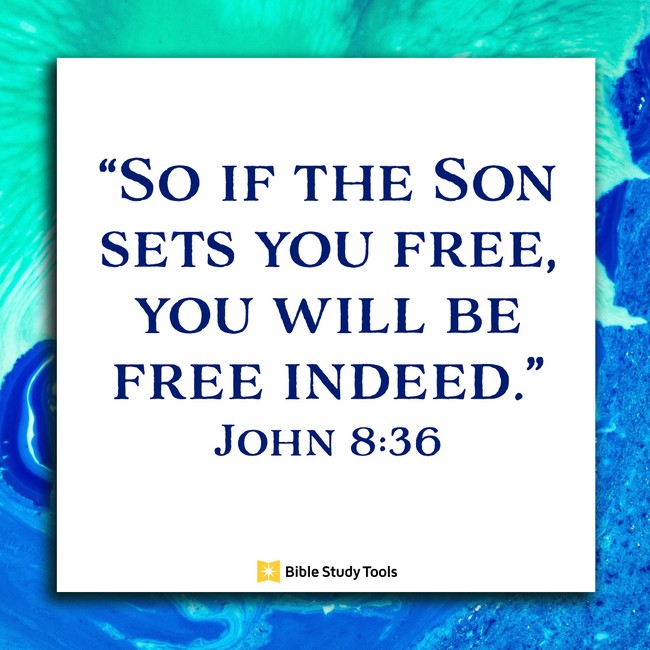 On the cross Jesus bore the weight of humanity's sin on his body. By his wounds we are set free from the curse of sin and death! The Gospel invites us into God's family and promises a future beyond the brokenness that plaques this world. God's sacrifice of his son grants us the hope of eternity spent with him in Heaven.
2. He sets us free from emotional brokenness.
Psalm 147:3 says, "He heals the brokenhearted and binds up their wounds."
Our brokenness is not limited to our bodies. Our minds, souls, and hearts can become discouraged by the trials we face in our lives. God cares about our mental health and offers a healing power that is capable of setting us free from discouragement, depression, fear, anxiety, bitterness, anger, addiction, and more.
His healing comes sometimes through a miraculous touch, through meditation on scripture, through prayer, through the accountability of Christian counseling, through the help of a doctor, and even through all of the above.
Ultimately, every path to healing is different. God's Spirit at work in our life is unpredictable. He leads us all on different journeys. One thing is sure that God desires us to find emotional freedom through his Spirit at work in our lives.
3. Prayers of faith can bring physical freedom.
James 5:15 says, "And the prayer of faith will save the one who is sick, and the Lord will raise him up. And if he has committed sins, he will be forgiven."
God partners with our faith to bring physical freedom from alignments that plague our lives. When we face sickness, physical pain, ailments, and loss God promises to hear our prayers and helps us through these tough seasons. 1 John 5:14 says, "And this is the confidence that we have toward him, that if we ask anything according to his will he hears us." God's ears are open to the cries of his people.
Jesus came to earth and fully experienced what it is to be human. He knows what it is to endure physical suffering and pain. He desires to bring healing, comfort, and peace when we endure suffering of all kinds. He never leaves us alone in our moments of pain (Isaiah 41:10).
God desires that we come to know him, that we find freedom in our lives, and then take the goodness he has given us and use it to make a difference in this world for his glory. We are set free so that we can share his love with this world through our lives. It's a beautiful cycle of holy restoration that is evidence of the amazing grace of God at work in our world.
---
Amanda Idleman is a writer whose passion is to encourage others to live joyfully. She writes devotions for My Daily Bible Verse Devotional and Podcast, Crosswalk Couples Devotional, the Daily Devotional App, she has work published with Her View from Home, on the MOPS Blog, and is a regular contributor for Crosswalk.com. You can find out more about Amanda on her Facebook Page or follow her on Instagram.
We want to experience God through the Bible… we really do!
But our good intentions fall flat when reading the Bible just doesn't seem to help us experience God in a real way. What should feel alive often feels confusing and boring and irrelevant. But it doesn't have to.
In the How to Study the Bible podcast, pastor and Bible teacher Nicole Unice brings life back to reading the Bible by walking listeners through her Alive Method of Bible study, helping us personally encounter God through his Word by giving us a practical, clear road map for understanding, interpreting and applying Scripture to our lives. Just click below to start listening now!