How Does God's Kindness Lead to Repentance? (Romans 2:4) - Your Daily Bible Verse - June 19
How Does God's Kindness Lead to Repentance? (Romans 2:4)
By Lynette Kittle
Today's Bible Verse: "Or do you show contempt for the riches of His kindness, forbearance and patience, not realizing that God's kindness is intended to lead you to repentance? - Romans 2:4
Have you ever tried to reach someone you love and care about with truth, but your words just seem to fall flat in their ears, like they don't even hear what you're saying?
In these situations, it can often seem like the more we try to explain or reach them with our words, the less they hear us.
Repetitive nagging usually backfires on us, too, because it's not the most effective way to communicate or bring the results we're hoping for in their lives.
As well, it can seem like praying about it doesn't seem to be changing anything or bringing any breakthroughs. In fact, it can appear like the more we pray the worse things get with them. Even so, we want to keep having hope and to continue to pray.
How Can We Help?
Have you heard the saying, "Actions speak louder than words?"
Well, it's true. Romans 2:4 backs this up. As well as praying, God offers us an effective way of reaching others, especially when they are ignoring our words or responding poorly to us.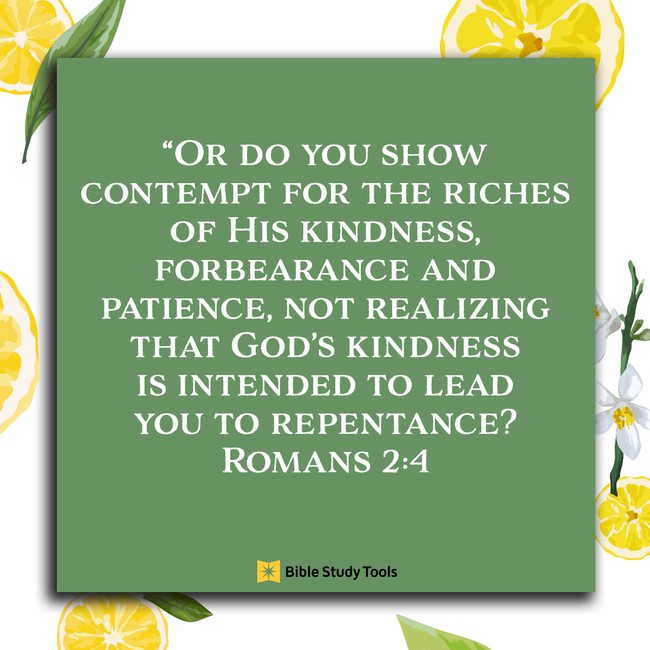 In today's culture, words are pretty cheap, but actions are far more costly. When we act kindly toward others, we are overcoming our own emotions and sense of fairness, to reach out in ways that may feel risky, uncomfortable, and bring rejection.
But God's way is to let His kindness speak to them through us, despite how they are behaving towards Him or us. Although we may think we know just what to say to reach someone, our words often fall short.
It doesn't mean we aren't speaking truth to them. More likely it's because we can't see their heart, so we don't know what words will really speak to them.
God's words are alive and active, and sharper than any double-edged sword penetrating and dividing soul and spirit, joints and marrow; and thoughts and attitude of the heart (Hebrews 4:12), and His kindness has a way of speaking, too, in a gentler and deeper way than we can imagine.
God knows how to reach their hearts and His kindness can move further than our words, bypassing defenses, lack of understanding, wounds, and more in those we are hoping to reach.
God's Kindness Changes Hearts
If anyone knows about kindness changing hearts, it's God.
"But when the kindness and love of God our Savior appeared, He saved us, not because of righteous things we had done, but because of His Mercy. He saved us through the washing of rebirth and renewal by the Holy Spirit, whom He poured out on us generously through Jesus Christ our Savior" (Titus 3:4-6).
Oh, when God sheds His kindness on us, how are any able to resist? His kindness melts the hardest hearts, heals and restores the deepest brokenness, and makes anew the most shattered souls.
By letting His kindness flow through us, God can touch and transform hearts in ways we can't even imagine.
---
Lynette Kittle is married with four daughters. She enjoys writing about faith, marriage, parenting, relationships, and life. Her writing has been published by Focus on the Family, Decision, Today's Christian Woman, iBelieve.com, kirkcameron.com, Ungrind.org, Startmarriageright.com, growthtrac.com, and more. She has an M.A. in Communication from Regent University and serves as associate producer for Soul Check TV.
Want more Your Daily Bible Verse? We also have a podcast! This podcast features different verses than the written devotional you just read, but carries the same commitment to a closer look at Scripture each day. You can find out more by clicking the link below!