How God Gives Strength through Weakness (2 Cor 12:10) - Your Daily Bible Verse - May 23
How God Gives Strength through Weakness (2 Cor 12:10)
By Lynette Kittle
Today's Bible Verse: "That is why, for Christ's sake, I delight in weaknesses, in insults, in hardships, in persecutions, in difficulties. For when I am weak, then I am strong" - 2 Corinthians 12:10
Have you ever wanted to reach out to others but feel so discouraged, broken, or unqualified in your present condition, that you believe you couldn't possibly encourage or help anyone else?
Many of us have felt that way in our lives. Yet, the Apostle Paul tells us to delight in weaknesses, insults, hardships, persecutions and difficulties because in our weaknesses, God will give us His strength.
Of course, feeling delighted by verbal attacks, powerlessness, struggles, and mistreatments is not an emotion most of us experience. In fact, most of us have quite the opposite reaction when we face these things. Instead of delight, we feel defeated, hopeless, and worthless.
It's part of the enemy's plan to make us feel crushed, worn down, and useless. He wants us to hesitate to reach out and help care for to one another.
How the Enemy Works to Wear Us Down
By telling us we aren't up to it and need to get our act together before we can be of any help to anyone else, the enemy convinces us that we aren't well enough to tell others about Him.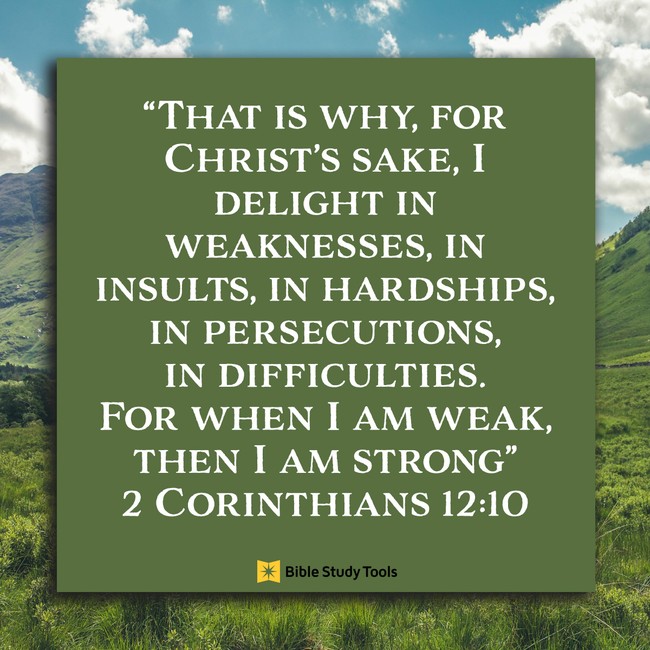 He tries to keep our struggles, failures, and weaknesses continually before us to cause us to believe we are in no shape to reach out and encourage others, or equipped to share God's love with them.
Although the enemy tells us our weaknesses disqualify us from reaching out to others, God assures us that we aren't ever supposed to be moving in our own strength and power.
Instead, we are to depend upon Him and draw our confidence from Him, rather than ourselves. When we do it's evident to those around us, that it is God at work through us and not by our own strength.
2 Corinthians 4:7, explains, "But we have this treasure in jars of clay to show that this all-surpassing power is from God and not from us."
Our Power Source
Although we may feel like we're just too fragile, walking around broken and beaten up, it's not ever supposed to be about us reaching out of our own strength but of letting God be our power source.
During our weakest times, 2 Corinthians 4:8-9 encourages us that even when we feel hard-pressed on every side, we aren't crushed. How even in despair, persecution and abandonment, we are not struck down or destroyed.
Whereas the world tells us we have to be strong and ruthless to survive on this earth, it's in our weaknesses where we really find the strength and power we need to face each day.
Philippians 4:13, urges us when feeling defeated and disqualified, to remember we can do all things through Christ who strengthens us.
When we feel powerless and without resources of our own to reach out to those around us, Ephesians 6:10 urges us to look beyond ourselves and find our power in the Lord.
"But He said to me, 'My grace is sufficient for you, for My power is made perfect in weakness.' Therefore I will boast all the more gladly about my weaknesses, so that Christ's power may rest on me" (2 Corinthians 12:9).
---
Lynette Kittle is married with four daughters. She enjoys writing about faith, marriage, parenting, relationships, and life. Her writing has been published by Focus on the Family, Decision, Today's Christian Woman, iBelieve.com, kirkcameron.com, Ungrind.org, Startmarriageright.com, growthtrac.com, and more. She has an M.A. in Communication from Regent University and serves as associate producer for Soul Check TV.
We want to experience God through the Bible… we really do!
But our good intentions fall flat when reading the Bible just doesn't seem to help us experience God in a real way. What should feel alive often feels confusing and boring and irrelevant. But it doesn't have to.
In the How to Study the Bible podcast, pastor and Bible teacher Nicole Unice brings life back to reading the Bible by walking listeners through her Alive Method of Bible study, helping us personally encounter God through his Word by giving us a practical, clear road map for understanding, interpreting and applying Scripture to our lives. Just click below to start listening now!