Believing God for the Impossible (Luke 18:27) - Your Daily Bible Verse - May 27
Believing God for the Impossible (Luke 18:27)
By Lynette Kittle
"All things are possible for those who believe. "Jesus replied, 'What is impossible with man is possible with God'" - Luke 18:27
Do you have a desire to go beyond praying prayers that ask God to answer only the things you think He can answer? Are you tired of feeling limited in your petitions, requesting God to move only in the ways you've decided he can move?
Many of us pray only when we can see a plausible path forward.
But what if you stepped out and began praying and asking God to accomplish things that seemed impossible, requests where it seems like there was no way it could ever happen except through God?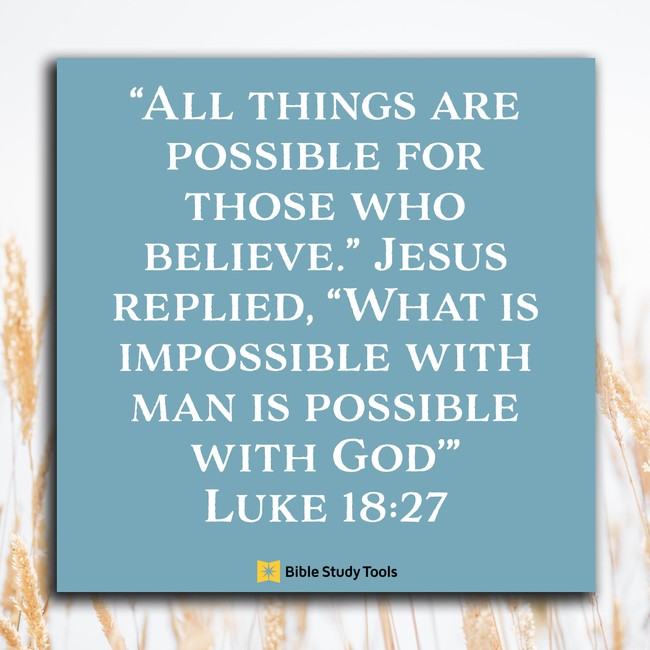 God tells us in Isaiah 43:19, that he can do impossible things, like making a path through the wilderness or creating streams in the desert.
Rather than pacing back and forth, waiting and hoping God will do something spectacular in our lives, are we ready step out and ask God for the impossible? To move in situations and lives where we can't see how He could possibly move? To ask Him to answer in ways we can't even imagine or possibly believe could even ever come about?
What's Holding Us Back from Seeing the Impossible?
As James 4:2 explains, we have not because we do not ask God.
Some might wonder if it's testing God to ask in such big ways? But after all, God tells us He is the God of the impossible.
And He is the One who says, "nothing is too difficult" for Him. As recorded in Jeremiah 32:17, "Ah, Sovereign Lord, You have made the heavens and the earth by your great power and outstretched arm. Nothing is too hard for you."
Are We Underestimating What God Can Do?
How many times do we forget what God is able to accomplish? Are we so accustomed to how the world works that we have come to underestimate what God can do? Have we been limiting how He is able to move on our behalf?
Yet, isn't He the One who gives life to the dead and calls those things, which are not, into existence? (Romans 4:17)
Are We Forgetting to Approach and Ask with Boldness?
Have we forgotten what Hebrews 4:16 urges us to do?
"Let us then approach God's throne of grace with confidence, so that we may receive mercy and find grace to help us in our time of need."
Like 1 John 5:14,15 explains, "This is the confidence we have in approaching God: that if we ask anything according to His will, He hears us. And if we know that He hears us—whatever we ask—we know that we have what we asked of Him."
Our Asking Reveals Our Faith and Pleases God
It pleases God when we step out in faith. "And without faith it is impossible to please God, because anyone who comes to Him must believe that He exists and that He rewards those who earnestly seek Him."
It also glorifies God to answer us. "And I will do whatever you ask in My name, so that the Father may be glorified in the Son" (John 14:13).
---
Lynette Kittle is married with four daughters. She enjoys writing about faith, marriage, parenting, relationships, and life. Her writing has been published by Focus on the Family, Decision, Today's Christian Woman, iBelieve.com, kirkcameron.com, Ungrind.org, Startmarriageright.com, growthtrac.com, and more. She has a M.A. in Communication from Regent University and serves as associate producer for Soul Check TV.
We want to experience God through the Bible… we really do!
But our good intentions fall flat when reading the Bible just doesn't seem to help us experience God in a real way. What should feel alive often feels confusing and boring and irrelevant. But it doesn't have to.
In the How to Study the Bible podcast, pastor and Bible teacher Nicole Unice brings life back to reading the Bible by walking listeners through her Alive Method of Bible study, helping us personally encounter God through his Word by giving us a practical, clear road map for understanding, interpreting and applying Scripture to our lives. Just click below to start listening now!