Staying Alert Against Temptation (1 Corinthians 10:13) - Your Daily Bible Verse - November 7
Staying Alert Against Temptation (1 Corinthians 10:13)
By: Betsy St. Amant Haddox
No temptation has overtaken you that is not common to man. God is faithful, and he will not let you be tempted beyond your ability, but with the temptation he will also provide the way of escape, that you may be able to endure it. 1 Corinthians 10:13 (ESV)
Temptation can often bring shame into a Christian's life. We get embarrassed or think, "I shouldn't be tempted by this again" or "I should be past this temptation by now as a believer."
But the Bible tells us that being tempted isn't itself a sin. We know this because Jesus was tempted by Satan in the wilderness after His baptism (Matthew 4) yet Jesus never sinned.
We also know via Hebrews 4:15-16 that "we do not have a high priest who is unable to sympathize with our weaknesses, but one who in every respect has been tempted as we are, yet without sin. Let us then with confidence draw near to the throne of grace, that we may receive mercy and find grace to help in time of need."
It should bring freedom and liberation to a Christian to realize that we aren't in this alone. 1 Corinthians 10:13 points out that every temptation is common to man. You might think your neighbor in the pew isn't struggling with X, Y or Z, but the Bible assures us otherwise. Some of the specifics of temptations might look different from person to person, but we all struggle with them.
Not only are we riding this same struggle bus with fellow believers, but Jesus Christ Himself understands the battle. Hebrews 4 reminds us that Jesus faced every temptation we do, yet overcame. Because of that, we can draw near to Him. He isn't standing arms crossed, judging us for being tempted to take that next sip or give that second look. He isn't shaking His head in disgust as we fight the urge to lie, cheat, or steal our way out of a situation or into success. He sympathizes with our weakness. God Himself—King of Kings, Lord of Lords—condescended into human flesh and can directly relate to our weakness in the flesh. He gets it—He's been there. And instead of being upset with us for not overcoming as He did, He offers grace and sympathy. What a God we serve!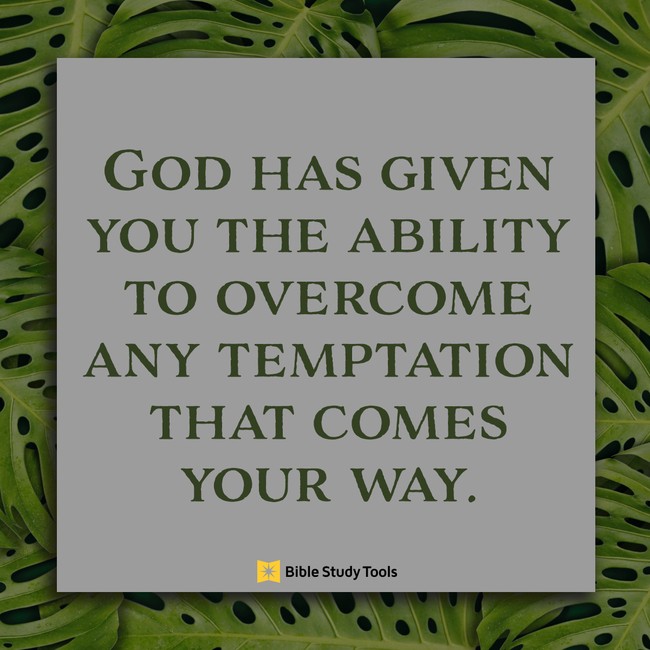 The sin comes into play, not with the temptation, but when we succumb to it. When we tell the lie. When we look with lust. When we act on the opportunity to steal or cheat. When we lift our heads in pride. When we form that idol. When we down the entire bottle.
James 1:14-15 (ESV) But each person is tempted when he is lured and enticed by his own desire. Then desire when it has conceived gives birth to sin, and sin when it is fully grown brings forth death.
So what do we do? Well, the best defense against sin is offense. How? Scripture tells us.
Psalm 119:11 (ESV) I have stored up your word in my heart, that I might not sin against you.
James 4:7 (ESV) Submit yourselves therefore to God. Resist the devil, and he will flee from you.
When we fill our minds with the Word of God, we're less likely to sin. When we're submitting to God and not forging our own path, we're more likely to turn away from temptation. When we're resisting the devil and refusing to believe his lies that sin brings fulfillment, he leaves us. And with that, temptation leaves us.
When temptation knocks, remember—it's wearing a cloak of deception. It won't fill you up or make you feel better or alleviate the pain. Maybe for a minute…but that's the lie. Sin always makes a believer feel worse afterward.
The next time temptation comes, have a plan in place. Know what you're going to do, what you're going to say, and where you're going to go to get away from it. God promises in 1 Corinthians 10 there is a way of escape. Find it, take it, and run. You'll never regret it.
---
Betsy St. Amant Haddox is the author of more than fifteen inspirational romance novels and novellas. She resides in north Louisiana with her hero of a hubby, two total-opposite young daughters, a vast collection of coffee mugs, and an impressive stash of Pickle chips. Betsy has a B.A. in Communications and a deep-rooted passion for seeing women restored in Christ. When she's not sweating it out at Camp Gladiator or trying to prove unicorns are real, Betsy can usually be found somewhere in the vicinity of a white-chocolate mocha—no whip. Look for her latest novel with Revell, The Key To Love, coming October 2020. Visit her at http://www.betsystamant.com.
We want to experience God through the Bible… we really do!
But our good intentions fall flat when reading the Bible just doesn't seem to help us experience God in a real way. What should feel alive often feels confusing and boring and irrelevant. But it doesn't have to.
In the How to Study the Bible podcast, pastor and Bible teacher Nicole Unice brings life back to reading the Bible by walking listeners through her Alive Method of Bible study, helping us personally encounter God through his Word by giving us a practical, clear road map for understanding, interpreting and applying Scripture to our lives. Just click below to start listening now!