When Should We Praise God? (Psalm 66:17) - Your Daily Bible Verse - October 26
When Should We Praise God? (Psalm 66:17)
By: Anne Peterson
Today's Bible Verse: For I cried out to Him for help praising him as I spoke. - Psalm 66:17
My friend and I sat quietly as the conference speaker shared her story. She told the story of how God had spared her son when one day he was swinging around a wooden bat and he hit the fluorescent light on the ceiling.
She continued speaking, "There was glass all around his young body in a perfect circle. When the fog lifted, I saw him and though there was glass surrounding that circle, inside he stood perfectly fine, untouched. God is good!"
I looked over at Jeanie and saw a tear slide down her face. I knew her question even before she whispered it to me.
"Would she have said God is good if her son had been hurt?"
Jeanie and Al had recently buried their infant daughter, Erin. Erin had lived through 5 major surgeries, but tragically died in her crib. All of Al and Jeanie's friends shared in their grief. I still remember when I visited Erin in the hospital. She was only 4 1/2 pounds and had to remain there. I watched as Jeanie stroked her daughter's precious little leg and she softly sang the words, "Jesus loves me, this I know…"
I was certain that as she sang, God hushed heaven and told his angels to watch and see what love looked like.
Too often, we wait and praise God after he answers our prayers with the yes we had hoped for. We wait to praise him until after a loved one recovers, or we get that job we badly needed.
When Jesus went to visit his friends Mary and Martha following Lazarus' death, Jesus asked them to take him to where Lazarus was laid. They reminded him that he had been dead for a few days and that he would stink. That did not deter Jesus. And we know that Jesus called on God at that moment. And the order of what he prayed always struck me:
Then Jesus looked up and said, "Father, I thank you that you have heard me. I knew that you always hear me, but I said this for the benefit of the people standing here, that they may believe that you sent me."
When he had said this, Jesus called in a loud voice, "Lazarus, come out!" The dead man came out, his hands and feet wrapped with strips of linen, and a cloth around his face. Jesus said to them, "Take off the grave clothes and let him go." - (John 11:42-45).
Jesus thanked God for hearing him before Lazarus took one wobbly step. Before!
Recently when reading Psalms 66, I came across verse 17 where David said he cried out to God for help, praising him as he spoke. Similarly, Paul sang in prison as he waited for God to answer his prayers. Both these men believed God was more than able to do what they asked. Do we believe that?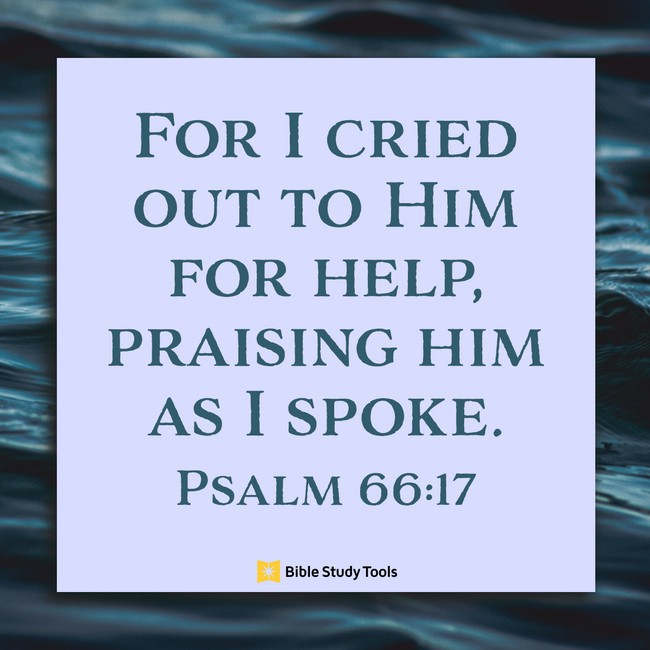 Sometimes I think we get things backward. We mistakenly think God is good when he answers our prayers. In her book, The God of All Comfort, Hannah Hurnard tells us that God can be nothing less than good. God's goodness is part of his character. It's who God is.
May we continue to lean on God with our whole weight, praising God as we call out to him, just like God's servant, David.
God is Good
Lord, I pray you help us learn
and to discern what's true.
That you are worthy of all praise,
no matter what you do.
And God, if there are ever times
when you're misunderstood,
help us just remember this—
that you are always good.
© Anne Peterson
---
Anne Peterson is a regular contributor to Crosswalk. Anne is a poet, speaker, published author of 16 books, including her latest book, Always There:Finding God's Comfort Through Loss. Anne has also written and published books entitled He Whispers: Poetic talks with God. Sign up for Anne's newsletter at www.annepeterson.com and receive a free eBook by clicking the tab. Or you can connect with her on Facebook.
We want to experience God through the Bible… we really do!
But our good intentions fall flat when reading the Bible just doesn't seem to help us experience God in a real way. What should feel alive often feels confusing and boring and irrelevant. But it doesn't have to.
In the How to Study the Bible podcast, pastor and Bible teacher Nicole Unice brings life back to reading the Bible by walking listeners through her Alive Method of Bible study, helping us personally encounter God through his Word by giving us a practical, clear road map for understanding, interpreting and applying Scripture to our lives. Just click below to start listening now!