A Prayer for a New Focus - Your Daily Prayer - September 29
A Prayer for a New Focus
By: Emily Rose Massey
"Turn my eyes from looking at worthless things; and give me life in your ways" (Psalm 119:37, ESV).
I saw a sign the other day that said: "I saw it. I liked it. I bought it. Now hide it!"
You know, it is often a joke among women that we hide our Amazon Prime packages or shopping bags from our husbands like it is a secret behavior that all women do that is normal. But sister, this is so wrong. And quite frankly, it is a sin. How can we be in unity with our spouse if we are literally hiding something from them? Why do we make jokes about that? We need to call this what it is, and admit we have a problem. This behavior is materialistic and can often be rooted in covetousness, and it is not a joking matter to God. This saying above isn't cute and should reveal to us the matter of our hearts. It seems where our eyes wander, our heart follows and can become fixated upon whatever has our gaze. We need to readjust our focus and if we are not able to overcome the temptation, we need the Lord's help, especially if we are continually tempted by material possessions and give into hiding our addiction to "more stuff."
Do you wrestle with impulsively buying things you don't need? I do, big time.
But I have been convicted of this sin and do not want to grieve God nor my husband with this widely accepted behavior in our society. There is a verse in Psalms that is a cry to the Lord for helping turn our focus from temporal things that don't matter:
"Turn my eyes from looking at worthless things; and give me life in your ways" (Psalm 119:37, ESV).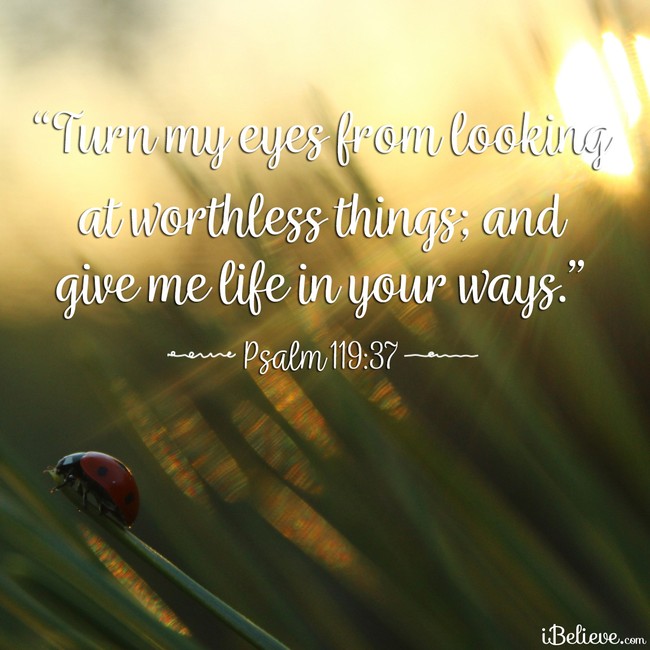 We find life in God's ways, not in the world's ways of accumulation of more material possessions. Our possessions should be a blessing to us and others and not turn into idolatry, leading our hearts away from God and the things of God. Although we live here on earth, as believers, we are citizens of heaven, and we should lift our gaze to heavenly things more than earthly things. In a culture that jokes about shopaholics hiding their problem of impulsive buying, let us be different by pointing others to Christ and His ways where true abundant life is found.
Let's hold each other accountable, friends. The temptation is strong, but God can help us overcome. He always provides a way out. Let us ask the Lord to help us keep our eyes on Him and that escape and ask Him for strength when temptation comes. May we also ask Him to turn our eyes to what is eternal and more precious than worthless material possessions where moth and rust eat at them.
Father,
My eyes have wandered onto obsessing over material possessions. When I scroll social media, I feel the pressure to own what others own that they are often trying to market to me. I ask for Your help to guard my heart from materialism and covetousness.
I also repent for perhaps giving into the temptation of hiding this struggle that seemingly feels too difficult to overcome. I know that You always provide a way of escaping every temptation. It is not a sin to be tempted, but it is a sin to act upon that temptation. I long to walk in Your ways because I want to obey You, and I know Your ways provide life abundantly.
Thank You for Your grace and mercy that is new every morning that gives me a new focus upon You and Your Kingdom.
In Jesus' Name, Amen.
---
Emily Massey began writing short stories and poetry as a little girl, entered the blogging world in her early 20s, and published her first book in 2015. She enjoys being a stay-at-home momma while still being able to pursue her passion as a writer. Believing she has been forgiven much, she loves much, and desires to point others to Christ and His redemptive and transforming power, especially by sharing truth found in God's written word. If you would like to connect with Emily, you can visit www.emilyrosemassey.com.
Teach Us to Pray is a FREE prayer podcast hosted by iBelieve writer Christina Patterson. Each week, she gives you practical, real-life tips on how to grow your faith and relationship with God through the power of prayer. To listen to her episode on What to Pray in the Morning for a Worry-Free Day, click below!


Now that you've prayed, are you in need of someone to pray for YOU? Click the button below!
Visit iBelieve.com for more inspiring prayer content.