A Prayer for a Strong Marriage
By Amelia Rhodes
"Though one may be overpowered, two can defend themselves. A cord of three strands is not quickly broken." ( Ecclesiastes 4:12)
Between his work travel, my work travel, two tween children, and a fixer-upper house, sometimes it feels as though we are more like teammates than husband and wife. In fact, we often will fist bump each other as we pass in the hallway with a "go team," chant.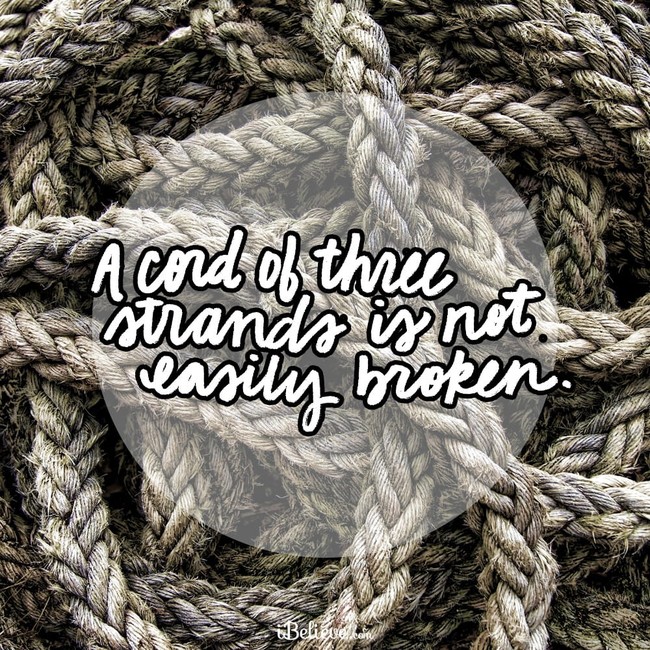 Keeping a marriage strong in the midst of shuffling schedules and rigorous responsibilities takes intentional effort and a whole lot of prayer.
We can be cruising along for years, even decades, and suddenly realize we've created separate lives and a distance in our relationship that we never intended.
Prayer: Father, your greatest command was to love You and love each other (Matthew 22:36-40). You've given marriage as a holy relationship that reflects our relationship with You. Show us how to follow your example and set aside our selfishness and pride and humbly serve each other. Help us to be of one spirit and of one mind and value each other above ourselves, looking out for each other's interests (Philippians 2:2-4). In the midst of our busy lives, help us take time to love each other deeply from the heart, as you have loved us (Ephesians 5:1-2). May the love we have for each other be an example to the world of how You love them and gave Your life for them.
Father, help us not to just go to church on Sunday, but to recognize that your presence goes with us wherever we go. May we know a deep communion with you every day. May our marriage be a place where we grow together and lean on You in every situation. Help us to grow to be more like You every day, having a unity in Spirit, being patient, humble and gentle with each other, and bearing each other's burdens with Your love and strength. Fill our marriage with Your peace. When a struggle or strife arises, may our first response be to come to You together for help. Help us make talking about You and Your Word a priority. We ask your Spirit to help us understand Your Word and grow together in our love and service to You.
Father, life gets so busy and things can creep into our marriage and cause distance. Help us be intentional in spending time together and reveal things that are creating a chasm in our relationship. Protect us from things that will divide us, whether it be time spent online or a recreational activity or a friendship that is taking away from our marriage. Help us know how to remedy the situation and bring a closeness back into our marriage with You at the center.
Father, enable us to forgive each other as You have forgiven us. Help us not to hold onto bitterness, keep records of wrong, or allow the enemy any foothold in our relationship. Keep our hearts sensitive to You and each other, and move us to the work of reconciliation quickly. When we are wounded, help us be honest with each other and not fear retaliation. Help us to work through our differences in a way that honors You and strengthens our relationship. Help us grow in humility and recognize when we have wounded each other. Give us Your strength to ask for and give forgiveness.
Whether you pray individually or together as a couple, or with a group of friends who support each other by praying for your marriages, may you know the power and peace that comes from laying your burdens at the Father's feet.
Editor's Note: Content taken from "5 Things to Pray for Your Marriage" by Amelia Rhodes. You can read that piece in full here. All rights reserved.
Want more Your Daily Prayer? We also have a podcast! This podcast is different than the written devotional you just read, but carries the same commitment to a closer look at Scripture each day. You can find out more by clicking the link below!
Now that you've prayed, are you in need of someone to pray for YOU? Click the button below!
Visit iBelieve.com for more inspiring prayer content.