A Prayer for Finding Balance - Your Daily Prayer - February 5
A Prayer for Finding Balance
By: Kristine Brown
"Beloved, I pray that all may go well with you and that you may be in good health, as it goes well with your soul." 3 John 1:2
Looking at my calendar for the week, a familiar heaviness settles into my stomach. I've done it again. Not intentionally, but when those last few requests came in for one more phone call, one more meeting, one more event, I said yes. Now, I'm regretting it with everything in my being.
The only way out is also a familiar tune I sing to myself every time overwhelm takes over. "I need a break. I need to rest." The pressure of doing it all is followed by the desire to step away from it all. Give in to the exhaustion.
And just like that, I've fallen into the same trap of "all or nothing" that I promised myself I'd avoid.
Life feels a lot like a roller coaster ride these days. As a kid, I anticipated the adrenaline rush of going faster and faster, followed by the need for a reprieve. Pretty soon that desire for more rush took over and I was back in line again. Fun for a visit to the theme park, not so much when it's real life. If only I could learn to move with steady assurance instead of full-speed ahead. If only I could find balance in life.
"Beloved, I pray that all may go well with you and that you may be in good health, as it goes well with your soul." 3 John 1:2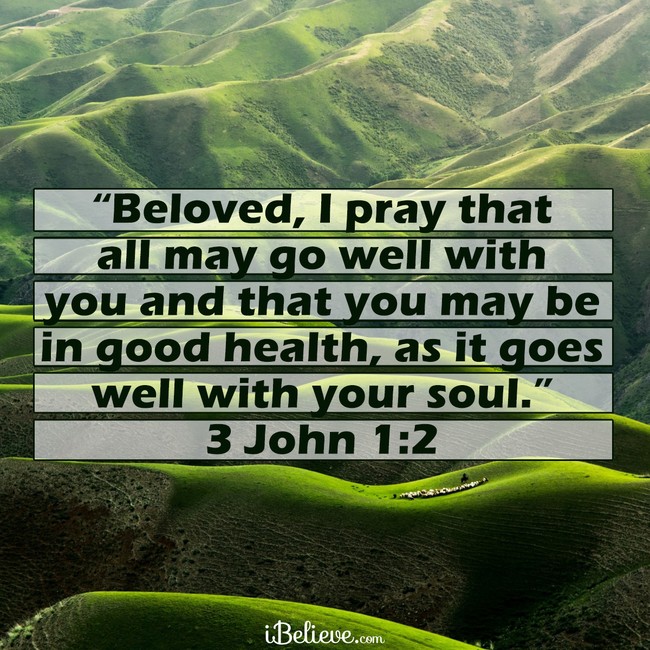 In this opening to his friend Gaius, John makes a statement about the connection between our physical health and spiritual health. We can work diligently for the Lord, our families, and our jobs with the best intentions. But every go-getter knows when we don't stay centered on God, we will find ourselves overloaded. Left unchecked, we will keep going until we crash. Physically depleted. Then we fall behind on our tasks, and the cycle repeats.
But it doesn't have to be that way. We can keep our minds, hearts, and bodies in perfect balance when we refocus through prayer. Notice in John's letter how he commits to praying for his friend. When we pray for God to keep us in good balance, He will help us. Let's begin with this prayer for finding balance in our lives.
Dear Heavenly Father,
I like being busy, and I believe you created me to be productive. But time and time again I get into a pattern of saying yes and adding one more thing to my already full calendar. Pretty soon I end up physically exhausted and wanting a break from everything. Forgive me Lord for relying on my own strength instead of calling out to You for help. You are my hope and the answer for this struggle.
Your Word says in Romans 8:28 ESV, "And we know that for those who love God all things work together for good, for those who are called according to his purpose." You've called me. Therefore I don't have to prove myself with good works. You love me and want me to live in good health. You want me to prosper in soul and body. When I start running full-speed ahead, help me remember to let You guide the way. Help me stay centered on Your son Jesus.
I give you praise today for giving second chances. You never give up on me, and You provide the answers I need for the off-balance life I've been living. Thank you for grace, mercy, and for leading me into the balanced life You offer through the Holy Spirit.
In Jesus' name, Amen.
---
For more spiritual growth resources, check out this free email study from Kristine Brown, Walking with Hagar: A 5-Day Challenge for Following God's Plan. You'll find weekly encouragement to help you "become more than yourself through God's Word" at her website, kristinebrown.net. Kristine is the author of the book, Over It. Conquering Comparison to Live Out God's Plan, and the companion devotional for teens.
Teach Us to Pray is a FREE prayer podcast hosted by iBelieve writer Christina Patterson. Each week, she gives you practical, real-life tips on how to grow your faith and relationship with God through the power of prayer. To listen to her episode on What to Pray in the Morning for a Worry-Free Day, click below!


Now that you've prayed, are you in need of someone to pray for YOU? Click the button below!
Visit iBelieve.com for more inspiring prayer content.