A Prayer for God to Search and Know Your Heart - Your Daily Prayer - October 17
A Prayer for God to Search and Know Your Heart
By: Victoria Riollano
"Search me, O God, and know my heart; test me and know my anxious thoughts. Point out anything in me that offends you, and lead me along the path of everlasting life." - Psalm 139:23-24
"Can you please take out the trash?"
"There are dishes in the sink…who's turn, is it?
As a mother of multiple teens and tweens, my days are lately filled reminder after reminder for them to complete the tasks needed to help our house feel like a home. Yet, if I am honest, having a cozy home is not my only motivation for having them to work around the house. As my mother used to say, "Always keep your house clean so that if someone comes over unannounced, you won't be embarrassed." Although we don't get regular visitors, etched in the back of my mind is the reality that an unexpected visitor could walk in to see the bursting trash can or the dishes stacked to the roof. The idea of being ashamed keeps me on my toes.
Over the last few weeks, I started to think about how much effort I make to not let others see "my mess." Truthfully, this level of trying to "cover the trash" is not just pertaining to my home. In public, I try to keep myself from getting angry. Many times, I hide my emotions to not be seen in a negative way. Even more so, my secret thoughts would put me to shame if brought to light. How could one recover from the shame of their own jealousy, fury, disgust, and selfishness were ever aired out like dirty laundry? Much like the way I seek to hide away the trash in my home, the same happens in my own soul. Day after day, I think we all work hard to ensure no one is exposed to our "messy situations."
In Psalm 139, we see David's heart cry as he says, "Search me Lord." David had a life full of messy moments. From adultery and deception to murder, his fleshly desires had caused him much inner turmoil. Yet, instead of allowing these moments to define him, we see in the Psalms a humility to run to God with his turmoil.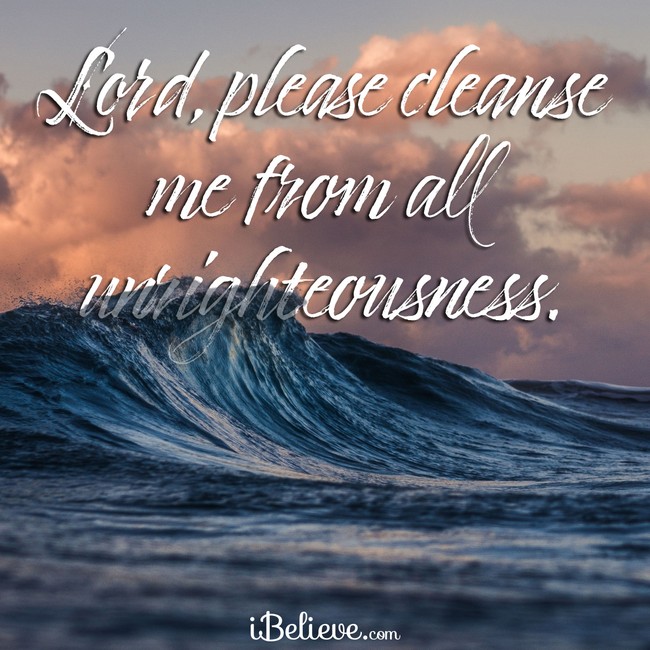 The Lord is not only David's refuge, his place to share his heart, but also his guide to deliver him from future temptation. David doesn't resolve to simply hide his thoughts for fear of embarrassment. Instead, he faces them head-on and asks the Lord for help to experience true change.
I believe his heart cry for God to "point out anything that is offensive" is why David is called the man after God's own heart. Rather than settle in the mess, he decides to get things right with the Lord.
The truth is, without a conscience effort we will find that sinful thoughts and actions will overtake our lives. Much like I need to remind my children to clean dishes or take out the trash, if enough time goes by without purposeful action the entire home will suffer. Until we acknowledge the areas of our lives that need change, we will continue to allow it to build and become a heavy burden.
Today, I want to encourage you to pray for God to do a thorough cleaning of your heart and mind. Yet, instead of doing so for everyone else and what they would say or think, do it for your growth. It's time to ask the Lord to search you and your thoughts so you can live a more peaceful and joyful life.
Dear Lord,
I ask that you search me today. Lord, I know there are areas of my life that require a complete cleanse. There are thoughts and actions that I have done that I would hope no one knows. Lord, I thank you for your forgiveness in those areas. I ask that you teach me your ways and how to run from the things that keep me bound. Lead me along the path of righteousness and bring your conviction when I need to do better. I give you full permission to transform me from the inside out. Thank you, Lord, for your grace and love towards me.
In Jesus' name,
Amen.
---
Victoria Riollano is an author, blogger, and speaker. As a mother of six, military spouse, Psychology professor and minister's wife, Victoria has learned the art of balancing family and accomplishing God's ultimate purpose for her life. Recently, Victoria released her book, The Victory Walk: A 21 Day Devotional on Living A Victorious Life. Her ultimate desire is to empower women to live a life of victory, hope, and love. She believes that with Christ we can live a life that is ALWAYS winning. You can learn more about her ministry at victoryspeaks.org.
Teach Us to Pray is a FREE prayer podcast hosted by iBelieve writer Christina Patterson. Each week, she gives you practical, real-life tips on how to grow your faith and relationship with God through the power of prayer. To listen to her episode on What to Pray in the Morning for a Worry-Free Day, click below!


Now that you've prayed, are you in need of someone to pray for YOU? Click the button below!
Visit iBelieve.com for more inspiring prayer content.