A Prayer for the Lord to Give You His Words
By: Maggie Meadows Cooper
As they approached Jerusalem and came to Bethphage and Bethany at the Mount of Olives, Jesus sent two of his disciples, saying to them, "Go to the village ahead of you, and just as you enter it, you will find a colt tied there, which no one has ever ridden. Untie it and bring it here. If anyone asks you, 'Why are you doing this?' say, 'The Lord needs it and will send it back here shortly.'" – Mark 11:1-3
I don't know about you, but it seems I have had many interactions lately where I just didn't know what to say. Wanting to comfort friends going through hard things, watching the national news and trying to answer my children's questions, or facing my own fears and not knowing how to express them. All of these scenarios seem to abound lately. And in my own strength, I struggle to find the words. It's a delicate balance as you try to comfort without saying too much, speak truth in love, and put yourself out there, in a way.
But today, as I was listening to the story of Jesus' Triumphant Entry in Mark 11, I felt like the Lord spoke to my heart. We see the donkey, the palm branches, people shouting praises to God as they look at Jesus with adoration...the whole scene just lifts your spirit! But there's one detail that might be overlooked.
When Jesus sent two of His disciples into Jerusalem, he told them that they would see a young donkey tied up and that they should bring it to Him. But then, He goes one step further. Because the Lord knows our hearts, and goes behind and before, He must have already realized they were wondering what they would say if they met opposition. So He told them in verse 3, "If anyone asks, "What are you doing?" just say, "The Lord needs it and will return it soon."
So they went. And sure enough, as they untied the colt, some bystanders asked what they were doing. But instead of stumbling over their words in fear or worry, they simply spoke the words Jesus gave them to say. And they were "permitted" to take the donkey (v.6), thereby fulfilling the prophecy from Zechariah.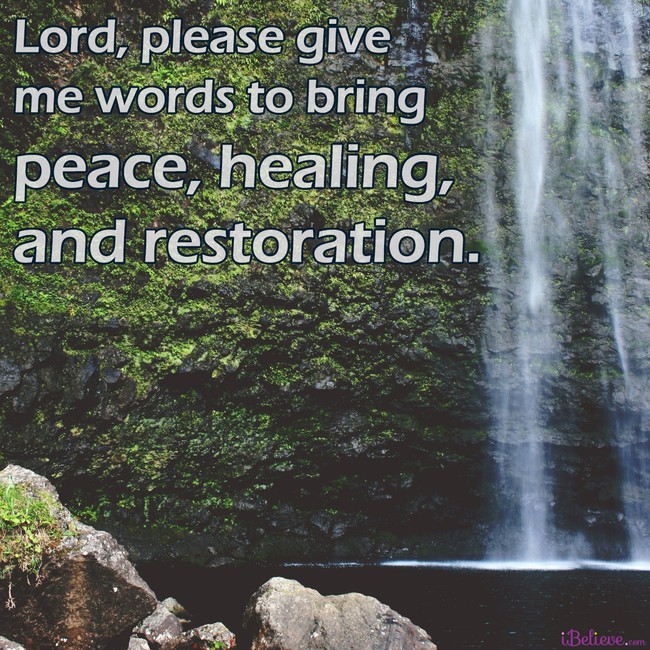 I have to believe that without the Lord's words, that scenario might have ended much differently. Not necessarily because of the words themselves, but because of the power and the direction behind them. So often through scripture, we see that when the Lord directs the speech and steps of those who need Him, they are successful in completing their tasks. Moses, Jonah, Jeremiah... so many who were used in mighty ways because the Lord's words and directions were with them, even when they were imperfect themselves.
Oh sweet friends, as you face the day before you, don't set your feet on the floor without asking the Lord to give you His words today. Maybe you know what you're facing, maybe not, but as we begin to make a habit of praying before we speak, our words become more meaningful, more powerful, and ultimately, more Christ-like than they could ever be in our own strength.
Let's pray:
Dear Lord,
Thank you so much for always being available. I come to you today asking for wisdom. More than anything, I want to shine a light for you through my words and deeds. So before I open my mouth, please give me words to bring peace, healing, and restoration where needed. Words to comfort, teach, and bring understanding. And most of all, words that point others to You. Oh Jesus, forgive me for the times I have spoken without seeking your guidance first, and from this moment forward, help me to look to you.
In Jesus' name,
Amen
Photo credit: ©SalemDesign
Maggie Meadows Cooper is a wife, mom, educator, author, and blogger with a longing for women to grow a heart for Jesus and others. She is the author of the children's book "Bumper" and blogs at The Little Moments about what the Lord is teaching her through her children and everyday life. She contributes to Blogs by Christian Women, Devotional Diva, She Disciples, and Connecting Ministries. An educator with an M.Ed. in Early Childhood Education from Auburn University (War Eagle!), she has twenty years of experience working with young children. She loves all things chocolate, real Coca-Cola, and lives with her husband, three children, and two rambunctious dogs in Opelika, Alabama.
Want more Your Daily Prayer? We also have a podcast! This podcast is different than the written devotional you just read, but carries the same commitment to a closer look at Scripture each day. You can find out more by clicking the link below!
Now that you've prayed, are you in need of someone to pray for YOU? Click the button below!
Visit iBelieve.com for more inspiring prayer content.