A Prayer for Our Missionaries - Your Daily Prayer - September 16
A Prayer for Our Missionaries
By Meg Bucher
"So Abram went, as the LORD had told him; and Lot went with him. Abram was seventy-five years old when he set out from Harran." - Genesis 12:4
The VOICE paraphrase of Genesis 12:4 says, "Without any hesitation, Abram went." The bravery of Abraham to pick up his entire family and move to Canaan when he was seventy-five years old is a true hallmark of faith. Even surrounded by modern-day conveniences and being four decades younger, I can hardly fathom leaving all I know for nothing familiar.
But I do wish to take a trip. A mission trip. Each time the topic is preached on I sit further and further towards the edge of my seat. I see the smiling faces of the people I dream of hugging in person. I'm not sure how… I don't know when… but it's a wish I pray into a lot.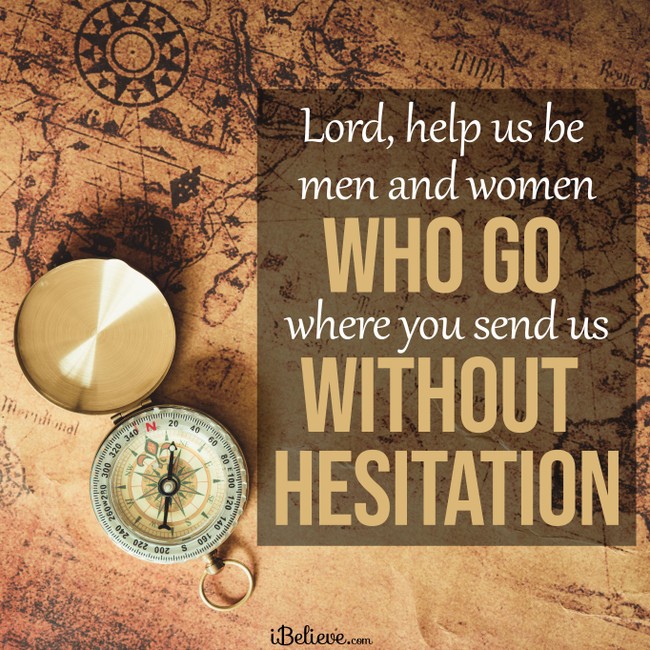 There are things we can do everyday and people in arm's reach to be helped… but God specifically tells us to go out into the world. There are people groups who still don't know about Jesus. There are people who don't have clean water to drink… and never have. They don't know what it tastes like. They don't know what food tastes like, either, because they've never really had a prolonged time in their lives where their basic needs for survival were met.
In this country, we are privileged to debate politics and complain about taxes. It's an honor to scoff at legislation and flex our right to voice our opinion. But what if we chose to see and acknowledge what's going on past our doorstep everyday …to help those on the outskirts of society and the world …
"Without any hesitation."
Father, we praise You for our missionaries and mission teams. Thank You for the opportunity to come face to face with the people who need the gospel and who need physical, emotional and spiritual aid. Forgive us for forgetting about the forgotten. Bless us with the chance to go on mission trips. In Jesus' Name, Amen.
---
Meg Bucher writes about everyday life within the love of Christ. She stepped out of her comfort zone, and her Marketing career, to obey God's call to stay home and be "Mom" in 2011. From that step of obedience her blog, Sunny&80, was born, a way to retain the funny everyday moments of motherhood. Meg is also a freelance writer and author of "Friends with Everyone." She loves teaching God's Word and leading weekly Bible study, being a mom, distance running and photography. Meg resides in Northern Ohio with her husband, two daughters, and Golden-Doodle… all avid Cleveland Browns fans.
Teach Us to Pray is a FREE prayer podcast hosted by iBelieve writer Christina Patterson. Each week, she gives you practical, real-life tips on how to grow your faith and relationship with God through the power of prayer. To listen to her episode on What to Pray in the Morning for a Worry-Free Day, click below!


Now that you've prayed, are you in need of someone to pray for YOU? Click the button below!
Visit iBelieve.com for more inspiring prayer content.