A Prayer for When You Feel Weary and Burdened - Your Daily Prayer - April 25
A Prayer for When You Feel Weary and Burdened
By Debbie McDaniel
"Come to me all you who are weary and burdened and I will give you rest." - Matthew 11:28
For many of us, activity and busyness come naturally. We're on the go, we're in a hurry, it's what we're all about. We seem to be rewarded for how much we can accomplish, especially in short amounts of time. We live in a culture that praises movement, that places value on the busy. We tend to get impatient with those who are too slow about anything.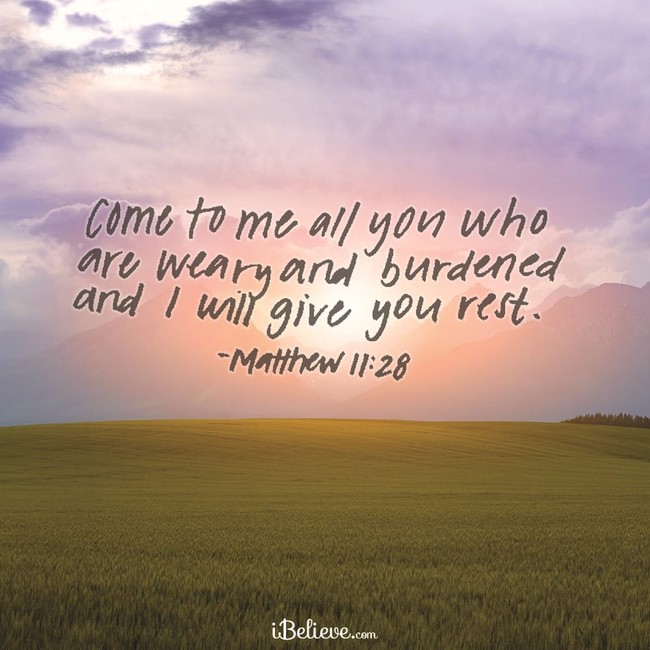 Nothing wrong being active or on the go. Except for this one thing.
We often never stop.
And it's there – in the slowing down - that often can feel almost unnatural, in a society that moves too fast. Like we're supposed to be doing something more but just haven't figured it out yet.
We rub shoulders every day with people who are burdened, weary, or lonely. Sometimes we may notice, but many times we don't. We're just too busy or overwhelmed ourselves. And to be honest, many days, "we" are those people - the burdened, the weary, the lonely. Just needing someone to notice. To slow down. To take time.
We desperately need Christ every day, to bring joy and hope to our own lives and to those around us. Without Him, we will most certainly run dry. For we're not meant to run on our own, our strength can't carry us through every hard struggle and hardship we may encounter. But He promises rest and peace for our souls even in the midst of weariness and burdens.
Slowing down takes work. Stopping and just breathing deep – takes practice.
Maybe that's why God says it so clearly, "Be still and know that I am God." Psa 46:10
Breathing in His grace today. And remembering to take time to slow down…
Peace.
Dear God,
Thank you that your yoke is easy and your burden is light. Thank you that you promise to give the worried, the hurried, the pressured, and stressed out - rest and peace for our souls - if we'll just come before you. Thank you that you already know all that concerns us, and you care. We're so grateful for your reminder that we don't have to carry it all on our own. Forgive us for the times that we've tried to fix things in our own power, for not taking the time to rest, or coming to you first with our needs and burdens. Thank you for the refreshing that comes from your Spirit, filling us with joy, covering us with a shield, leading us forward with hope. Equip us to be those who take notice of others who seem weary and burdened too. Help us to slow down, to take the time, to point others to you.
In Jesus' Name,
Amen.
---
Find more by Debbie at www.debbiemcdaniel.com, Facebook, Instagram, and Twitter.
Teach Us to Pray is a FREE prayer podcast hosted by iBelieve writer Christina Patterson. Each week, she gives you practical, real-life tips on how to grow your faith and relationship with God through the power of prayer. To listen to her episode on What to Pray in the Morning for a Worry-Free Day, click below!


Now that you've prayed, are you in need of someone to pray for YOU? Click the button below!
Visit iBelieve.com for more inspiring prayer content.