A Prayer for Your Aging Parent - Your Daily Prayer - October 19
A Prayer for Your Aging Parent
By Dawn Wilson
"The righteous will flourish like a palm tree, they will grow like a cedar of Lebanon; planted in the house of the LORD, they will flourish in the courts of our God. They will still bear fruit in old age, they will stay fresh and green, proclaiming, "The LORD is upright; he is my Rock, and there is no wickedness in him." - (Psalm 92:12-15)
One of the greatest privileges of my adult life has been to pray for my elderly mom. Although we are separated by many miles and the burden of physical caring for her falls mostly on my precious sister, I do what I can and I love to pray for Mom.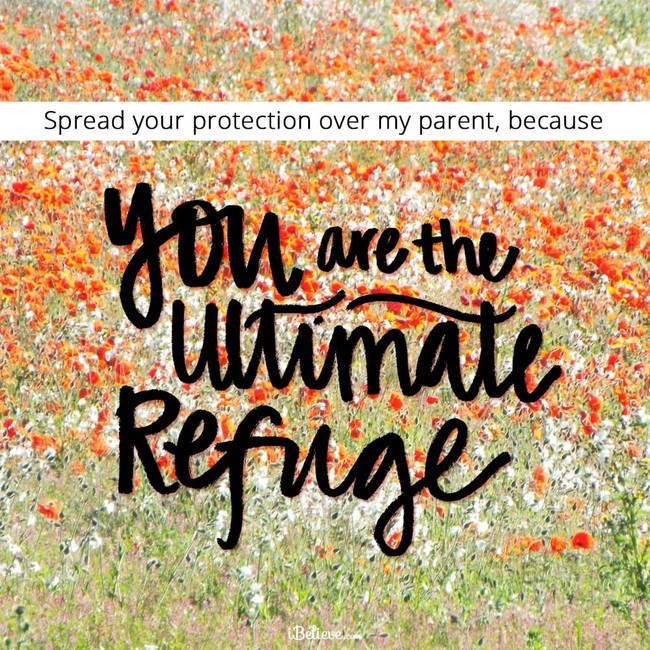 Here are some of the things I've found useful to pray over the years. Perhaps they will be a template for prayers for your parent.
Father God... I pray for PROTECTION.
I pray my parent will keep on leaning on You, the Rock of strength and righteousness ( Psalm 71:3a; 73:26; 92:12-15). Spread your protection over my parent, because You are the ultimate Refuge ( Psalm 5:11; 46:1).
I ask you to protect my parent from the evil one, and show the way out in moments of temptation (2 Thessalonians 3:3; 1 Corinthians 10:13). May wisdom, discretion and understanding protect and guide every day (Proverbs 4:6; 2:11; 138:7).
I pray my parent will be courageous, confident in Your presence, help and deliverance ( Psalm 121:1-8; Deuteronomy 31:6; Isaiah 41:10; Psalm 34:19; Psalm 91).
I pray for PROVISION—that you will meet my loved one's needs.
Show me how to meet my parent's needs in ways that will please You, Lord. Equip me to be a good steward in my loved one's care (1 Timothy 4:5; 5:1-2).
There is much I can do, but You are the Great Provider. Thank you for your willingness to supply my parent's needs for Your glory and my loved one's joy (Romans 8:32; Matthew 6:31-32; 7:11; Philippians 4:19; John 14:13-14; 16:23-24). I pray my parent will be made holy through Your grace and receive Your good favor (1 Thessalonians 5:23-24; Psalm 84:11).
I pray for continuing PURPOSE.
I ask you to help my parent flourish with an eternal perspective ( Psalm 92:12-15). Work in my loved one's life for Your glory (2 Corinthians 4:16). Open appropriate opportunities for ministry and influence.
Help my parent live as a holy and faithful role model, Father, for as long as you allow (Titus 2:2-5). I pray my parent, from a wealth of experience, will share important life lessons You still want me to learn.
Father, I thank you for Jesus, who makes possible our God-honoring transition from this world to everlasting glory. As I pray these things for my parent, I pray them for myself as well. I pray we all will someday hear Your "well done." Amen!
---
Editor's Note: Content taken from "A Prayer for Your Aging Parent" by Dawn Wilson. You can read that piece in full here. All rights reserved.
LISTEN to More Christmas Prayers on LifeAudio
Teach Us to Pray is a FREE prayer podcast hosted by iBelieve writer Christina Patterson. Each week, she gives you practical, real-life tips on how to grow your faith and relationship with God through the power of prayer. To listen to her episode on What to Pray in the Morning for a Worry-Free Day, click below!

Now that you've prayed, are you in need of someone to pray for YOU? Click the button below!
Visit iBelieve.com for more inspiring prayer content.