A Prayer to Offer Up in the Morning
By Rebecca Barlow Jordan
The steadfast love of the Lord never ceases; his mercies never come to an end; they are new every morning; great is your faithfulness. - Lamentations 3:22-23
Before busy lifestyles try to steal our time and energy, we can spend a few moments with God every day. If He offers us new mercies and compassions with each sunrise, then in an attitude of gratitude and worship, we can offer our lives to Him in prayer every morning. To help you begin your day with joy and purpose, here is a morning offering prayer you can pray to God: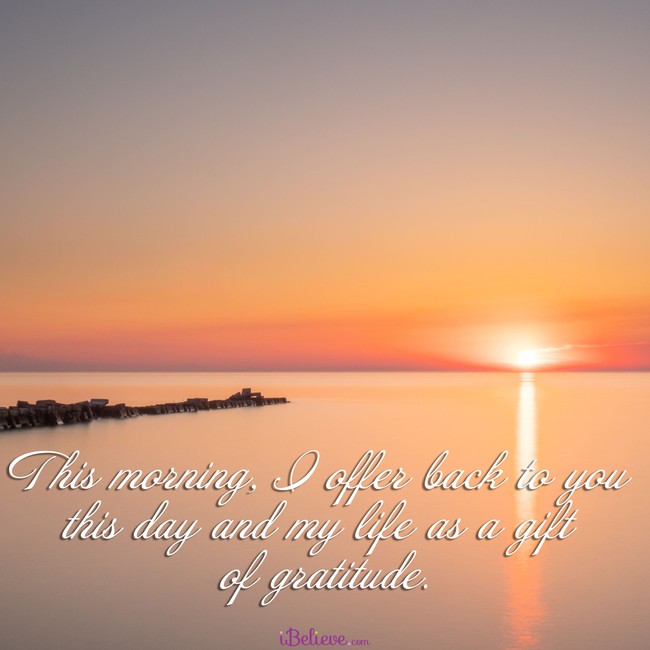 A Morning Offering to Pray Each Day
Lord, I'm coming to you with my personal morning offering prayer. I worship you today and want to give you praise for another day of life. As I begin to think about your amazing grace and for all you have done on my behalf, I am overwhelmed with joy. Your love draws me into your sweet presence the moment my eyes open. Even when sleepiness tries to pull me back under the covers, your tug on my heart awakens me to start the day right with you.
This morning I offer back to you this day and my life as a gift of gratitude. You deserve the best, and I want to give you all that I have and am in a fresh new way. Write on my heart the lessons you want to teach me today. Fill my mouth with your words and thoughts, not mine. I long to live this day for you, with my affections set on things above, not focusing on worries here on earth.
You gave your life for me, an offering of death to pay the penalty of my sin. In return, I long to make your heart happy by offering my life as a living sacrifice to you. Some days I feel like I have so little to offer; yet you know my heart. You created me, and you love me just as I am. You require nothing from me but faith, because your love is a gift with no strings attached. I can't earn it, and I can't buy it. But, Lord, out of a deep love for you, I desire to live for you today in such a way that encourages others. I want to bless you as well as those who cross my path. If I give to others with mercy and compassion, you've said it's the same as giving to you.
So accept my morning offering prayer today, Lord. May my life be a sweet fragrance to you, as I seek to follow you, to love you with all my heart, soul, and mind, and to love others as myself. Use my mouth, my mind, my hands, and my feet— all of me — as instruments of your peace. May I be a light in the darkness for others or simply a pitcher of kindness poured out for you. Here is my life; here are my talents. My gifts are yours to do with as you please. Order my steps today; guard my thoughts; and bathe my actions with thoughtfulness and goodness, so others can see your reflection in me. I trust you; I wait for you, and I listen for your voice. Your strength is all I need. With eagerness, I begin this day and offer my life to live for you, any way you want.
In Jesus' name,
Amen.
---
Rebecca Barlow Jordan is an inspirational author and passionate follower of Jesus who loves to help others find joy and purposeful living through deeper intimacy with God. She has authored, co-authored, or contributed to over 20 books and has written over 2000 other articles, devotions, greeting cards, and other inspirational pieces. Her daily devotional Daily in Your Presence is available for delivery through Crosswalk.com. You can find out more about Rebecca at www.rebeccabarlowjordan.com.
Want more Your Daily Prayer? We also have a podcast! This podcast is different than the written devotional you just read, but carries the same commitment to a closer look at Scripture each day. You can find out more by clicking the link below!
Now that you've prayed, are you in need of someone to pray for YOU? Click the button below!
Visit iBelieve.com for more inspiring prayer content.