A Prayer to Not Borrow Trouble - Your Daily Prayer - November 4
A Prayer to Not Borrow Trouble
By Meg Bucher
"And God is able to bless you abundantly, so that in all things at all times, having all that you need, you will abound in every good work." - 2 Corinthians 9:8
Lately, this world has given us a plethora of fresh new reasons (and recycled old ones) to walk through our days in fear, confusion, worry, and shame. We can borrow trouble for hard days that haven't hit us yet. Can you relate?
Recently, while running along the lakeshore, I wondered when the next injury will sideline me. If I'm not careful to take these thoughts captive, these blessed moments of respite become riddled with anxiety and paranoia about health. Ugly habits can begin to seep through the cracks in my armor. I begin to take credit for all I have and get to do, while worrying about when it will end, and things will get hard again. I forget to prioritize time with God the way I do when I desperately need Him to relieve some real-life pain.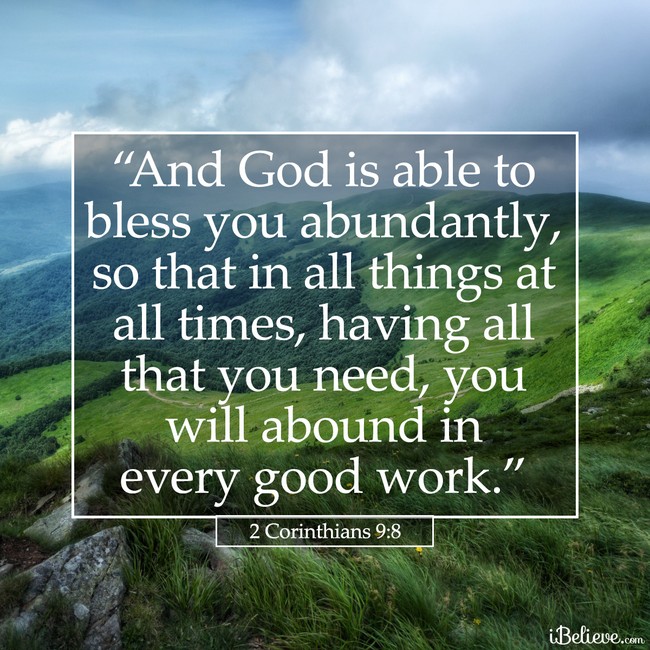 Idols can seep in and swell up in my heart, pushing my Savior aside. Or worse yet, I can fail to stop and fully enjoy the blessing God has given to me! Remembering God only gives me one day to live at a time relieves my tension.
Today's verse reminds me to let go and let God do what God does. "As regularly as generous giving depletes the resources of the cheerful giver, God's grace replenishes what is needed," the NIV Biblical Theology Study Bible explains. "This gives such a person complete sufficiency that comes from depending on an all-sufficient God."
The VOICE paraphrase of what Paul wrote to the Ephesians reads, "Now to the God who can do so many awe-inspiring things, immeasurable things, things greater than we ever could ask or imagine through the power at work in us, to Him be all the glory in the church and in Jesus the Anointed from this generation to the next, forever and ever. Amen." (Ephesians 3:20-21)
So today, I smile as I run down the road, especially when it's hard and hurts. My eyes see my Creator's hand as I cruise by the water, and I take intentional time to peacefully watch the world go by from my front porch. Because this day, God made. So I will rejoice and be glad in it.
Let's Pray:
Father,
For the scenery you paint on the landscape of my life, and the breath you fill my lungs with, the friends you surround me with to share laughter, and the family to love and be loved by… all glory goes up to you. Your faithfulness is never-ending, your mercies new every morning. There is none like you, Abba Father.
Calm my anxiety, worry, and fear over when the calm water will kick up again. Help me not borrow trouble for hard days that aren't here yet. Increase my confidence in you, my wisdom, and my ability to let your love flow freely through my everyday life.
In Jesus' Name,
Amen.
---
Meg Bucher writes about everyday life within the love of Christ as an author, freelance writer and blogger at Sunny&80. Her first book, "Friends with Everyone," is available on amazon.com. She earned a Marketing/PR degree from Ashland University, but stepped out of the business world to stay at home and raise her two daughters. Besides writing, she leads a Bible Study for Women and serves as a Youth Ministry leader in her community. She lives in Northern Ohio with her husband, Jim, and two daughters.
Teach Us to Pray is a FREE prayer podcast hosted by iBelieve writer Christina Patterson. Each week, she gives you practical, real-life tips on how to grow your faith and relationship with God through the power of prayer. To listen to her episode on What to Pray in the Morning for a Worry-Free Day, click below!


Now that you've prayed, are you in need of someone to pray for YOU? Click the button below!
Visit iBelieve.com for more inspiring prayer content.