A Prayer to Wait and Hope - Your Daily Prayer - April 9
A Prayer to Wait and Hope
By Tiffany Thibault
I wait for the Lord, my soul waits, and in His word I hope. - Psalm 130:5
Everything in life requires us to wait. We wait to be born, we wait to start school, we wait to learn to drive, we wait to graduate from school. We wait for a job, a spouse, a child, and a promotion. Amid all these monumental moments, there are a million little moments of learning to wait for smaller things.
Waiting for something though does not often come easy, quick, or even in the way that we sometimes want or dream that it should be. Life has a way of twisting and turning that can leave us depleted and discouraged. Circumstances, people,t and health can cause everything in life to change in an instant.
No matter what twists and turns life is bringing your way today, you can take encouragement from these words in Psalm 130:5: I wait for the Lord, my soul waits, and in His word I hope.
The first phrase is so powerful. "I wait for the Lord." This is a positional determination. This is saying that in your current circumstances, you will choose to wait for God to do things in His way and in His time. It is waiting in faith, despite the circumstances you see, or the opinions of those around you. It is standing on the promises of God's word and trusting He is moving in hearts and circumstances around you, so that His will be done.
The next phrase "my soul waits" reflects a personal determination. This is saying that with all my emotions and thoughts, I will choose to wait for the Lord to be God. I will wait for God to move in His way. It is making the determination to not allow fear and frustration to overwhelm your heart or to steal the fruit of the spirit from your life (love, joy, peace, patience, kindness, goodness, faithfulness and self-control).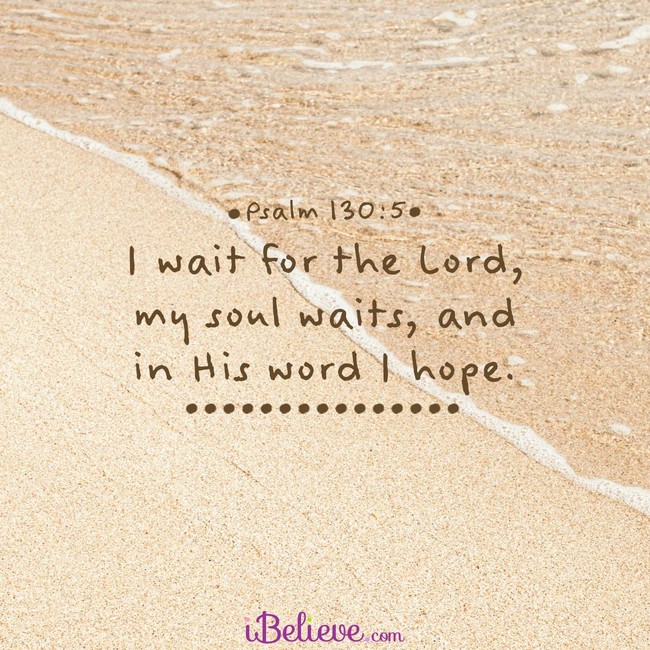 The last phrase of this verse: "in His word I hope" lies the answer to us even beginning to learn how to wait for the Lord. This is a spiritual determination. This is choosing to dig deeper into studying the Bible. It is intentionally reminding yourself of the promises in the Bible and learning to not be afraid or discouraged by the circumstances of your life. It is learning to exercise your faith as you journey forward, setting your hopes on the promises God gives in His word. We can have hope as we wait because we can absolutely believe that God's Word is true.
"I wait for the Lord, my soul waits, in His word I hope." Let this be the focus of your heart, thoughts and life today. Let this be the source of your strength. Make the decision to put yourself in this active position of trust and rest as you wait on the Lord, knowing that every single detail about your life is absolutely in God's very capable hands.
Dear Lord,
Thank you that in your word, I have hope. Thank you that this hope fills me and strengthens me as I wait on you amid these challenging circumstances I am walking through. Thank you that I can rest in You, knowing that you will do things in your time, and in your way, and that you are working everything out for my good.
In Jesus' Name, I pray,
Amen
---
Tiffany Thibault enjoys living life with her husband, two teenage daughters, and one very large dog. She is the author of the Bible study "Being Fruitful" and loves long walks, rainy days and a good cup of coffee.
Editor's Note: The podcast audio player below is no longer synced up to the written devotional. Enjoy this additional prayer to start or end your day!
Teach Us to Pray is a FREE prayer podcast hosted by iBelieve writer Christina Patterson. Each week, she gives you practical, real-life tips on how to grow your faith and relationship with God through the power of prayer. To listen to her episode on What to Pray in the Morning for a Worry-Free Day, click below!


Now that you've prayed, are you in need of someone to pray for YOU? Click the button below!
Visit iBelieve.com for more inspiring prayer content.