A Prayer When You Struggle to Trust God - Your Daily Prayer - December 5
A Prayer When You Struggle to Trust God
By Betsy de Cruz
"Behold, God is my salvation; I will trust, and will not be afraid; for the Lord God is my strength and my song, and he has become my salvation." - Isaiah 12:2
Sometimes fear and worry get the better of me. For instance, back in sixth grade, I saw the movie Jaws in living color on the big screen, and for a whole year I could not get into a swimming pool for fear that Jaws might get me.
Yes, I realized my illogical fear resulted from an overactive imagination, but any time I got near water, my heart would start pounding all the same.
What helped me overcome my fear of swimming pools was a little self-talk. I'd remind myself over and over there was no way a shark could be in our neighborhood pool, and I'd stick my foot in the water. When nothing bit it, I'd reassure myself again and go in a little deeper
The worry you may feel today probably seems more legitimate than my irrational sixth-grade fears, but perhaps a little self-talk based on Scripture could help. When we struggle to trust God with our worries, Isaiah 12:2 offers us words to pray to Him and say to ourselves.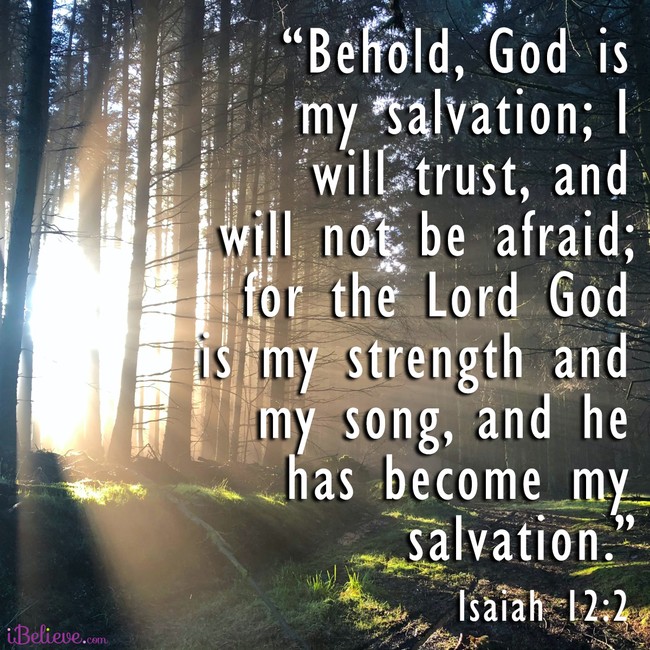 Sometimes we need to preach to ourselves: "I will trust and will not be afraid." When our faith feels weak, we can do two things:
1. Confess our fears to the Lord and ask Him to help us trust Him.
2. Turn our focus away from fear and towards God.
Consider what this verse tells us about Him:
God is our salvation. I wonder if Isaiah was reminding himself of God's character as he penned the words: "Behold, God is my salvation." Friend, no matter what unsettling situation is making it difficult for you to trust God, He is your salvation. He has your solution, and He will deliver you.
God is our strength. Ask Him to give you the strength you need to stand firm on His Word and believe what He says in Scripture. Ask Him to pour out His Holy Spirit power over you.
He is our song. Ask God for a spirit of joy and worship, so you can praise Him in the middle of your fears and worries. Even when you don't see His answer yet.
Let's start today with self-talk based on God's Word, and let's pray:
Lord, you see the circumstances I face today, and you know the fear and anxiety I feel. Forgive me for letting worry overtake my thoughts.
Pour out a spirit of belief over me, so I can choose to trust you. There is no God like you, awesome in power, working wonders. I praise you for the faithfulness you have shown me so many times in the past.
Lord Jesus, even though I feel worried, I will choose to trust you. Help me remind myself today of your great love and power. Help me identify fearful, anxious thoughts and lay them at the foot of your cross. Give me the grace and power I need to meditate on truths from your Word instead. Help me also speak positive words that will inspire others to trust you as well.
You are my salvation. You have already saved me from sin, and I know you have the power to save me from my troubles now. Thank you for being with me. I know you have plans to bless me and work for my good.
Lord, you are my strength and my song. I will worship you today and sing your praises, even if I cannot quite understand what you are doing. Thank you for putting a new song in my heart.
In Jesus' name, Amen.
---
Betsy de Cruz helps overwhelmed women take small steps to invite more of God's presence and power into their lives. Connect with Betsy to get your free Quiet Time Renewal Guide and other resources at FaithSpillingOver.com. Her book More of God is a distracted woman's guide to more meaningful quiet times. After living in the Middle East for 16 years with her husband and two children, Betsy landed in Texas, where she still enjoys drinking chai with friends.
Teach Us to Pray is a FREE prayer podcast hosted by iBelieve writer Christina Patterson. Each week, she gives you practical, real-life tips on how to grow your faith and relationship with God through the power of prayer. To listen to her episode on What to Pray in the Morning for a Worry-Free Day, click below!


Now that you've prayed, are you in need of someone to pray for YOU? Click the button below!
Visit iBelieve.com for more inspiring prayer content.