A Prayer to Come to Jesus Just as You Are - Your Daily Prayer - November 18
A Prayer to Come to Jesus Just as You Are
By Rachel-Claire Cockrell
"It is not the healthy who need a doctor, but the sick. I have not come to call the righteous, but sinners to repentance." Luke 5:31-32
We need Jesus because we are sinners. That isn't confined to the small "easy to fix" sins. That applies to ALL sins. We put so much pressure on ourselves, but the truth is that we need Christ. We need him because we absolutely cannot live the way we are called to live on our own.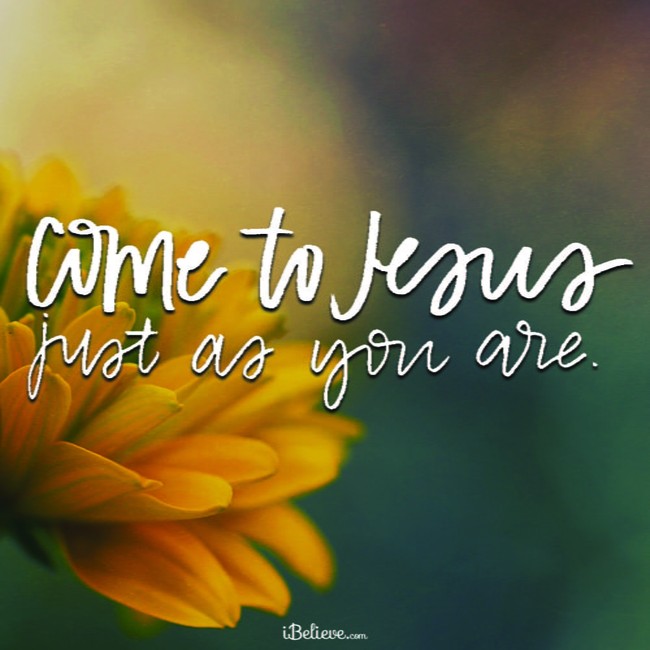 We shouldn't look down on lost people for sinning. That's the most hypocritical thing we could do. We can never forget that we, too, were once lost. We, too, were once drowning in our own sin. And I don't know about you, but I still struggle to keep my head above water every day. We are broken; we are sinful. Jesus comes in and changes that. If we had the capability to change it ourselves, then we wouldn't need him. He wouldn't have had to die on the cross. None of that is necessary if we can "fix" ourselves on our own.
The thing that is so wonderful about Jesus is that he changes something fundamentally inside of us. It's a change that cannot be described in words, it can only be experienced. You don't have to change for Jesus. He is the one who changes you.
Even those of us who have accepted Christ aren't perfect. We need to cut each other - and ourselves - some slack. We need to recognize that, yes, we have to live to a certain standard to be Christians, but that Jesus is about forgiveness first. He forgives us before he changes us, and then he continues to forgive us over and over again.
We have to remember that we are only human. We have to remember why we need Jesus; why his sacrifice was necessary. We have to remember that true change of heart requires supernatural intervention, not human intervention. We have to remember not to get things in the wrong order.
Jesus first. Accepting Christ is the first and most important step. He will initiate the change after someone accepts him into their heart.
I hope this encourages you when you do mess up. We are going to fall. We shouldn't rub each other in the dirt or walk by as we look on scathingly. We should get down and help each other up. Let's pray for the grace we need to get up after we fall down:
Lord,
Thank you that you are the one that can change me. Thank you that I do not have to change myself. Thank you for dying so that we could have life. Help us not to judge others in sin, but to treat them with love and compassion. Help us come to you just as we are: broken, imperfect, but fully alive and healed by the power of your blood on the cross. Thank you Jesus! The gospel is such good news. Help me live into that each day.
Amen.
---
Editor's Note: This devotional was adapted from Why Jesus Wants You to Come to Him Just as You Are by Rachel-Claire Cockrell. You can read that piece in full here.
LISTEN to More Christmas Prayers on LifeAudio
Teach Us to Pray is a FREE prayer podcast hosted by iBelieve writer Christina Patterson. Each week, she gives you practical, real-life tips on how to grow your faith and relationship with God through the power of prayer. To listen to her episode on What to Pray in the Morning for a Worry-Free Day, click below!

Now that you've prayed, are you in need of someone to pray for YOU? Click the button below!
Visit iBelieve.com for more inspiring prayer content.