A Prayer for When You Feel Invisible
By Keneesha Saunders-Liddie
And there is no creature hidden from His sight, but all things are naked and open to the eyes of Him to whom we must give account. – Hebrews 4:13
I was the last one standing yet again. When it came to sports, I was usually the last one chosen. At those particular times in my childhood, I felt invisible. Even though I knew I wasn't good at sports, it was still a surprise every time I walked toward the last team by default, because I was the only one not picked.
There are many reasons why we can feel invisible in life. Maybe you feel invisible at your church, job or in your family. There is good news. God sees you. God knows who you are and he can see the longing of your heart to be seen and known.
He wants you to know that you are not invisible to him. He wants you to know that he has always seen you and will always see you. He isn't looking at you as one would look at an outsider. He takes special interest in you and your concerns.
He has said in his Word that no creature is hidden from his sight. There is no place you can go that he won't be with you. This is both wonderful news and terrifying news. One day we have to give him an account for everything we do here on earth, and he is watching you.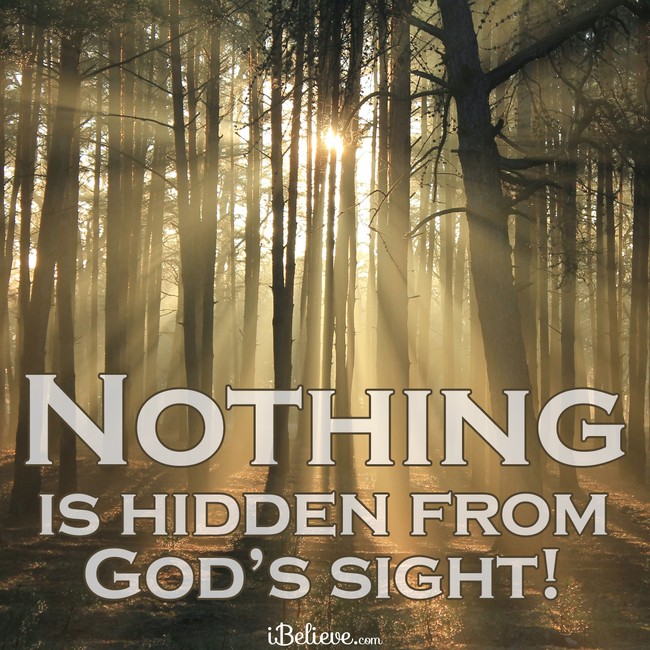 Everything is naked and open to him; that includes your heart, thoughts and emotions as you feel the burden of being left out and isolated. God your Father has chosen this time to observe you. Even if you haven't voice how you feel, God knows and he cares. So the next time you feel invisible, pray and thank God for watching over you.
Let's pray now:
Heavenly Father,
Thank you for never growing weary or getting tired. Thank you for watching over me each and every day. Help me to remember that you are always there whenever I feel invisible. I'm so grateful that I don't have to look to man for validation; all I need is given to me by you. You have promised in your Word that you will never leave or forsake me, and I will hold you at your Word. I turn my heart to you and chose to trust in your Word and your steadfast protection and provision. Help me to find comfort in the fact that no creature is hidden from you, but that I am naked and open before you as you allow the Holy Spirit to lead me in sanctification. Knowing I am seen by God causes me to release fear and to simply trust you will be there. During this time of uncertainty, help me to see others and let them know that I see them.
In Jesus' Name,
Amen.
---
Keneesha Saunders-Liddie is a wife, mom and writer. She is an avid reader of wholesome romance novels and a lover of writing. She is currently pursuing her Masters in Biblical Counseling as she believes in the sufficiency of scripture. As a pastor's kid, she fell in love with the way Jesus loved her at an early age and want to encourage others to live for him through her words. You can find more musings from her at https://womenlovinggodsway.com
Photo credit: ©SalemDesign
Want more Your Daily Prayer? We also have a podcast! This podcast is different than the written devotional you just read, but carries the same commitment to a closer look at Scripture each day. You can find out more by clicking the link below!
Now that you've prayed, are you in need of someone to pray for YOU? Click the button below!
Visit iBelieve.com for more inspiring prayer content.