40 Powerful Bible Verses about Strength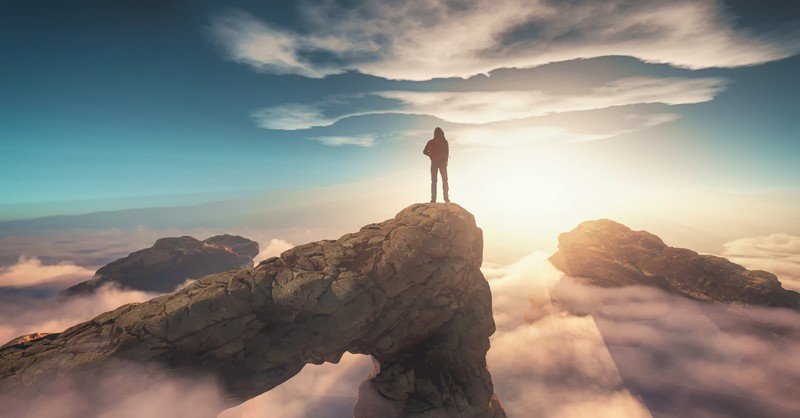 Strength is a common, fundamental message of the Holy Bible. According to answers.com, the term "strength" actually appears 242 times in the King James Version of scripture. Easy to say we can learn a lot about strength from reading the Bible. Here we have compiled 40 of the best Bible verses about strength to encourage your faith and relieve your fears.
The strength that is mentioned in Holy Scriptures is not of our own doing. In fact, the Apostle Paul writes that it was his weakness that allowed God to strengthen him. For when we are prideful or arrogant of our own physical or spiritual strength, we lose our connection to God that comes with humility and prayer to Him. In 2 Corinthians 12, Paul explains this notion in a brilliant way, saying:
"...I was given a thorn in my flesh, a messenger of Satan, to torment me. Three times I pleaded with the Lord to take it away from me. But he said to me, "My grace is sufficient for you, for my power is made perfect in weakness." Therefore I will boast all the more gladly about my weaknesses, so that Christ's power may rest on me. That is why, for Christ's sake, I delight in weaknesses, in insults, in hardships, in persecutions, in difficulties. For when I am weak, then I am strong."
This may seem counter-intuitive, but let us remember that all good things come from God, including our strength. Through knowing our fragility, weakness, and vulnerability to sin, we more rely upon God to uplift us and work through us. It is the humbling work of recognizing our faults that allow us to open our often prideful hearts to God!
May these Bible verses about strength encourage you in spiritual warfare to rely on God, trusting in Him for all things.
Photo Credit: GettyImages/Orla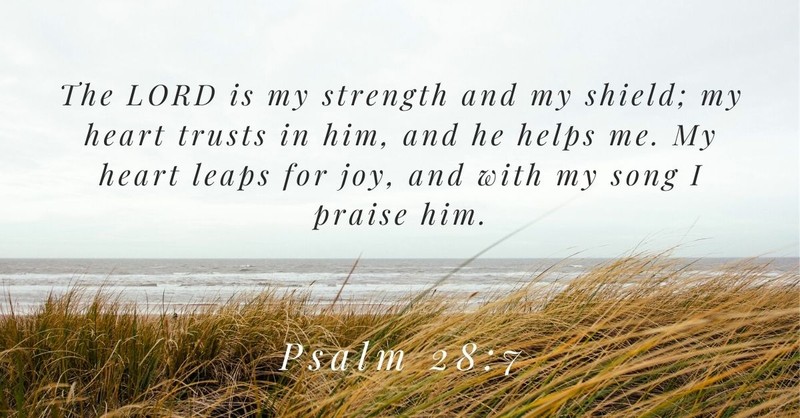 12 Old Testament Bible Verses about Strength
Exodus 15:2,
"The Lord is my strength and my song, and he has become my salvation; this is my God, and I will praise him, my father's God, and I will exalt him."
Deuteronomy 20:4,
"For the Lord your God is he who goes with you to fight for you against your enemies, to give you the victory."
Deuteronomy 31:6,
"Be strong and courageous. Do not fear or be in dread of them, for it is the Lord your God who goes with you. He will not leave you or forsake you."
Joshua 1:9,
"Have I not commanded you? Be strong and courageous. Do not be frightened, and do not be dismayed, for the Lord your God is with you wherever you go."
Psalm 18:1-3,
"I love you, O Lord, my strength. The Lord is my rock and my fortress and my deliverer, my God, my rock, in whom I take refuge, my shield, and the horn of my salvation, my stronghold. I call upon the Lord, who is worthy to be praised, and I am saved from my enemies."
Psalm 23:4,
"Even though I walk through the valley of the shadow of death, I will fear no evil, for you are with me; your rod and your staff, they comfort me."
Psalm 27:1,
"Of David. The Lord is my light and my salvation; whom shall I fear? The Lord is the stronghold of my life; of whom shall I be afraid?"
Psalm 28:7-9,
"The Lord is my strength and my shield; in him my heart trusts, and I am helped; my heart exults, and with my song I give thanks to him. The Lord is the strength of his people; he is the saving refuge of his anointed. Oh, save your people and bless your heritage! Be their shepherd and carry them forever."
Psalm 31:24,
"Be strong, and let your heart take courage, all you who wait for the Lord!"
Psalm 46:1-3,
"God is our refuge and strength, a very present help in trouble. Therefore we will not fear though the earth gives way, though the mountains be moved into the heart of the sea, though its waters roar and foam, though the mountains tremble at its swelling."
Psalm 73:26,
"My flesh and my heart may fail, but God is the strength of my heart and my portion forever."
Habakkuk 3:19,
"God, the Lord, is my strength; he makes my feet like the deer's; he makes me tread on my high places. To the choirmaster: with stringed instruments."
Photo credit: SWN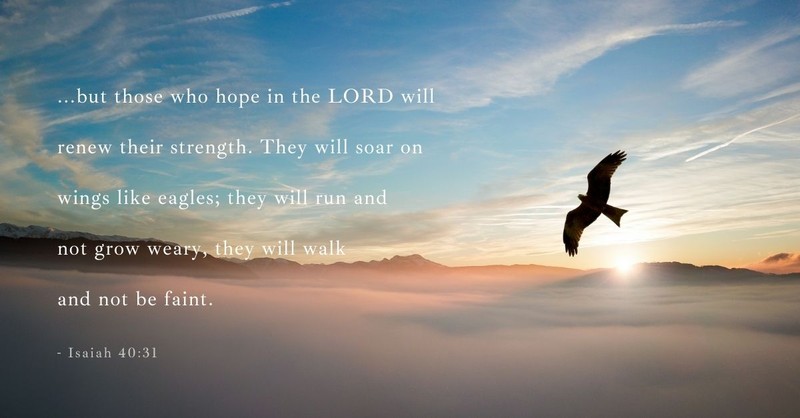 12 New Testament Bible Verses about Strength
Philippians 4:13,
"I can do all things through him who strengthens me."
Isaiah 40:31,
"But they who wait for the Lord shall renew their strength; they shall mount up with wings like eagles; they shall run and not be weary; they shall walk and not faint."
Isaiah 41:10,
"Fear not, for I am with you; be not dismayed, for I am your God; I will strengthen you, I will help you, I will uphold you with my righteous right hand."
Ephesians 6:10-12,
"Finally, be strong in the Lord and in the strength of his might. Put on the whole armor of God, that you may be able to stand against the schemes of the devil. For we do not wrestle against flesh and blood, but against the rulers, against the authorities, against the cosmic powers over this present darkness, against the spiritual forces of evil in the heavenly places."
2 Timothy 1:7,
"For God gave us a spirit not of fear but of power and love and self-control."
2 Corinthians 12:9-10,
"But he said to me, "My grace is sufficient for you, for my power is made perfect in weakness." Therefore I will boast all the more gladly of my weaknesses, so that the power of Christ may rest upon me. For the sake of Christ, then, I am content with weaknesses, insults, hardships, persecutions, and calamities. For when I am weak, then I am strong."
1 Corinthians 16:13,
"Be watchful, stand firm in the faith, act like men, be strong."
Isaiah 40:29,
"He gives power to the faint, and to him who has no might he increases strength."
Mark 12:30,
"And you shall love the Lord your God with all your heart and with all your soul and with all your mind and with all your strength."
1 Peter 4:11,
"Whoever speaks, as one who speaks oracles of God; whoever serves, as one who serves by the strength that God supplies—in order that in everything God may be glorified through Jesus Christ. To him belong glory and dominion forever and ever. Amen."
2 Timothy 4:16-18,
"At my first defense no one came to stand by me, but all deserted me. May it not be charged against them! But the Lord stood by me and strengthened me, so that through me the message might be fully proclaimed and all the Gentiles might hear it. So I was rescued from the lion's mouth. The Lord will rescue me from every evil deed and bring me safely into his heavenly kingdom. To him be the glory forever and ever. Amen."
Matthew 6:33,
"But seek first the kingdom of God and his righteousness, and all these things will be added to you."
Photo Credit: © SWN/Sarah Martin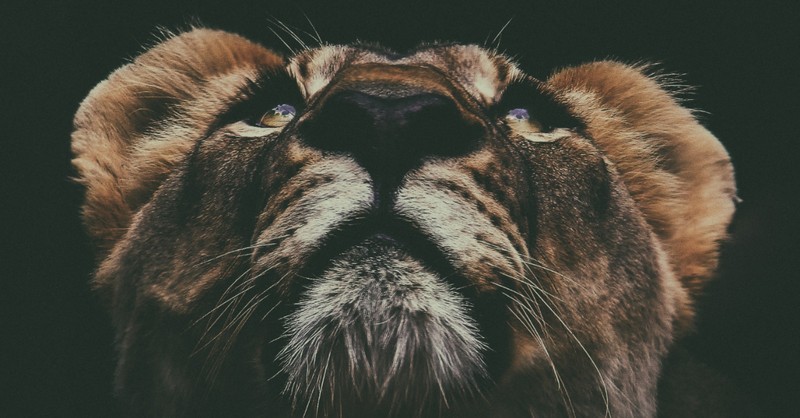 12 Bible Verses about Having Strength and Courage
Proverbs 28:1,
"The wicked flee when no one pursues, but the righteous are bold as a lion."
Proverbs 3:5-6,
"Trust in the Lord with all your heart, and do not lean on your own understanding. In all your ways acknowledge him, and he will make straight your paths."
1 Chronicles 28:20,
"Then David said to Solomon his son, "Be strong and courageous and do it. Do not be afraid and do not be dismayed, for the Lord God, even my God, is with you. He will not leave you or forsake you, until all the work for the service of the house of the Lord is finished."
John 16:33,
"I have said these things to you, that in me you may have peace. In the world you will have tribulation. But take heart; I have overcome the world."
Mark 5:36,
"But overhearing what they said, Jesus said to the ruler of the synagogue, "Do not fear, only believe.""
Psalm 112:7,
"He is not afraid of bad news; his heart is firm, trusting in the Lord."
1 Chronicles 22:13,
"Then you will prosper if you are careful to observe the statutes and the rules that the Lord commanded Moses for Israel. Be strong and courageous. Fear not; do not be dismayed."
Matthew 10:16-20,
"Behold, I am sending you out as sheep in the midst of wolves, so be wise as serpents and innocent as doves. Beware of men, for they will deliver you over to courts and flog you in their synagogues, and you will be dragged before governors and kings for my sake, to bear witness before them and the Gentiles. When they deliver you over, do not be anxious how you are to speak or what you are to say, for what you are to say will be given to you in that hour. For it is not you who speak, but the Spirit of your Father speaking through you."
Psalm 16:8,
"I have set the Lord always before me; because he is at my right hand, I shall not be shaken."
Psalm 56:3-4,
"When I am afraid, I put my trust in you. In God, whose word I praise, in God I trust; I shall not be afraid. What can flesh do to me?"
Daniel 3:16-18,
"Shadrach, Meshach, and Abednego answered and said to the king, "O Nebuchadnezzar, we have no need to answer you in this matter. If this be so, our God whom we serve is able to deliver us from the burning fiery furnace, and he will deliver us out of your hand, O king. But if not, be it known to you, O king, that we will not serve your gods or worship the golden image that you have set up."
Romans 15:13,
"May the God of hope fill you with all joy and peace in believing, so that by the power of the Holy Spirit you may abound in hope."
Photo Credit: Unsplash/Prince David
4 Bible Prayers for Strength
Psalm 43: Send Out Your Light and Your Truth
"Vindicate me, O God, and defend my cause against an ungodly people, from the deceitful and unjust man deliver me! For you are the God in whom I take refuge; why have you rejected me? Why do I go about mourning because of the oppression of the enemy? Send out your light and your truth; let them lead me; let them bring me to your holy hill and to your dwelling! Then I will go to the altar of God, to God my exceeding joy, and I will praise you with the lyre, O God, my God. Why are you cast down, O my soul, and why are you in turmoil within me? Hope in God; for I shall again praise him, my salvation and my God."
Psalm 57: Let Your Glory Be over All the Earth
"Be merciful to me, O God, be merciful to me, for in you my soul takes refuge; in the shadow of your wings I will take refuge, till the storms of destruction pass by. I cry out to God Most High, to God who fulfills his purpose for me. He will send from heaven and save me; he will put to shame him who tramples on me. Selah God will send out his steadfast love and his faithfulness! My soul is in the midst of lions; I lie down amid fiery beasts-- the children of man, whose teeth are spears and arrows, whose tongues are sharp swords. Be exalted, O God, above the heavens! Let your glory be over all the earth! They set a net for my steps; my soul was bowed down. They dug a pit in my way, but they have fallen into it themselves. Selah My heart is steadfast, O God, my heart is steadfast! I will sing and make melody! Awake, my glory! Awake, O harp and lyre! I will awake the dawn! I will give thanks to you, O Lord, among the peoples; I will sing praises to you among the nations. For your steadfast love is great to the heavens, your faithfulness to the clouds. Be exalted, O God, above the heavens! Let your glory be over all the earth!"
1 Chronicles 4:10: Prayer of Jabez
"Jabez called upon the God of Israel, saying, "Oh that you would bless me and enlarge my border, and that your hand might be with me, and that you would keep me from harm so that it might not bring me pain!" And God granted what he asked."
Matthew 6:9-13: The Lord's Prayer
"'Our Father in heaven, Hallowed be your name, Your kingdom come, Your will be done, On earth as it is in heaven. Give us today our daily bread. And forgive us our debts, As we also have forgiven our debtors. And lead us not into temptation, But deliver us from the evil one."
Related Articles
Photo Credit: ©Sparrowstock
---