Bible Verses about Healing: Restoring Mind, Body, and Soul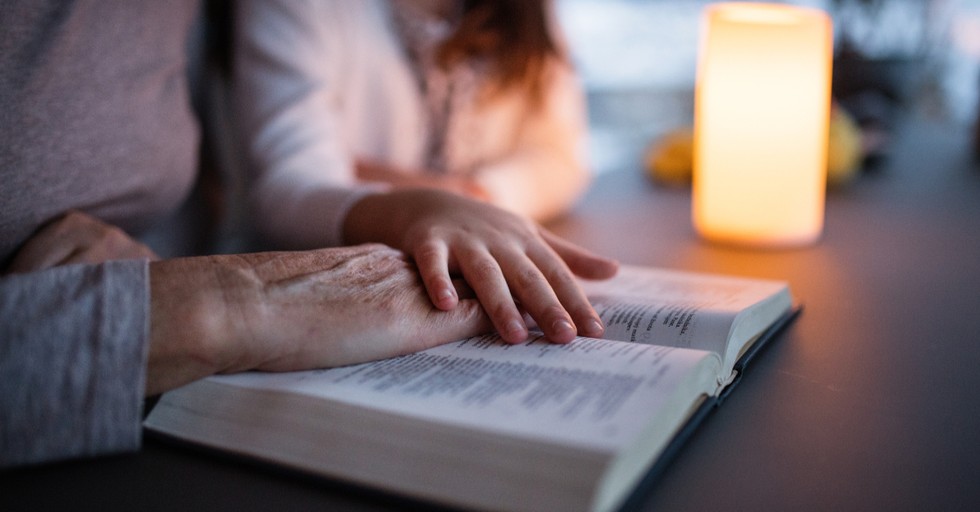 Read a powerful collection of Bible verses about healing to be encouraged by the Word of God that there is comfort and restoration through faith. Be inspired to seek Christ through times of personal pain or family grief, for He is always with you.
"Who shall separate us from the love of Christ? Shall tribulation, or distress, or persecution, or famine, or nakedness, or danger, or sword?... For I am sure that neither death nor life, nor angels nor rulers, nor things present nor things to come, nor powers, nor height nor depth, nor anything else in all creation, will be able to separate us from the love of God in Christ Jesus our Lord." (Romans 8:35,38-39)
These scripture quotes on healing can be used as prayers to ask God for strength in difficult times. Also, use these Prayers for Healing for guidance in praying for God's comfort and peace.
"Heal me, O Lord, and I shall be healed; save me, and I shall be saved, for you are my praise." (Jeremiah 17:14)
"Bless the Lord, O my soul, and forget not all his benefits, who forgives all your iniquity, who heals all your diseases, who redeems your life from the pit, who crowns you with steadfast love and mercy" (Psalm 103:2-4)
Photo credit: Getty/Halfpoint
Isaiah 58:11

"And the LORD will guide you continually and satisfy your desire in scorched places and make your bones strong; and you shall be like a watered garden, like a spring of water, whose waters do not fail." ~ Read Isaiah 58

Psalm 51:9-10

"Hide your face from my sins, and blot out all my iniquities. Create in me a clean heart, O God, and renew a right spirit within me." ~ Read Psalm 51

Isaiah 53:5

"But he was wounded for our transgressions; he was crushed for our iniquities; upon him was the chastisement that brought us peace, and with his stripes we are healed." ~ Read Isaiah 53

Hebrews 10:22

"Let us draw near with a true heart in full assurance of faith, with our hearts sprinkled clean from an evil conscience and our bodies washed with pure water." ~ Read Hebrews 10

Exodus 23:25

"You shall serve the LORD your God, and he will bless your bread and your water, and I will take sickness away from among you." ~ Read Exodus 23

Luke 10:8-9

"Whenever you enter a town and they receive you, eat what is set before you. Heal the sick in it and say to them, 'The kingdom of God has come near to you.'" ~ Read Luke 10

2 Corinthians 7:1

"Since we have these promises, beloved, let us cleanse ourselves from every defilement of body and spirit, bringing holiness to completion in the fear of God." ~ Read 2 Corinthians 7

Proverbs 3:5-8

"Trust in the LORD with all your heart, and do not lean on your own understanding. In all your ways acknowledge him, and he will make straight your paths. Be not wise in your own eyes; fear the LORD, and turn away from evil. It will be healing to your flesh and refreshment to your bones." ~ Read Proverbs 3

Psalm 41:4

"As for me, I said, "O LORD, be gracious to me; heal me, for I have sinned against you!" ~ Read Psalm 41

2 Chronicles 7:14

"If my people who are called by my name humble themselves, and pray and seek my face and turn from their wicked ways, then I will hear from heaven and will forgive their sin and heal their land." ~ Read 2 Chronicles 7

Psalm 6:2

"Be gracious to me, O LORD, for I am languishing; heal me, O LORD, for my bones are troubled." ~ Read Psalm 6

Proverbs 16:24

"Gracious words are like a honeycomb, sweetness to the soul and health to the body." ~ Read Proverbs 16

Psalm 41:3

"The LORD sustains him on his sickbed; in his illness you restore him to full health." ~ Read Psalm 41

Proverbs 14:30