23 Uplifting Bible Verses about Loving One Another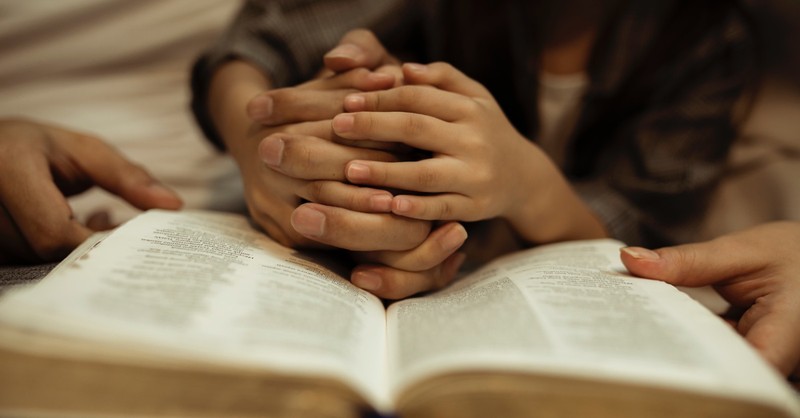 The "Golden Rule" is a familiar warning many hear growing up and maybe we've used with our children: Do unto others as you would have them do unto to you. Jesus' version of this timeless adage is found in Matthew 22:37-39, also known as the Great Commandment: Jesus replied: "'Love the Lord your God with all your heart and with all your soul and with all your mind. This is the first and greatest commandment. And the second is like it: 'Love your neighbor as yourself.'
Another of Jesus' Bible verses about loving one another is John 13:34, "A new command I give you: Love one another. As I have loved you, so you must love one another."
The Apostle Paul told us how to live out Jesus' command, For the commandments say, "You must not commit adultery. You must not murder. You must not steal. You must not covet." These—and other such commandments—are summed up in this one commandment: "Love your neighbor as yourself." Love does no wrong to others, so love fulfills the requirements of God's law. Rom. 13:9-10 NLT
The NIV Bible mentions the word "love" 686 times. In the Greek language, there are four different types of love and we see examples of all four in the Bible. It's important to understand what type of love Jesus was instructing us to show to each other.
Storge is an affectionate warm love experienced between family members, spouses, a parent and child, and good friends. It comes naturally in our relationship with someone we know well.
Eros is a sexual passionate love between a husband and wife in a marriage relationship, as we see demonstrated in the Song of Solomon.
Phileo is brotherly love or friendship which is generous and given selflessly with no expectations. David and Jonathan in the Bible had that kind of a loving friendship. Phileo is not the kind of love Jesus expects us to show to everyone when he tells us in Matthew 5:44 to love our enemies, but he does want us to show agape love to others whether we like them or not.
Agape love is sacrificial and an act of the will beyond emotions like Christ exhibited on the Cross as God sacrificed his only Son for us to have eternal life and salvation. This is love: not that we loved God, but that he loved us and sent his Son as an atoning sacrifice for our sins. 1 John 4:10
Jesus wants his followers who are one with him to love one another in everything they do. Do everything in love (1 Cor.16:14). A high but biblical calling.
What Does the Bible Teach Us about Loving One Another?
There's an entire chapter in the Bible devoted to describing what love is and isn't. 1 Corinthians 13 specifically tells us how to love each other well and what that biblical kind of love looks like.
If I speak in the tongues of men or of angels, but do not have love, I am only a resounding gong or a clanging cymbal. If I have the gift of prophecy and can fathom all mysteries and all knowledge, and if I have a faith that can move mountains, but do not have love, I am nothing. If I give all I possess to the poor and give over my body to hardship that I may boast, but do not have love, I gain nothing.
Love is patient, love is kind. It does not envy, it does not boast, it is not proud. It does not dishonor others, it is not self-seeking, it is not easily angered, it keeps no record of wrongs. Love does not delight in evil but rejoices with the truth. It always protects, always trusts, always hopes, always perseveres.
Love never fails.
And now these three remain: faith, hope and love. But the greatest of these is love.
Love is not a feeling; it's a decision demonstrated in actions. A way of life every Christian should strive to exemplify in their personal interactions with others. As we mature in our faith and care about others more than we think about our own wishes and desires, the love we show to others becomes motivated from selflessness rather than selfishness. We put others needs and wishes before our own.
Follow God's example, therefore, as dearly loved children and walk in the way of love, just as Christ loved us and gave himself up for us as a fragrant offering and sacrifice to God. Eph. 5:1-2
Jesus explains that love is how we witness Christianity to the world. "By this everyone will know that you are my disciples, if you love one another." John 13:35
In John 15:16-17, Jesus again explained this principle to his disciples and we are his disciples today. You did not choose me, but I chose you and appointed you so that you might go and bear fruit—fruit that will last—and so that whatever you ask in my name the Father will give you. This is my command: Love each other.
We show the love of Christ to others by sharing the Truth of the Gospel. Love doesn't sanction ungodly or unbiblical actions and choices but cares enough about the sinner to show him or her that there's a better way. A path to forgiveness and redemption. Salvation. The same path we found and took.
Show me the right path, O Lord; point out the road for me to follow. Lead me by your truth and teach me, for you are the God who saves me. All day long I put my hope in you. Ps. 25:4-5 NLT
For you have been called to live in freedom, my brothers and sisters. But don't use your freedom to satisfy your sinful nature. Instead, use your freedom to serve one another in love. Gal. 5:13 NLT
Let's look at 14 more Bible verses about loving one another: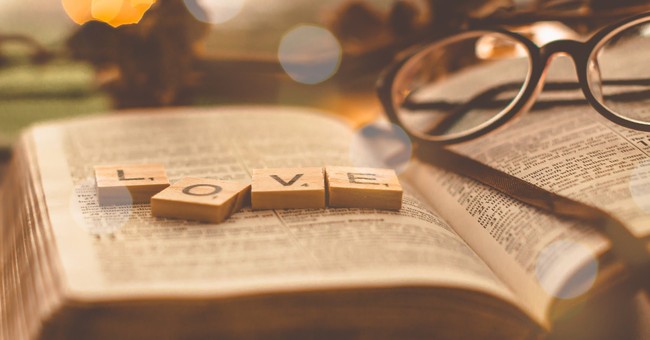 Photo Credit: Emmanuel Phaeton/Unsplash
14 Additional Bible Verses about Loving One Another
Be devoted to one another in love. Honor one another above yourselves. Rom. 12:10
Let no debt remain outstanding, except the continuing debt to love one another, for whoever loves others has fulfilled the law. Rom. 13:8
We ought always to thank God for you, brothers and sisters, and rightly so, because your faith is growing more and more, and the love all of you have for one another is increasing. 1 Thess. 1:3
Now about your love for one another we do not need to write to you, for you yourselves have been taught by God to love each other. 1 Thess. 4:9
We ought always to thank God for you, brothers and sisters, and rightly so, because your faith is growing more and more, and the love all of you have for one another is increasing. 2 Thess. 1:3
And let us consider how we may spur one another on toward love and good deeds. Heb. 10:24
Now that you have purified yourselves by obeying the truth so that you have sincere love for each other, love one another deeply, from the heart. 1 Pet. 1:22
Finally, all of you, be like-minded, be sympathetic, love one another, be compassionate and humble. 1 Pet. 3:8
For this is the message you heard from the beginning: We should love one another. 1 John 3:11
And this is his command: to believe in the name of his Son, Jesus Christ, and to love one another as he commanded us. 1 John 3:23
Dear friends, let us love one another, for love comes from God. Everyone who loves has been born of God and knows God. 1 John 4:7
Dear friends, since God so loved us, we also ought to love one another. 1 John 4:11
No one has ever seen God; but if we love one another, God lives in us and his love is made complete in us. 1 John 4:12
And now, dear lady, I am not writing you a new command but one we have had from the beginning. I ask that we love one another. 2 John 1:5
A Prayer to Love Others
Dear Lord, I can never thank you enough for going to the torturous Cross for sinners such as me. For showing the kind of selfless sacrificial love that would lay down your life for a friend. You tell me I am your friend if I do what you command to love others. Father, there are many people in our lives who are hard to love who make our life hard and don't share our beliefs. Please help me replace my anger with love. My distaste with love. My judgment with love. My disappointment with love. My disapproval with love. My hurt with love.
Lord, I know that you died for difficult people also as I once was and you want me to pray for them, even when I can't see any hope for change. Help me love with your heart of forgiveness and to want their eyes to open to your grace and mercy. The same grace and mercy you showed me when I was lost in the world. Help me learn to not condone, but not condemn others. Give me kind words, a loving heart, and sincere prayers for everyone to know the beautiful life of living with Jesus in our heart.
Help me to love my fellow brothers and sisters in Christ with a holy love that looks for the good beyond personalities that differ from mine. I pray for my loved ones that they would achieve in their life what you want for each one, even when it might not be what I think is best.
Father, let me see others through your eyes. Teach me how to be the best witness for you. Put into my mouth the words to say and soften any rough edges in my heart and countenance. Love is patient and I'm not always patient. Love is kind and I'm not always kind. Oh, Lord, please love others through me in spite of my inadequacies. Draw me nearer to you so that I see the potential in others that you see.
Thank you Lord for loving me with a lavish undeserving kind of love. Let me go and do likewise. In your precious loving name I pray, Amen.
A Loving Friend Describes Godly Love
When Jesus ascended back to heaven, he sent the Holy Spirit to help us love one another with the kind of love we're not capable of on our own.
A dear friend recently sent me an email in response to a blog I wrote on Valentine's Day: Our Forever Valentine: Jesus, Our First Love! My friend beautifully summarizes all the Bible verses about loving one another. With her permission, I share it with you here.
"There are lots of wonderful attributes, but LOVE encompasses them all. To me, Love is a way of life, as I breathe each breath. Knowing that I'm learning how to love more day by day. I have learned in life that there is no happiness without love. Love feeds our soul and calms our heart and mind. Love brings peace to us through his Spirit everyday."
A physician once prescribed, "The best medicine for humans is love." When asked, "What if it doesn't work?" The physician smiled and said, "Increase the dose!"
Photo Credit: ©Getty Images/Rudi Suardi
---

Janet Thompson is an international speaker, freelance editor, and award-winning author of 20 books. Her passion is to mentor other women in sharing their life experiences and God's faithfulness. Janet's new release is Everyday Brave: Living Courageously As a Woman of Faith available at Amazon, Christianbook.com, Barnes and Noble, and signed at author's website. She is also the author of Mentoring for All Seasons: Sharing Life Experiences and God's Faithfulness; Forsaken God? Remembering the Goodness of God Our Culture Has Forgotten; Dear God, Why Can't I Have a Baby?; Dear God They Say It's Cancer; Dear God, He's Home!; Praying for Your Prodigal Daughter; Face-to-Face Bible study Series; and Woman to Woman Mentoring: How to Start, Grow, & Maintain a Mentoring Ministry Resources. Janet is the founder of Woman to Woman Mentoring and About His Work Ministries. Visit Janet and sign up for her weekly blog and free online newsletter at womantowomanmentoring.com. Join Janet on Facebook, LinkedIn, Pinterest, Twitter, and Instagram.