Why Male Celebrities Are Taking a Stand against Porn
Chad Napier

Crosswalk.com Contributing Writer

2020

24 Jul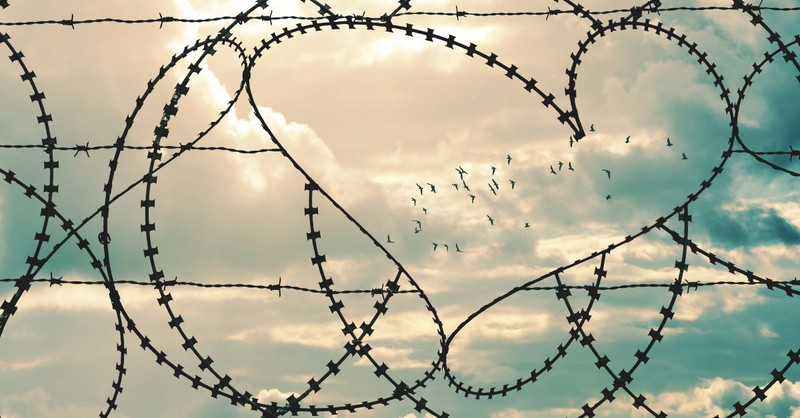 Pornography, whether it is in the form of still images from a magazine or a video from a movie, is a pervasive problem in our society irrespective of social standing.
Celebrities are now becoming increasingly active spokespeople against pornography. Much of the increase is due to the relative ease of access and its pervasiveness in Hollywood productions. Primetime television shows, which were once strictly held in check by standards put in place by the FCC, have continually pushed the envelope into areas of scantily-clad actors in sexually-suggestive scenes. Even though sexual scenes are not explicitly shown on many cable stations, the innuendos and scenes are clearly sexual in nature.
This progression has invariably led to those predisposed to the graphic imagery to seek out pornography in other formats. With many A-List celebrities heading the charge against porn, we now see the problem isn't isolated to John Q. Public.
Major celebrities Terry Crews, Orlando Bloom, and Russell Brand are among a host of other recognizable faces to come out and take a stand against pornography.
Photo Credit: ©GettyImages/TongTa
The New Drug
Each has a testimony on how porn addiction can impact a person's individual and family life. A recent article posted on the fightthenewdrug.org website speaks about the hindrances that pornography causes in intimacy and personal relationships. The self-defined website is both a non-religious and non-legislative entity that has a mission "to provide individuals the opportunity to make an informed decision regarding pornography by raising awareness on its harmful effects using only science, facts, and personal accounts."
In a 2016 article for the Wall Street Journal, model Pamela Anderson wrote about the wiles and degradation of the graphic sexual images on our culture. She labeled porn, "a public hazard of unprecedented seriousness." Along with Rabbi Shmuley Boteach, they warned of its "corrosive effects on a man's soul and on his ability to function as husband and, by extension, as father."
An addiction to pornography is pervasive in both males and females. Further, the addiction is not isolated to a particular financial or social status as we see celebrities take a stance against its effect. The attraction to sexual imagery began for many at any early age. Men are generally more visual, and, unfortunately, pornography was socially acceptable for many years. Decades ago, the risque magazines and movies were hidden behind the shelf. Adolescents possessed the materials by obtaining them from friends or other relatives. This obsession has continued into their adult lives.
Accessibility became much more prevalent with the advent of the internet and the ability to find such material in a matter of seconds. Additionally, computers and phones provide a means to hide the user's appetite for such imagery. Society has become more tolerant and desensitized to graphic imagery as video games and television programming has become more pervasive with semi-bare bodies.
Celebrities Admit the Destructive Impact
Celebrities are now echoing much of what we have preached in our churches and taught in Sunday School classes regarding the impact of only pursuing what our flesh desires. In Matthew 5:28, he wrote that adultery includes looking "at a woman with lustful intent." We are to honor marriage and keep the "marriage bed undefiled, for God will judge the sexually immoral and adulterous" as written in Hebrews 13:4. Divorce in Hollywood is a common occurrence. Celebrities are becoming more and more cognizant to the negative impacts that pornography has on real, personal, and intimate relationships. Even though the fascination with pornography is impersonal in nature, the user realizes it has a profound impact on the marriage.
Pornography addiction not only has a negative impact on the marriage, but also on the person's mentality or way of thinking. Actor Russell Brand in a video admitted that, "our attitudes toward sex have warped and perverted and have deviated from its true function as an expression of love and a means of procreation." Pornography is sinful in the eyes of God, but it begs the question as to why predominantly non-religious male celebrities are speaking of its ill effects.
Sinful lusts and fleshly gratifications are consuming itches that can never be satisfied. Proverbs 27:20 teaches that hell is never satisfied and "never satisfied are the eyes of man." Thus, we must realize that any "plastic," "impersonal," or "worldly" love distorts our spiritual satisfaction and gradually contaminates the pure love we are to give.
The graphically-engineered or airbrushed bodies become an incessant desire for sexual gratification. In Hollywood, celebrities have an even greater pressure of "attractiveness" for both self and significant other. The spotlight creates greater opportunities for "wandering eyes." David understood these ramifications when he wrote in Psalm 119:37, "turn my eyes from looking at worthless things; and give me life in your ways." The watching or viewing of illicit images leads to sinful action in an attempt to turn imagination or wandering lusts into a reality.
In James 1:14-15, we are told "but each person is tempted when he is lured and enticed by his own desire. Then desire when it has conceived gives birth to sin, and sin when it is fully grown brings forth death." Pastors frequently preach that looking leads to lusting, which in turn results in losing. They are referring to the harmful effects of seemingly 'harmless gazing.' Much is lost when we lose our ability and desire for pure and godly attraction.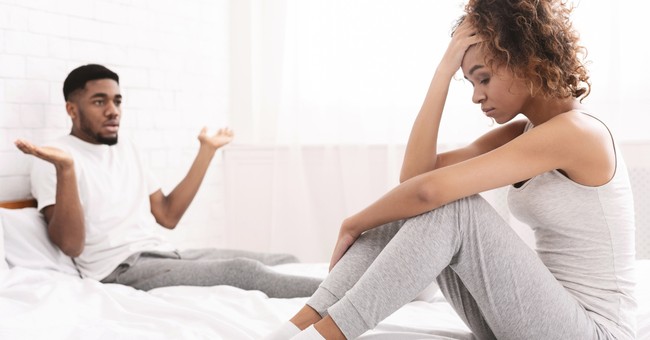 Photo Credit: ©GettyImages/Prostock-Studio
Porn Is an Addiction That Feeds Internal Desire for Fleshly Fulfillment
Paul wrote in 1 Corinthians 6:9, "food is meant for the stomach and the stomach for food – and God will destroy both one and the other. The body is not meant for sexual immorality, but for the Lord, and the Lord for the body."
The Holy Spirit gives us the strength to avoid the temptations caused by sexually graphic images or videos. In Job 31:1, he wrote that, "I have made a covenant with my eyes; how then could I gaze at a virgin?"
Gospel music singer Kirk Franklin in an interview with Oprah spoke about his "addiction" to pornography. He threw out all of his pornography, but then caught himself soon thereafter pillaging through the dumpster digging for what he discarded. We must guard our vision by focusing upon our relationship with Christ and His word. David rhetorically asked, "how can a young man keep his way pure?" in Psalm 119:9-10. He asserted it can be attained "by guarding it according to your word. With my whole heart I seek you; let me not wander from your commandments!" We are unable to control our fleshly desires within ourselves. The believer, however, is empowered by the strength of the Holy Spirit to lead, guide, and direct both our physical and spiritual vision.
By succumbing to the vile lure of pornography, one cannot fully and purely worship our Savior.
Paul preached in Romans 12:1-2, "I appeal to you, therefore, brothers, by the mercies of God, to present your bodies as a living sacrifice, holy and acceptable to God, which is your spiritual worship." Thus, it is incumbent on us as believers to take heed of the state of our bodies and "crucify the flesh with its passions and desires" as prescribed in Galatians 5:34.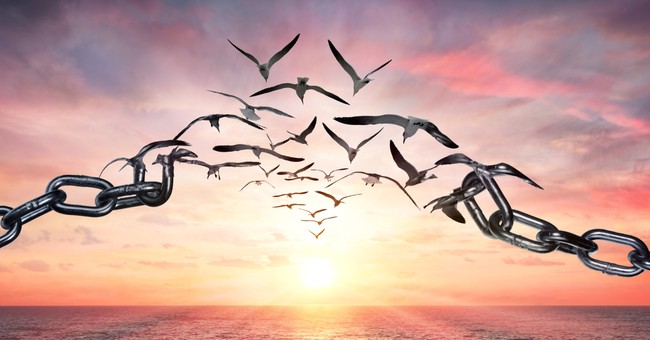 Photo Credit: ©GettyImages/RomoloTavani
Those Who Are In the Flesh
The mind of the believer must have a focus on our Savior. In Romans 8:8, Paul told the church "those who are in the flesh cannot please God." Celebrities often have difficulty in this area because they are expected to always "be in role" while in the general public. All believers have this same difficult task as we abide in a lost and sinful world while striving to uphold our Christian principles.
Another hindering aspect in the life of the celebrity, which leads to an addiction to pornography, is frequent travel schedules. Whether it be for out of town games, appearances, or tapings, time away from a significant other leads to a greater attraction for sexual fulfillment. Pornography is often the avenue because of the great ease of availability.
In his book The Gospel & Pornography, Russell D. Moore writes, "if sex is a good gift from God designed to bring us joy and bring Him glory, then it's no wonder Satan wants to distort that gift so that we only experience shame and loneliness." Further, "the 'one-flesh union' of a man and a woman becomes 'no-flesh' aloneness of a man or woman before the flickering images of a screen." A frequent absence from the spouse is detrimental to this union and creates an opportunity to indulge in selfish desires.
Speaking Up about How Porn Destroys
With so much negative reported about liberal-leaning celebrities, it is refreshing to see many speak out against the impact of pornography. Hopefully, these voices and warnings about the impact of pornography on the mind, body, and soul will be heeded. Many celebrities owe a career and a comfortable living on the premise that "sex sells."
Finally, however, there are a few who have come to the realization that porn is an ungodly pursuit that destroys mentalities and relationships.
Recommended for You:
3 Lies about Pornography That Could Be Destroying Your Marriage
What Every Woman Needs to Know about a Man's Battle with Pornography
Is Masturbation a Sin in Christianity?
5 Things Christian Men Need to Know about Masturbation
What Does the Bible Say about Masturbation?
Photo Credit: ©GettyImages/KarenHBlack
---

Chad Napier is a believer in Christ, attorney at law, wannabe golfer, runner, dog lover, and writer. He enjoys serving his church as a deacon, Sunday School teacher, and fill-in preacher. You can find him on Facebook and Twitter. He and his wife Brandi reside in Tennessee with their canine son Alistair.