A Call to Worship Prayer to Invite Us into Praise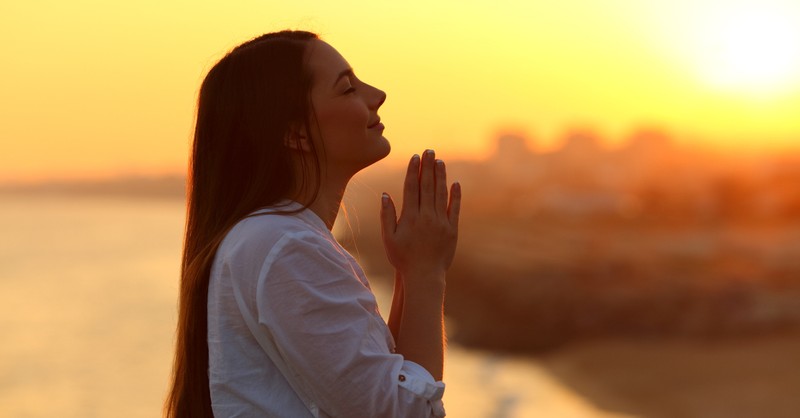 "True, whole prayer--is nothing but love," writes St. Augustine. A call to worship prayer is a tender way to enter into God's presence with a spirit postured to honor Him.
In today's churches, there is a moment of silence and then call to pray before we enter into worship because it allows us to shake off distractions, the thoughts of the coming week, our burdens, struggles, and allows us to dial our hearts into the frequency of worshipping God.
Why It Is Important to Begin Worship with Prayer?
Have you stood in church on Sunday filled with daily struggles, a running to-do list, plans for the week, or perhaps you're still fuming about a fight with a co-worker, friend, or even your spouse? Or maybe you're like me, the kids' bickering and complaints are still fresh in your mind. These feelings and thoughts flood your mind leaving you flustered, distracted, and spinning away from the significance of meeting with God.
This is why we pray. Prayer invites us to step out of our daily lives and brings us into God's presence. The author of Hebrews writes, "Let us therefore come boldly to the throne of grace, that we may obtain mercy and find grace to help in time of need" (Hebrews 4:16). The point is because of Jesus Christ's sacrifice, we have direct access to God. We are urged to run to God in prayer with a bold confidence, knowing that God hears our prayers.
Prayer ushers us into the throne room of God. Think about that for a moment. Prayer lifts us our voices and spirits into the throne room of our mighty King. He wants our undivided attention because He grants us a personal audience who created the universe, who calls the stars by name, who parted the Red Sea for the Israelites, who sacrificed His only Son, and who raised Him from the dead so that we could enter into His court.
Even the rocks, the mountains, and all of nature worships and praises Him. When we think about it this way, the heavy realization that we are standing before God creates a deep reverence, a deep sense of awe and appreciation that we are about to praise the One who created us and knows us intimately.
This is why services often begin with a call to worship prayer. What is a call to worship? It is simply the beginning of worship service that "calls God's people to step out of their lives and into His presence." The call to worship signifies to those attending church that we have come to a time of worship. The perfect example of the call to prayer before worship can be found throughout the Bible. More specifically Psalm 95 teaches us why.
Come, let us sing for joy to the LORD; let us shout aloud to the Rock of our salvation. Let us come before him with thanksgiving and extol him with music and song. For the LORD is the great God, the great King above all gods. In his hand are the depths of the earth, and the mountain peaks belong to him. The sea is his, for he made it, and his hands formed the dry land. Come, let us bow down in worship, let us kneel before the LORD our Maker; for he is our God and we are the people of his pasture, the flock under his care. Psalm 95:1-7
There's power in our acknowledgement that He is worthy, above all else, of our worship and praise as we step out of our busy lives to truly focus our hearts on Him. Perhaps the most significant prayer that resonates with our restless hearts is how Jesus prayed and praised God in Matthew 26:39. His anguished plea: "Nevertheless, not as I will, but as You will," reminds us that our purpose on this earth is to glorify God.
After we pour our hearts out to God, it is essential to pray in effect, "No matter how what is happening in my life, I am setting it aside because it pales in comparison to the importance of worshipping You. That is my first priority."
How to Invite Others into Prayer before Worship
My grace is sufficient for you, for power is made perfect in weakness. 2 Corinthians 12:9
Coming together to pray in worship is a profound way to connect with the body of Christ and come before God. He wants an individual relationship with every last one of us and His presence constantly surrounds us. Psalms 150:1-6 is the perfect example of why we come together to pray and praise God in Worship.
"Praise the Lord! Praise God in his sanctuary; praise him in his mighty heavens! Praise him for his mighty deeds; praise him according to his excellent greatness! Praise him with trumpet sound; praise him with lute and harp! Praise him with tambourine and dance; praise him with strings and pipe! Praise him with sounding cymbals; praise him with loud clashing cymbals! ..."
It might feel risky or vulnerable to invite others to prayer before we worship in praise but it doesn't require special words or to be a good communicator. All it takes is a willing heart to invite others in. I believe God wants to teach us a few things about prayer. I mean, if we're going to be honest, it doesn't really make sense to us. How can speaking a few words really do anything?
Beloved, you and I were created in the image of a God who speaks things into existence. He says it, and it's comes to be. So it only makes sense, really, that what we speak would also be powerful. Inviting others into prayer release what God has willed in the heavenly realms to be poured out onto His church. In His desire for relationship, He ordained that His people would partner with Him to see His Church come to life wherever we are gathered.
A Call to Worship Prayer to Begin Our Praise
Call to Me, and I will answer you, and show you great and mighty things, which you do not know. Jeremiah 33:3
God is near, and He's ready to listen. Meet with Him and open your heart in prayer. Our worship prepares a place of meeting with God—a place for us to experience His nearness and grasp His welcome to join Him as He works in within the church and our lives. So how do we invite others into prayer before worship? We begin with a call to pray whether we are at home, in a small group, or at church.
Father God, we come together as Your church, and we ask that You still our hearts and calm our minds. Lord, God we gather here today under Your care and protection. We thank You for those who are with us, and we praise You for Your lovingkindness that never fails us. We ask that You strengthen us with Your peace and fill us with the Holy Spirit as we come together to praise and worship You. Lord Jesus, let our worship be filled with praise as we honor You because You are worthy of all honor and praise. May we build each other up and encourage each other as we give You all the glory. Amen.
A call to worship prayer before praise only takes a few minutes of your time and a yielded heart. You don't need to worry about what to say. You only need to submit yourself to God's authority and invite the Holy Spirit to leave. Allow the Holy Spirit to fill your thoughts with His desires for prayer and then give voice to His words. Amazing things happen when we gather to worship God in prayer and in praise because God Himself is the source of our prayers.
He reminds us in John 5:14-15, "This is the confidence we have in approaching God: that if we ask anything according to his will, he hears us. And if we know that he hears us—whatever we ask—we know that we have what we asked of him."
Beloved, be God's vessel and watch how mightily God moves within you and those who have gathered to worship in prayer and praise.
Photo Credit: ©GettyImages/AntonioGuillem
---

Heather Riggleman is a believer, wife, mom, author, social media consultant, and full-time writer. She lives in Minden, Nebraska with her kids, high school sweetheart, and three cats who are her entourage around the homestead. She is a former award-winning journalist with over 2,000 articles published. She is full of grace and grit, raw honesty, and truly believes tacos can solve just about any situation. You can find her on GodUpdates, iBelieve, Crosswalk, Hello Darling, Focus On The Family, and in Brio Magazine. Connect with her at www.HeatherRiggleman.com or on Facebook.