A Five-Step Guide to Praying for Your Loved Ones
Hosanna Wong

Crosswalk.com Contributing Writer

2021

20 Dec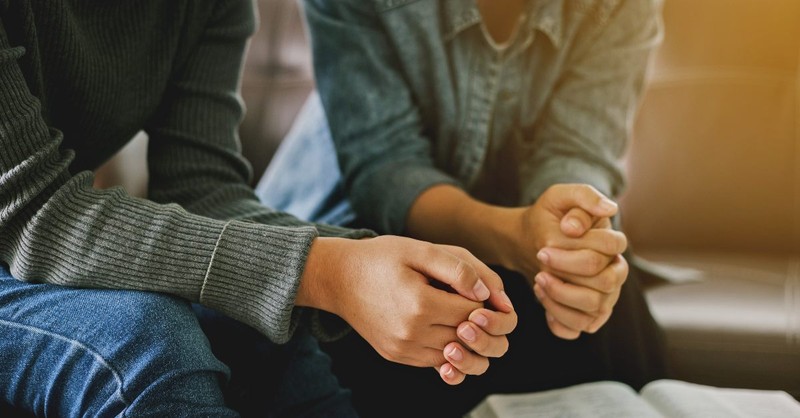 When he saw the crowds, he had compassion on them because they were confused and helpless, like sheep without a shepherd. He said to his disciples, "The harvest is great, but the workers are few. So pray to the Lord who is in charge of the harvest; ask him to send more workers into his fields." Matthew 9:36-38 (NLT)
There are many people who do not yet know how loved and valuable they are to God. Many who are unaware of the whole and free life available with Jesus. And yet Jesus said there are not many who have gone out to tell them.
In Matthew 9 Jesus told His disciples to pray a specific prayer. Today, as His disciples, we should pray it as well— that God would send more workers, messengers, truth-tellers, Jesus sharers, and eyewitnesses of who Jesus is and what He can do into the places in our world, our homes, our jobs, and our social circles where people don't know Him. It's a bold prayer, as the disciples discovered—for they were the ones sent out by Jesus in Matthew 10 as the answer to their own prayers.
What the Enemy Wants You to Believe
Are we praying these kinds of bold prayers? I fear that, at times, prayer seems so simple and so obvious it gets ignored altogether. And the Enemy of our souls loves that. The Enemy hopes we see prayer as a passive, powerless practice—religious and spiritual words to the heavens that don't reach the ears of God and certainly are not involved in changing anything here on earth. The Enemy hopes we believe that praying for our loved ones won't help anything, so what's the point? He hopes that we dismiss the power of prayer so that we don't access the open communication lines we have to God. He hopes we don't pray for more workers to be a part of the harvest. He hopes we give up hope. He wants us to remain silent.
But 1 John 5:14 ensures us that God hears us: "This is the confidence we have in approaching God: that if we ask anything according to his will, he hears us" (NIV).
It is God's will that all should know Him. You are not alone in wanting your loved ones to know God. God loves them even more than you do, and He wants to partner with you in revealing who He is.
I challenge you to crush the Enemy's lie that your prayers don't matter. I challenge you to let your heart break for those far from God, the way Jesus' heart did in Matthew 9. I challenge you to pray as if God hears—because He does. I challenge you to pray like your loved ones can come to know the one true God—because they can. May we be people of faith with actual faith, praying bolder prayers than we ever have.
A Five-Step Guide to Praying for Your Loved Ones
Colossians 4:2-6 (NIV) gives us a wonderful guide of how to pray not only for those around us who have yet to experience God's love but also for opportunities to reveal it.
1. Keep praying. "Devote yourselves to prayer, being watchful and thankful" (v. 2). Don't give up on praying for your loved ones. Live a life devoted to such prayers. This word, devote, in its original Greek means to consistently show strength, to persist, to persevere, to endure, to keep on. God calls us to persist in prayer. To press on praying with strength. With a thankful heart, be watchful, and focus your prayers on the specific needs of your friends and family members. Who will you persevere to keep praying for?
2. Pray for open doors. "And pray for us, too, that God may open a door for our message, so that we may proclaim the mystery of Christ, for which I am in chains" (v .3). Pray to God for opportunities to reveal His love and share His story. God loves opening doors. Pray for them. Look for them. Expect them. And pray for the courage to walk through those doors when they open.
3. Pray for boldness. "Pray that I may proclaim it clearly, as I should" (v .4). Pray for God to give you courage as you share your story and the story of Jesus. And pray that He gives you the right words. Each person you speak to has their own unique lens through which they see themselves, God, and the world. Pray that you are clear in sharing the good news about God's love with them in a way they will receive and understand it.
4. Pray for awareness and wisdom. "Be wise in the way you act toward outsiders; make the most of every opportunity" (v .5). Pray that God gives you wisdom in your everyday life. Pray that as you go grocery shopping, go to work, and go to birthday parties God gives you a heightened awareness of the people around you. Pray that your empathy expands. Pray that you are able to make the most of every open door around you.
5. Pray for gracious words. "Let your conversation be always full of grace, seasoned with salt, so that you may know how to answer everyone" (v. 6). Pray that as you make invitations and have conversations, your words will be saturated in kindness, your joy will enhance the flavor of people's lives, and the truth you tell of a Savior who rescues and restores will be received for what it truly is: the best news anyone can ever hear. Pray that you listen well. Pray that love leads the way. Pray that through your conversations, God's love will be revealed as the most grace-filled, welcoming, inviting love there is.
Never stop praying. When you don't know how to pray, pray through these verses in Colossians 4. Use it as a guide to pray for your loved ones, to pray for the world, to pray for God to send more workers into His fields, and show you how you can be a part of His harvest.
May we pray as Jesus called us to pray. May God open doors. And may we have the courage to walk through them when they open.
Photo Credit: © iStock/Getty Images Plus/Jantanee Rungpranomkorn
Hosanna Wong is the author of How (Not) to Save the World: The Truth About Revealing God's Love to the People Right Next to You. She is a speaker and spoken-word artist who grew up in an urban ministry on the streets of San Francisco. From there to her years of touring the country, sharing Jesus through spoken-word poetry, and on to becoming a sought-after speaker in churches and conferences around the world, Hosanna has learned how to say yes to God no matter how intimidating or uncertain the task. She and her husband, Guy, serve in various ministries, equipping the local and global church