A Prayer for Australian Bushfires to Cease
Liz Kanoy

Senior Editor

2020

8 Jan

COMMENTS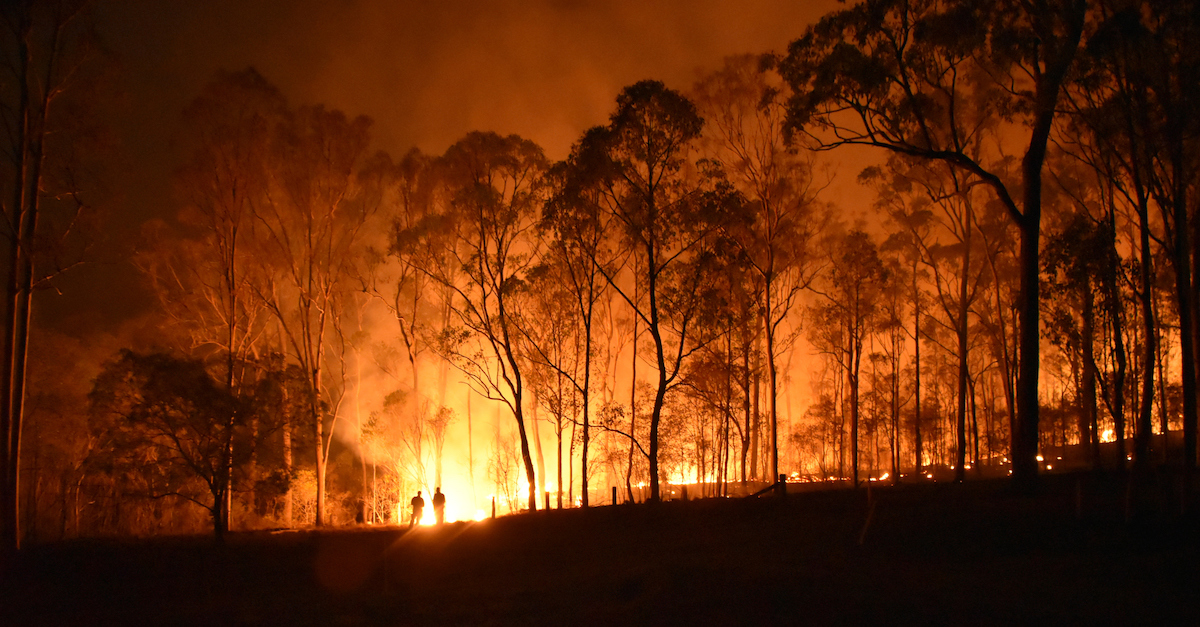 At the time of this writing, the fires – which are largely believed to have been caused by drought and extreme heat – have taken the lives of 24 people, including three firefighters. Additionally, over half a billion animals and 18 million acres of land have been incinerated, CNN reports. According to The Australian, since the fires started in July 2019, 184 people have been charged or cautioned with fire-related crimes across Queensland, New South Wales (NSW), Victoria, South Australia and Tasmania. Some of the fire-related crimes individuals have been charged with include discarding lit cigarettes, setting off fireworks and failing to comply with a total fire ban. -Excerpted from How You Can Help Australia amid Raging Bushfires on ChristianHeadlines.com, written by Kayla Koslosky
A Prayer for Australian Bushfires to Cease
Dear Lord,
Even in times of devastation and disaster, You are our God, You are sovereign, and You are good. We know that even though this world is imperfect and fallen, You care for Your children and Your creation. We ask You, Abba Father, to quench these Australian bushfires quickly - no matter how they were started we know You can put an end to them. We pray that You would equip the firefighters that are currently in the field trying to put out these fires; please give them the tools they need and the wisdom to know what to do next. May there be collaboration among all the different departments helping, the volunteers, and the government. Give them the strength and grant them encouragement to continue on in this harrowing ordeal. Please lift up new volunteers from many different places so that those currently serving would not grow weary.
Please bless the 2000 people and growing who have lost their homes, may they look to you in their hope to start over. We pray for the families that lost loved ones to this fire, may they be surrounded by your peace at this time. And we pray for the wildlife that is being devastated. This is Your creation Lord, and You have granted us stewardship over it. May we be good stewards of the earth you have given us and all the creatures in it. We pray for all of the wildlife care volunteers who are working around the clock to rescue animals and provide help to those injured.
Lord, we pray for healing in the land of Australia. We pray for an end to these fires that have taken so much. And we pray for complete restoration in this land when the fires have ceased. We pray that people would come together in Your name to help one another, their communities, and the land You have blessed them with. May we remember that even amidst dangerous and devastating fires You are with us and You care. For You are the God who is making all things new. Lord hear our prayer. Amen.
Here's How You Can Help in Addition to Praying
Many organizations are accepting donations to help with these devasting fires; donations to help communities rebuild, to help injured wildlife, and to keep the amazingly brave firefighter teams going.
Samaritan's Purse – Spearheaded by evangelical pastor Franklin Graham, Samaritan's Purse has had boots on the ground in Australia for the past three months. According to the Samaritan's Purse website, the humanitarian aid organization's mission is to provide "spiritual and physical aid to hurting people around the world." Samaritan's Purse has a location-based in Sydney that works with local churches to set up command centers near disaster zones. Donate here.
Victoria, Australia Fire Departments – The Victoria Government has partnered with the Salvation Army and Bengido Bank to create the Victorian Bushfire Appeal. One hundred percent of the funds donated to the appeal go directly toward communities in need. Donate here.
New South Wales Rural Fire Service – Known for being the largest volunteer fire service in the world, the New South Wales Rural Fire Service is comprised of 2,100 rural fire brigades with a total of about 72,000 volunteer firefighters. Donations made to the NSW Rural Fire Service or local Rural Fire Brigade will directly benefit the organization's volunteers. Donate here.
For more information please visit ChristianHeadlines.com.
Photo credit: ©GettyImages/philips