A Prayer for Those Affected by the Nashville Tornado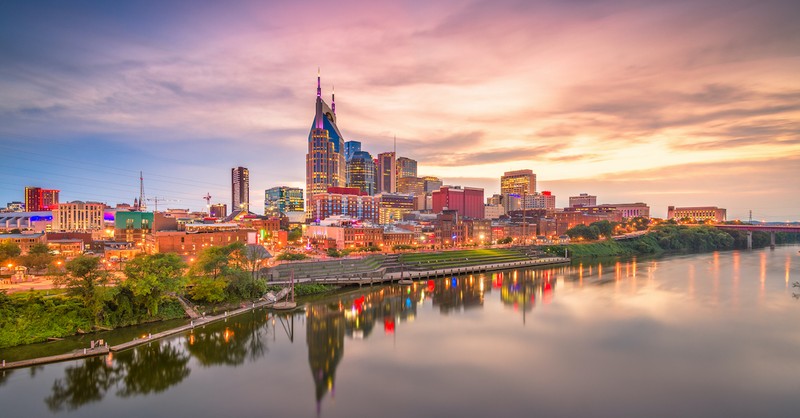 According to USA Today, a severe storm system made its way through middle Tennessee Monday into Tuesday and overnight, a tornado touched down in Nashville.

CNN reports that the twister(s) collapsed more than 40 structures and sent at least 150 in the metro Nashville area to the hospital. Additionally, tens of thousands of people are without power.

In a news conference Tuesday morning, Tennessee Governor Bill Lee lamented the loss of lives as a result of the storm. "It is heartbreaking. We have had loss of life all across the state. Four different counties have, as of this morning, had confirmed fatalities," Lee said. -Kayla Koslosky, Editor of ChristianHeadlines.com.
A Prayer in the Wake of the Tennessee Tornado
Oh Lord,

We come to you today with heavy hearts in the wake of the Nashville and Middle Tennessee tornado that has taken lives and caused much injury and destruction. Disasters like this remind us that we live in a fallen world. But you do not leave us to destruction; you are sovereign, and you are present in good times and in bad. You are near to us at all times, even in the midst of uncertainty. Father, we hate that this tornado has taken lives, destroyed homes, and caused many more injuries. It is hard to understand how you will use this tragedy, but even in our confusion and sadness, we can trust you completely.
God, we know that you give and you take away and that everything you do is for your glory. You are always working for our good and the salvation of many. Lord only you can bring goodness out of destruction. We struggle to understand how this works, but no matter the circumstance we can depend on you and worship you fully. You are the Author of life, the Creator, the Sustainer, the Savior, and the Redeemer. Father, Son, and Holy Spirit, our Triune God in One.
You have a plan so much greater than we can understand. No matter what happens you are our refuge and our fortress. Your children are safe in your arms, no matter what happens to us in this world. Thank you that even in death your children are saved and they reside with you in Heaven until this world shall pass and be redeemed in full. Lord, today we lift up all those affected by the tornado in Nashville, Middle Tennessee, and surrounding areas.
Specifically, we pray for the homes and property damaged in Stanford Estates, Mt. Juliet, Germantown, and East Nashville among other areas. Lord help them pick up the pieces in the aftermath of disaster, surround them with close community; may the church be active in Tennessee with everyone helping those around them as they are able. We pray for the damage done to West Wilson Middle School and Donelson Christian Academy; we pray for people to come together and for repairs to be made quickly so that children can attend school. We pray that these buildings would be safe when the children return.
We pray for the many families who lost loved ones, we know of 22 people so far. Lord, we know human life is precious to you; please grant the families peace and comfort knowing you are near to them. We thank you for the rescue of those who were trapped and injured; please grant them healing and peace. Thank you for all the first responders working tirelessly in Nashville, Middle Tennessee, and surrounding areas; please grant them the energy and wisdom needed to carry out their duty efficiently. Thank you that their hearts long to help others and may their good deeds spark compassion in other members of the community to help those in need.
We pray for the restoration of homes, businesses, schools, and the repair of at least 40 buildings. We pray for Governor Bill Lee as he leads his community; give him wisdom to lead well, grant him compassion for those he governs, and bless him with steadfast helpers who will work well together to restore the state of Tennessee.
Lord we pray for your gospel to be spread even in such a time as this; we pray that people would come to know you as their Savior and Refuge. And we pray for the faith of your children to be strengthened, may they find comfort in the many brothers and sisters praying for them. Holy Spirit we ask that you would raise up workers in Tennessee and across America to help restore all the affected areas.

We pray for this restoration and peace in your name Jesus, Amen.
5 Bible Verses to Remember in Times of Disaster
"The LORD is my rock, my fortress and my deliverer; my God is my rock, in whom I take refuge, my shield and the horn of my salvation, my stronghold. …For who is God besides the LORD? And who is the Rock except our God?" - Psalm 18:2,31

"So do not fear, for I am with you; do not be dismayed, for I am your God. I will strengthen you and help you; I will uphold you with my righteous right hand." - Isaiah 41:10

"The righteous cry out, and the LORD hears them; he delivers them from all their troubles. The LORD is close to the brokenhearted and saves those who are crushed in spirit." - Psalm 34:17-18

"Praise be to the God and Father of our Lord Jesus Christ, the Father of compassion and the God of all comfort, who comforts us in all our troubles, so that we can comfort those in any trouble with the comfort we ourselves receive from God." - 2 Cor. 1:3-4

"Cast all your anxiety on him because he cares for you." - 1 Peter 5:7
Sources:
ChristianHeadlines.com
CNN
USAToday
Related articles:
A Prayer in Times of Natural Disaster
Praying through Disasters and Worldwide Crises
Photo credit: ©GettyImages/SeanPavone
Liz Auld is the managing editor for Salem Web Network; she edits and writes content across the editorial sites (Crosswalk.com, Biblestudytools.com, iBelieve.com, Christianity.com). She has a B.A. in Religious Studies and has taken post-graduate classes in Theology and Global Studies. She enjoys reading books from a variety of genres, trying new recipes, and visiting family.
---
This article is part of our prayer resource meant to inspire and encourage your prayer life when you face uncertain times. Remember, the Holy Spirit intercedes for us and God knows your heart even if you can't find the words to pray.
Prayers from the Bible to Guide Your Prayer Time
Types of Prayers We See in the Bible
What Is the Prayer of Jabez in the Bible?
How to Pray for Your Daily Bread
Prayers for Anxiousness
Related: Listen to our podcast, Teach Us to Pray with Christina Patterson. You can find all the episodes at LifeAudio.com. Here's Episode 1: