3 Comforting Prayers for Cancer Patients
According to the National Cancer Institute, there were an estimated 1,806,590 new cases of cancer diagnosed in the United States in 2020. Those numbers are staggering! At times cancer seems to be ravishing humanity. Not only are the treatments are long and hard but the emotional toll is great as well. Cancer on your medical chart instantly raises fear, anxiety and depression in many.
I know the cancer journey well, because I am a survivor myself. While it was one of the most terrifying of my life it was also one of the most clarifying journeys of my life. Looking back, I see how my intimacy with God grew during that season. Prayer, praise and Scripture were all a part of that growth journey.
Prayer and Scripture for cancer patients is a lifeline. God cares and comforts. How can cancer patients find comfort through the scriptures and prayer? Let's start with scriptures and then we'll move on to prayers for cancer patients.
Comforting Scriptures for Cancer Patients
God is a God of comfort. In 2 Corinthians 1:3-4 the Apostle Paul writes, "Praise be to the God and Father of our Lord Jesus Christ, the Father of compassion and the God of all comfort, who comforts us in all our troubles, so that we can comfort those in any trouble with the comfort we ourselves receive from God." As a patient journeys through cancer, they can remind themselves that God desires to bring comfort. He is a God of compassion.
Another great passage to bring comfort to the cancer patient's heart is Psalm 46. In this amazing Psalm, David writes, that "God is our refuge and strength an ever-present help in trouble, therefore we will not fear though the earth give way and the mountains fall into the heart of the sea" (Psalm 46:1-2). As the cancer patient prays the words of Psalm 46, the presence of God wraps them close. I remember memorizing this Psalm and reciting it every day through my cancer journey. It is such a comforting Psalm.
In Psalm 139, the Psalmist reminds us that all our days have been written for us. Though cancer catches the patient by surprise, it does not catch God by surprise. While God is not the author of cancer he does allow it and it isn't shocking to Him nor does it throw Him into a panic. We are reminded that God has appointed our birth and He will appoint the exact hour He brings us home to Himself.
Though cancer is not good, the cancer patient can trust God's goodness. Cancer cannot separate us from the presence of God. As the Psalmist writes, "Where can I go from your Spirit? Where can I flee from your presence?" (Psalm 139:7). "Even the darkness will not be dark to you" (Psalm 139:12).
Though the journey through cancer feels very dark, God is not threatened by the darkness. What a comforting scripture for a cancer patient! Rest assured, God will give you, dear cancer patient, the light of His presence and guide you through the darkness to the best methods of treatment.
Another comforting passage for a cancer patient is Isaiah 41:10, "So do not fear, for I am with you; do not be dismayed, for I am our God. I will strengthen you and help you; I will uphold you with my righteous right hand". The journey of cancer may patient leave you weak and exhausted. What a comfort to know that in our weakened state, God Himself offers us His strength and holds us up with His righteous right hand!
Just as Scripture is a comfort to cancer patients, prayer is a lifeline. The practice of learning to pray Scripture in the cancer journey not only brings healing to damaged emotions, but it also brings hope.
1. A Prayer Cancer Patients for Hope and Healing
We are always invited to ask God for healing. Sometimes God heals in this life and at other times He heals as the person passes from death to life in eternity. Research tells us that those who have hope during the cancer journey have a far better chance of survival. Below is a prayer for cancer patients for hope and healing.
Lord Jesus,
I praise You that You are the Holy Healer. Thank You, that You invite me to ask for healing. You are the resurrection and the life. You will bring life even in this journey. Oh Holy One, cancer is not what I expected or planned. I feel afraid and anxious. Lord, even though I am afraid, I trust that You are my refuge and strength an ever-present help in trouble. Help me to be still and know – not just intellectually, but experientially that You are God. I know that You are sovereign and in control even when life feels out of control. You are the blessed controller of all things. Strengthen my faith, I pray. Even if cancer takes my physical body, you promise eternal life with no more death or dying. Thank You, that You are the God of hope. Fill me with hope, joy and peace as I persevere with You in this journey through cancer.
(James 5:14-15, John 11:25, Psalm 46:1, 10, I Timothy 6:15 Philipps Translation, Romans 15:13).
2. A Prayer for the Loved Ones of Cancer Patients
For the loved ones of a cancer patient at times the journey can feel even harder than it does for the patient. Watching your loved one suffer and feeling so out of control can be very unnerving. The following prayer is designed for those who walk the journey with the cancer patient.
Lord God,
I feel so afraid when I think of __________________ (Put in loved one's name) journeying through cancer. Holy One, there is so much I don't understand about cancer and I wish I could take this from them. Lord, I ask for courage. Help me to be strong and courageous as I journey with __________ (Put in Loved one's name). Bring calm to this chaos. When I don't know what to do, help me to remember that you promise to give wisdom to those who ask. I come to you now, asking for wisdom. Show me Holy Spirit, how to bring the calming and comforting presence of Christ to my loved one. Show me how to encourage moment by moment as we journey together. Help me to listen attentively as they process their feelings just as You bend down and listen to me. Father, may I be used by You to encourage _________________. Fill me with renewed love as we journey this valley together.
(Joshua 1:9, James 1:5, Romans 15:1-2, Psalm 116:2 NLT).
3. A Prayer of Praise for Those Who Journey through Cancer
You might find it strange that I am including a prayer of praise for cancer patients. However, what I discovered during my own journey through cancer was that as I praised God faithfully for who He was above my cancer, His Holy Spirit calmed my anxiety and fear. As I praised Him I felt His presence more than I ever had before. Praising God opened my heart in a new way to experience the presence of God and I believe it will do the same for you.
Father God,
You are my creator. I praise You that in this moment You understand how every cell in my body is interacting with every other cell. I praise You that You are the One who delivers me from fear. Thank You, that You are eternally faithful and infinitely good. I praise You that You promise to walk through the valley of the shadow of death with me and that I don't have to far any evil because You are my loving Shepherd. Thank You that Your rod and your staff comfort me in this journey. I praise You that Your wisdom goes beyond any oncologist's and that You promise that You are the giver of wisdom. Thank You, that You will give wisdom to every medical professional who is treating me. I praise You that I can trust You and relax in your loving care. As a loving Father quiets an infant with his love, so You sing over me and quiet me with Your love. I praise You that You will continue to strengthen me and make me courageous through this journey. You will never leave me nor forsake me. I can relax in Your abiding love. I love You, Lord.
(Psalm 27:1, Psalm 23, Romans 11:36, Zephaniah 3:17, Hebrews 13:5).
While the cancer journey is terrifying, it can also be clarifying. As you press into Scripture, prayer and praise, God can use your journey to deepen your walk with Him.
Photo Credit: ©GettyImages/AndreaObzerova
Video credit: Prayers compiled from Healing Prayers, Background Image Credit: https://unsplash.com/@yoannboyer Music Credit: https://app.soundstripe.com/songs/7999
---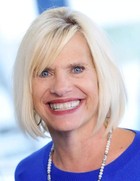 Authentic. Passionate. Funny and Biblical all describe Becky Harling. A best-selling author, Becky is a popular speaker at conferences, retreats, and other events. She is the author of 11 books, including Psalms for the Anxious Heart, How to Listen so Your Kids Will Talk, and The Extraordinary Power of Praise.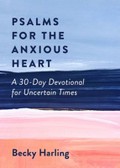 Becky is a certified coach with the John Maxwell Team and a seasoned Bible teacher. You can connect with Becky at www.beckyharling.com, www.harlingleadership.com, Facebook https://www.facebook.com/beckyharlingministries, Twitter, @beckyharling, or on Instagram at Becky Harling