7 Intentional Scriptures to Pray Over Your Year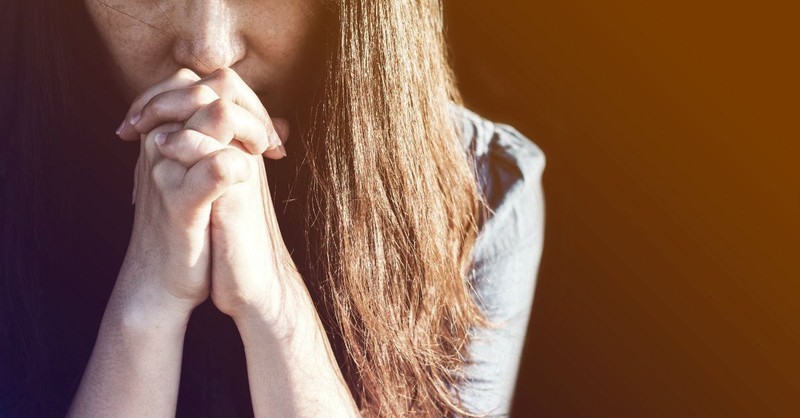 Are you an intentional prayer warrior? Do you schedule requests for God, setting aside a certain time each day, or do you offer prayers on a whim? I've been known to do both, but what about a prayer life intertwined with Scripture?
Weaving our requests and petitions with Bible verses is one way to be intentional about our prayer life. It's powerful, too. Keep reading to find seven scriptures to pray this year.
What Does the Bible Say About Intentional Prayer?
Being intentional simply means to pray on purpose or as intended. Looking in the Bible, 1 Thessalonians 5:17 instructs us to be purposeful—to pray always.
Let's be honest, the fast pace of life can easily whisk us away and into the busy grind, leaving the day void of conversations with God. However, if we're intentional, keeping a determined focus on our prayer life as we would a new habit of walking, reading the Bible, or drinking water, God can change us.
In addition to that verse in 1 Thessalonians, here's what the Bible says:
"[P]raying at all times in the Spirit, with all prayer and supplication. To that end keep alert with all perseverance, making supplication for all the saints," (Ephesians 6:18 KJV)
We're called to pray for all types of needs—for others, self, ministry, work, the heart, healing, deliverance, and more. And to pray continually. That's intentional.
How Was Jesus Intentional in Prayer?
Flipping through the pages of the New Testament, we read about Jesus and prayer. In Luke 5:16, we note that our merciful Savior often retreated from the crowd to spend one-on-one time with his Father.
With the pending crucifixion, Jesus asked for deliverance but, in Matthew 26:42, assured the Father that his (the Father's) will would be done. On the cross, he also prayed a prayer of forgiveness. All were intentional.
Find more Bible verses and insight concerning this topic in this piece on Crosswalk.com.
Purposeful Living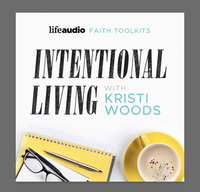 It's easy to pray in reaction to circumstances. That's okay. Welcome, even. But what if we're missing out by simply living in reaction versus intention? What if our faith can grow deeper when we focus with purpose? How would this impact life aspects such as relationships, church, and the words we speak?
The Intentional Living Podcast with Kristi Woods, a free six-part series, offers an everyday look into these life topics. Find conversation and suggestions for a deeper walk with Jesus this year—prayer included.
Intentional Prayer Samples
God desires to hear your voice and mine, to commune with us in prayer every day—whether out loud or in silence. Prayer is simple communication with God—with words and listening ears. Below are a few samples to consider.
When someone lists a prayer need on social media, talk with God right then. Father, my friend has need of comfort. Comfort her like only you can.
When you wake, offer thanksgiving. Thank you for today, Father. Thank you for the sun, the answers, and even the challenges that will come.
Take ten minutes and walk around the neighborhood or house, praying. I pray for _____ today, that they'll be strong in you and in your mighty power, Lord.
Lift requests while in the car, or ask for help from God before beginning a task. Lord, I'm about to dive into this new endeavor. I believe you've called me to it. I will remain in you because apart from You, I can truly do nothing. Bring forth the spiritual fruit for the sake of others and your glory, Lord.
10 Intentional Scriptures You Can Pray throughout the Year:
1. The Nehemiah Prayer
Here's a prayer for strength. God stirred Nehemiah's heart for a mission, but that mission wasn't easily completed. He needed strength beyond his own.
We find the initial prayer in Nehemiah 1:4-11. He converses with God with praise and supplication. He addresses sin as well as the task ahead. Other powerful words await in Nehemiah, too, and we don't want to miss them. They make a powerful prayer for the servant of God.
"For they all wanted to frighten us, thinking, 'Their hands will drop from the work, and it will not be done.' But now, O God, strengthen my hands." (Neh. 6:9 ESV)
A prayer created from this verse might look like this:
Father, this work is not easy. My enemy attempts to make me afraid, to quit in fear, but You have called me to this task. So I look to You. I will complete it. God, strengthen these hands. In Jesus' name, amen.
2. Words from Ephesians
Ephesians provides many wonderful verses that can transition into powerful prayers. Consider the passage below. Insert the name of a loved one before verbs. For example:
…May Christ's dwell richly in ______'s heart through faith, that he/she being rooted and grounded in love…
"For this reason I bow my knees before the Father, from whom every family in heaven and on earth is named, that according to the riches of his glory he may grant you to be strengthened with power through his Spirit in your inner being, so that Christ may dwell in your hearts through faith--that you, being rooted and grounded in love, may have strength to comprehend with all the saints what is the breadth and length and height and depth, and to know the love of Christ that surpasses knowledge, that you may be filled with all the fullness of God." (Ephesians 3:14-19 ESV
3. Psalms and Prayer
The book of Psalms is filled with poetic prayers and praises. For example, use the verse below from Psalm 5 as a simple supplication. Others that make wonderful prayers are Psalm 3:7, 10:17, and 25:1-2.
"Give ear to my words, Yahweh. Consider my meditation." (Psalm 5:1 WEB)
4. Utilizing Proverbs
A popular scripture passage, Proverbs 3:5-6 offers words of strength when spoken over the lives of others or ourselves. Study the words and consider the deep meaning when offering these words.
"Trust in the LORD with all your heart, and do not lean on your own understanding. In all your ways acknowledge him, and he will make straight your paths." (Proverbs 3:5-6 ESV)
Father, I will trust you with all my heart. I refuse to lean on my own understanding, but ask you for wisdom with this. Lord, I'll acknowledge you in all my ways. Show me any ways I'm going astray. I love you and know you'll make my paths straight. Praise you, God. In Jesus' name, amen.
5. Praying from the Book of John
John 15 includes many verses easily used as intentional prayers. Here's one:
"I am the vine. You are the branches. He who remains in me, and I in him, the same bears much fruit, for apart from me you can do nothing." (John 15:5 WEB)
Father, I know You are my supplier, and according to your Word, if I remain in you, you will remain in me. That's where I'll produce much spiritual fruit for the benefit of others and to your glory. So Father, I remain. I remain in you. Show me how to do this on a day-to-day basis, for I know that apart from you, I can truly do nothing.
6. Romans and Salvation
A prayer for the forgiveness of our sins and the gift of salvation is potentially the most powerful offering of words we'll ever utter. It secures our eternity in heaven. Our loving Father freely welcomes and answers it.
Here's one scripture to help model our words.
"[T]hat if you will confess with your mouth the Lord Jesus, and believe in your heart that God raised him from the dead, you will be saved." (Romans 10:9 WEB)
Father, I ask you now to forgive my sins. Thank you for washing me clean. Starting today, I call you Lord, Jesus. I believe in my heart that God raised you from the dead. Thank you for saving me. In Jesus' name, amen.
7. Help from Matthew
It might be one of the most popular prayer passages in the Bible. Many churches recite this one regularly during their services. What if we take these words and turn them into a personal conversation with God?
"Pray like this. 'Our Father, who is in heaven, may your name be kept holy. May your kingdom come. May your will be done, as in heaven, so on earth. Give us this day our daily bread. Forgive us our debts, as we also forgive our debtors. Bring us not into temptation, but deliver us from evil. For yours is the kingdom, the power and the glory forever. Amen.'" (Matt. 6:9-13 WEB
Scripture quotations are from the ESV® Bible (The Holy Bible, English Standard Version®), copyright © 2001 by Crossway, a publishing ministry of Good News Publishers. Used by permission. All rights reserved. May not copy or download more than 500 consecutive verses of the ESV Bible or more than one half of any book of the ESV Bible.
---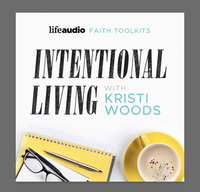 Kristi Woods, a multi-published writer and speaker, loves most the label "Jesus girl." Her latest Bible study, Created to Believe: A Bible Word Study, and other faith-building tools can be found at www.KristiWoods.net. A regular contributor at iBelieve.com and Crosswalk.com, she is published in various print and online publications. Kristi, her handsome, retired-from-the-Navy husband, and their three children survived a nomadic, military lifestyle and have set roots in Oklahoma--where she keeps close watch for tornadoes and good chocolate.
This article is brought to you by the The Intentional Living Podcast with Kristi Woods, a completely free six-part series on living an intentional life for Jesus.
---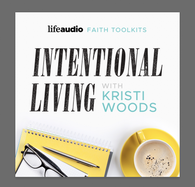 Kristi Woods, author of 101 Prayers for Military Wives, loves to tell stories about God, real people, and a few pretend couples, too. She writes Christian nonfiction and Christian fiction that's often threaded with a hero or military life. She and her retired-from-the-Navy husband have set roots in Oklahoma, where she keeps dibs on their three adult children while also keeping watch for tornadoes and creamy, mouth-watering chocolate. Follow the journey, grab free faith resources, and find out more about her latest releases at KristiWoods.net.