Irish Blessings and Prayers – Beautiful Words of Faith!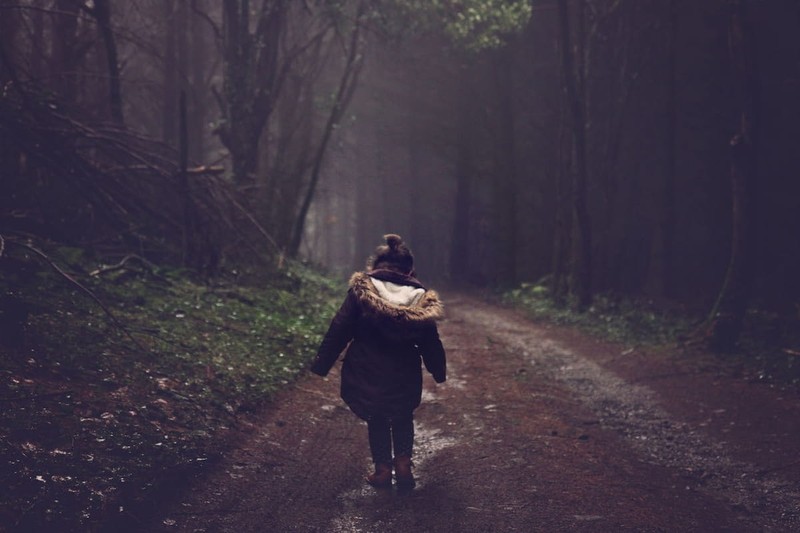 The church and believers in Ireland have blessed us with many wonderful prayers since the early 5th century when many came to have faith in Jesus Christ. Saint Patrick is regarded as the founder of Christianity in Ireland and helped inspire many of these popular Irish blessings and prayers. These prayers are filled with words of hope and faith in God's promises for every day! You will find yourself filled with joy and feeling life's burdens fall off your shoulders as you read these!
1. Traditional Irish Blessing
May the road rise to meet you,
May the wind be always at your back.
May the sun shine warm on your face,
The rains fall soft upon your fields.
And until we meet again, May God hold you in the palm of His hand.
May God be with you and bless you,
May you see your children's children.
May you be poor misfortune,
Rich in blessings,
May you know nothing but happiness From this day forward.
May the road rise to meet you
May the wind always be at your back,
May the warm rays of sun fall upon your home,
And may the hand of a friend always be near.
May green be the grass you walk on,
May blue be the sky above you,
May pure be the joys that surround you,
May true be the hears that love you.
2. An Irish Gaelic Christening Blessing for Children
Dearest Father in Heaven,
Bless this child and bless this day
Of new beginnings.
Smile upon this child
And surround this child, Lord,
With the soft mantle of your love.
Teach this child to follow in your footsteps,
And to live life in the ways of
Love, faith, hope and charity.
3. A Simple Irish Prayer
May God give you...
For every storm, a rainbow,
For every tear, a smile,
For every care, a promise,
And a blessing in each trial.
For every problem life sends,
A faithful friend to share,
For every sigh, a sweet song,
And an answer for each prayer.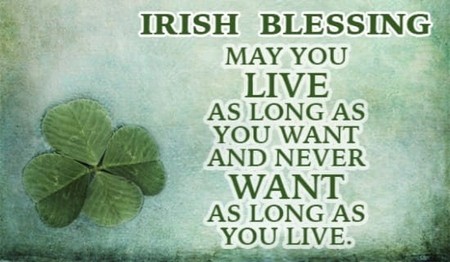 4. Lorica of Saint Patrick (also known as the Breastplate of Saint Patrick or the Prayer of Saint Patrick.)
This prayer is attributed to St. Patrick in 433 A.D.. however many scholars believe the author to be anonymous.
I arise today
Through a mighty strength, the invocation of the Trinity,
Through a belief in the Threeness,
Through confession of the Oneness
Of the Creator of creation.
I arise today
Through the strength of Christ's birth and His baptism,
Through the strength of His crucifixion and His burial,
Through the strength of His resurrection and His ascension,
Through the strength of His descent for the judgment of doom.
I arise today
Through the strength of the love of cherubim,
In obedience of angels,
In service of archangels,
In the hope of resurrection to meet with reward,
In the prayers of patriarchs,
In preachings of the apostles,
In faiths of confessors,
In innocence of virgins,
In deeds of righteous men.
I arise today
Through the strength of heaven;
Light of the sun,
Splendor of fire,
Speed of lightning,
Swiftness of the wind,
Depth of the sea,
Stability of the earth,
Firmness of the rock.
I arise today
Through God's strength to pilot me;
God's might to uphold me,
God's wisdom to guide me,
God's eye to look before me,
God's ear to hear me,
God's word to speak for me,
God's hand to guard me,
God's way to lie before me,
God's shield to protect me,
God's hosts to save me
From snares of the devil,
From temptations of vices,
From every one who desires me ill,
Afar and anear,
Alone or in a mulitude.
I summon today all these powers between me and evil,
Against every cruel merciless power that opposes my body and soul,
Against incantations of false prophets,
Against black laws of pagandom,
Against false laws of heretics,
Against craft of idolatry,
Against spells of women and smiths and wizards,
Against every knowledge that corrupts man's body and soul.
Christ shield me today
Against poison, against burning,
Against drowning, against wounding,
So that reward may come to me in abundance.
Christ with me, Christ before me, Christ behind me,
Christ in me, Christ beneath me, Christ above me,
Christ on my right, Christ on my left,
Christ when I lie down, Christ when I sit down,
Christ in the heart of every man who thinks of me,
Christ in the mouth of every man who speaks of me,
Christ in the eye that sees me,
Christ in the ear that hears me.
I arise today
Through a mighty strength, the invocation of the Trinity,
Through a belief in the Threeness,
Through a confession of the Oneness
Of the Creator of creation
We hope these words of faith have touched your heart and inspired your thoughts today! Join our praying community and share in the comments below what your favorite Irish blessing is and who you are praying for!
Photo courtesy: www.pexels.com
Publication date: January 5, 2017
---
This article is part of our larger Prayers resource meant to inspire and encourage your prayer life when you face uncertain times. Visit our most popular prayers if you are wondering how to pray or what to pray. Remember, the Holy Spirit intercedes for us and God knows your heart even if you can't find the words to pray.
Prayer for Healing
Prayer for Strength
Prayer for Protection
Morning Prayers
Good Night Prayers
The Prayer of Jabez
Short Prayers
The Lord's Prayer
The Prayer of St Francis
Serenity Prayer
A Birthday Prayer
Sinner's Prayer
Prayer for Forgiveness
Prayer for Guidance

Now available is our new Daily Prayer devotional! An easy way to find start your day with prayer, read today's prayer and sign up to receive by email.