6 Powerful and Timely Prayers for Our Military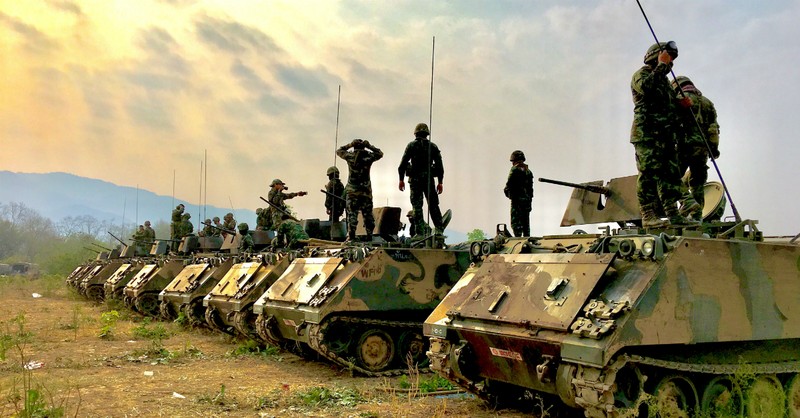 Our military doesn't just need good men and women who can serve. Our military needs good men and women who will pray for them.
If we don't have a loved one active in the Armed Forces, it's easy to forget the daily sacrifice and devoted service of our nation's troops.
Their round-the-clock protection of our country at home and abroad puts them in harm's way in both peace time and in conflict. Most serve multiple deployments away from family, missing precious milestones and whole seasons of marriage and parenting.
Their families back home learn to pick up the slack and stay strong while remaining constantly flexible.
These are our sons and daughters, mothers and fathers, sisters, brothers, co-workers, friends and neighbors. We owe our freedom and security not only to those who have served but also to those who continue to protect.
Our while our Armed Forces have made a commitment to duty, honor and country, our country out to make a commitment to support and pray for them.
We've got a collection of prayers for soldiers and military families. Save this page to use as a resource as you pray for our military. If you or your church keeps a prayer list of active military, insert their names into these prayers.
You could also print this page to keep in your Bible or with your quiet time materials, to remember to pray for soldiers and military families.
Here are 6 prayers for our military:
1. A Prayer for Protection
Lord,
Thank you for the men and women who have stepped up to serve and protect our country. May they know the blessing of serving well. Thank you for your promise to never leave or forsake your people. We pray for the protection of our Armed Forces serving our country at home or abroad, whether in drills or in deployment. Keep from harm all those in the Army, Navy, Air Force, Marines and Coast Guard. Help them to be strong and courageous and do not let them be discouraged. Help them to feel Your presence. Help them to stay morally strong and free from untoward influence. Keep them healthy and free from sickness as well as injury. Guide them, be their eyes and their ears as they move about and carry out their order and missions.
In Jesus' name, Amen.
2. A Prayer for Wisdom
God,
All wisdom comes from You and without You we can do nothing. Help those in our military making decisions to go to You and seek Your wisdom and Your guidance. Give them the insight they need to carry out their tasks and to protect our country. Give them knowledge and skill to operate machinery, technology, aircraft, weapons, and more to carry out their tasks and to stay safe in their missions. Give our leaders understanding to make right decisions affecting our country and our Armed Forces. May our leaders and troops exercise integrity, honesty and valor as they serve. Forgive us from turning from You. Turn the hearts of our country and our leaders to You, Lord. We can do nothing without You.
In Jesus' name, Amen.
3. A Prayer for Military Families
Father,
We ask you to place your hand of protection and peace on the families of those who have sent a loved one to serve in the Armed Forces. In their absence, give the families at home provision for their needs and strength to manage their homes alone. Help them to trust You when they're tempted to give in to fear, to take their thoughts captive to Your truth and to rest in Your sovereignty and goodness. Comfort them in loneliness and anchor them in Your unchanging love. We ask You to use the adversity of distance for Your good -- to strengthen their marriages and to deepen the bonds of family. Help the children of parents who've been deployed to feel Your strong love, to know Your comfort, to develop endurance and to learn to trust You.
In Jesus' name, Amen.
4. A Prayer for Gold Star Families
Gold Star Families have had an immediate family member die while serving in the military. It's the club no one wants. These families pay the ultimate price for a soldier's service long after others have returned home.
O Lord,
We weep with those who weep and mourn with those who mourn. Comfort these moms and dads, children and spouses as only You can. You have collected all their tears in a bottle. Help them feel Your strong presence, see Your tender hand all around them and hear Your voice directing them in these dark circumstances. Draw them daily to Your Word to process their pain and grieve with hope. Spur the body of Christ around them to be Your hands and feet and to meet their practical needs. Thank you, Lord, that You are the defender of widows and father to the fatherless. Bind up their wounds and heal their broken hearts. You are good and You do good and we pray that even in their pain they will see Your goodness sustaining them through pain. Restore to them the joy of your salvation and sing over them a new song.
In Jesus' name, Amen.
5. Bible Verses to Pray Through for Soldiers and Military Families
One of the best ways to pray is to use the words of scripture. When we pray the Word, we pray the promises of God and use the words of God in the Bible as we intercede. Praying scripture also keeps us focused during our prayer time and lets us pray the will and heart of God.
Here are several applicable verses to use in praying the Word, with a sample prayer:
Praying through Joshua 1:9:
Lord,
Help our troops be strong and courageous in the tasks that are before them today. Draw them to You so that they delight in Your Word and may they desire to follow You with their whole heart, not turning to the right or to the left and trusting in You alone. Help them to reflect Your righteousness and love where they serve and give them success in their work. Help them carve out time daily to meet with You and to read Your Word to guide them in their actions, thoughts and decisions. Let them feel your comforting presence so that they can carry out their work with strength and courage and fight fear or discouragement. Thank you, Lord, that You are their God and that You are with them wherever they go.
6. Excerpt from President Roosevelt's D-Day Prayer
"Almighty God…Lead [our troops] straight and true; give strength to their arms, stoutness to their hearts, steadfastness in their faith. They will need Thy blessings…They will be sore tried, by night and by day, without rest-until the victory is won…They yearn but for the end of battle, for their return to the haven of home. Some will never return. Embrace these, Father, and receive them, Thy heroic servants, into Thy kingdom. And for us at home …whose thoughts and prayers are ever with them--help us, Almighty God, to rededicate ourselves in renewed faith in Thee in this hour of great sacrifice…And let our hearts be stout, to wait out the long travail, to bear sorrows that may come, to impart our courage unto our [troops] wheresoever they may be…Lead us to the saving of our country, and with our sister Nations into a world unity that will spell a sure peace -- a peace invulnerable to the schemings of unworthy men. And a peace that will let all of men live in freedom, reaping the just rewards of their honest toil. Thy will be done, Almighty God. Amen."
---
Lisa Appelo is a speaker and author. She's a widow and single mom to 7 who inspires women to deepen their faith in grief and find hope in the hard. Find her encouragement for faith, grief and hope at LisaAppelo.com. Connect with Lisa and get her FREE printable prayer postcards here.
Photo Credit: ©Unsplash/Chuanchai Pundej