7 Prayers for Global Healing and World Peace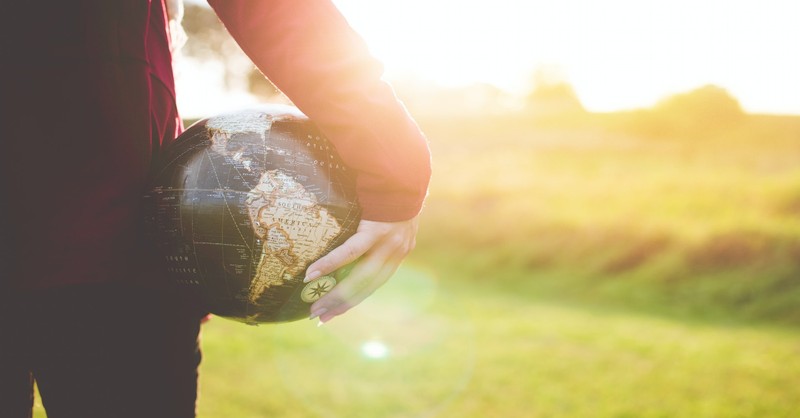 Brought to you by
Amid the recent global turmoil, let us pray for the people of the world to have peace and health. While we pray for the world, remember that our true salvation comes from God through Jesus Christ.
"Do not be conformed to this world, but be transformed by the renewal of your mind, that by testing you may discern what is the will of God, what is good and acceptable and perfect." (Romans 12:2)

"Do not love the world or the things in the world. If anyone loves the world, the love of the Father is not in him." (1 John 2:15)

"Peace I leave with you; my peace I give to you. Not as the world gives do I give to you. Let not your hearts be troubled, neither let them be afraid." (John 14:27)
Jesus Prays for the World
Jesus Prays for His Disciples ~ John 17:6-19
6 "I have revealed you to those whom you gave me out of the world. They were yours; you gave them to me and they have obeyed your word. 7 Now they know that everything you have given me comes from you. 8 For I gave them the words you gave me and they accepted them. They knew with certainty that I came from you, and they believed that you sent me. 9 I pray for them. I am not praying for the world, but for those you have given me, for they are yours. 10 All I have is yours, and all you have is mine. And glory has come to me through them. 11 I will remain in the world no longer, but they are still in the world, and I am coming to you. Holy Father, protect them by the power of your name, the name you gave me, so that they may be one as we are one. 12 While I was with them, I protected them and kept them safe by that name you gave me. None has been lost except the one doomed to destruction so that Scripture would be fulfilled. 13 "I am coming to you now, but I say these things while I am still in the world, so that they may have the full measure of my joy within them. 14 I have given them your word and the world has hated them, for they are not of the world any more than I am of the world. 15 My prayer is not that you take them out of the world but that you protect them from the evil one. 16 They are not of the world, even as I am not of it. 17 Sanctify them by the truth; your word is truth. 18 As you sent me into the world, I have sent them into the world. 19 For them I sanctify myself, that they too may be truly sanctified.
Jesus Prays for All Believers ~ John 17:20-26
20 "My prayer is not for them alone. I pray also for those who will believe in me through their message, 21 that all of them may be one, Father, just as you are in me and I am in you. May they also be in us so that the world may believe that you have sent me. 22 I have given them the glory that you gave me, that they may be one as we are one— 23 I in them and you in me—so that they may be brought to complete unity. Then the world will know that you sent me and have loved them even as you have loved me. 24 "Father, I want those you have given me to be with me where I am, and to see my glory, the glory you have given me because you loved me before the creation of the world. 25 "Righteous Father, though the world does not know you, I know you, and they know that you have sent me. 26 I have made you known to them, and will continue to make you known in order that the love you have for me may be in them and that I myself may be in them."
A Prayer for the World to Come to Christ
"For the grace of God has appeared, bringing salvation for all people, training us to renounce ungodliness and worldly passions, and to live self-controlled, upright, and godly lives in the present age." (Titus 2:11-12)
Father,
Creation sings of Your majesty. Created in Your image, we are a direct reflection of You. Every good thing comes from You. Every note of love and goodness we feel and extend is rooted in Your great love for us. Whether we know Jesus yet or not, we know love. We all know what it feels like to love and be loved. It is this commonality that supplies the empathy we need to see each other for the people You created us to be. Help us to find the good in every person You place in our lives and on our paths, Father. You are not a God of coincidence.
You watch over us, encourage us, and love us perfectly. You are faithful to hear us and answer our prayers. You are close to the brokenhearted. Father, we are in awe of how you orchestrate the days of our lives and the individual love You have for each of us and our purposes. We are all unique, every person, and it brings You joy when we recognize each other for the people we are in You. Love leads us to love others for You. The Great Commission, to spread the gospel, starts with love.
"I am the light of the world. Whoever follows me will not walk in darkness, but will have the light of life." (John 8:12)
Father, today we pray for every soul on earth to embrace Jesus Christ. His selflessness is reflected in our lives when we follow Him in faith, allowing others to catch a glimpse of who He is. We pray to be good representatives of love on earth, Father. Give us the courage to live our faith boldly and consistently. Clean hypocrisy out of our hearts and wipe away prejudice and favoritism. Give us strength and sight. Help us to look at each other through the lens of love.
It is in this way God's alive and active Word will travel to every far corner of the earth. All will have a chance to hear the gospel, and we praise You for that! Bless this world and bring the hope of Jesus into every corner of every heart. Just knowing who You are is not enough. Telling of You is not enough. Help us to live boldly and selflessly, to model love accurately and completely, to anyone and everyone.
In Jesus' name, Amen.
Source: Crosswalk.com
Pray for World and World Healing
Almighty God, you are the only source of health and healing. In you there is calm, and the only true peace in the universe. Grant to each one of us your children an awareness of your presence, and give us perfect confidence in you. In all pain and weariness and anxiety teach us to yield ourselves to your never-failing care, knowing that your love and power surround us, trusting in your wisdom and providence to give us health and strength and peace when your time is best; through Jesus Christ our Lord. Amen.
Source: The Nazarene, Vols. 7-9, 1922
Pray for World and World Peace
O Lord our God, order the course of this world in peace that your Church may joyfully serve you in all godly quietness; through your Son, Jesus Christ our Lord, who lives and reigns with you and the Holy Spirit, one God, now and forever. Amen.
Source: Leonine Sacramentary, 6th-7th Century, Historic Collect for the Fourth Sunday after Trinity
Pray for the World: Guidance through the Changes of the World
Guide us, Lord, in all the changes and varieties of the world; that we may have evenness and tranquility of spirit: that we may not grumble in adversity nor grow proud in prosperity, but in serene faith surrender our souls to your most divine will; through Jesus Christ our Lord.
Source: From Jeremy Taylor, 1613-1667
Pray for the World
Almighty and eternal God,
you are the brightness of the faithful.
You have made this day
holy
by the first-fruits of the chosen Gentiles.
Fill the world with your glory
and show yourself by the radiance of your light
to the nations that are subject to you;
through Jesus Christ, our Lord. Amen.
Source: Gregory the Great
Find 3 Beautiful Prayers for the World We Live In on Crosswalk.com
Photo Credit: Unsplash
---
This article is part of our prayer resource meant to inspire and encourage your prayer life when you face uncertain times. Remember, the Holy Spirit intercedes for us and God knows your heart even if you can't find the words to pray.
Prayers for Healing
Morning Prayers
Prayers for Family Protection
Prayers for Surgery
Night Prayers for Bedtime
Types of Prayer in the Bible
What Is Intercessory Prayer?
The Most Powerful Prayers in the Bible
Dinner Prayers to Bless Your Food
Prayers for Patience and Understanding
This article originally appeared on Christianity.com. For more faith-building resources, visit
Christianity.com.