Powerful Prayers for Family Healing and Protection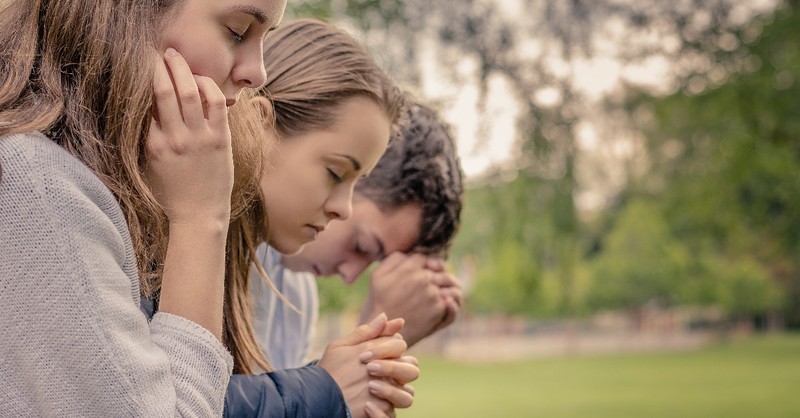 "Do not be anxious about anything, but in everything by prayer and supplication with thanksgiving let your requests be made known to God." ~ Philippians 4:6
Prayer is our number one tool for healing what causes pain in our family. Whether physical or emotional pain, God can provide comfort and restoration. Pray for God to heal the bodies, minds and souls of your family members. May the Lord protect and deliver your loved ones from temptation and disease. Use these prayers for family healing and protection to ease your anxiety and put your trust in the Lord!
Read along with the prayers above with the transcript below:
Prayer for Family Healing
Dear God, we commit to you those in our families who have fallen sick. We believe that you are our Healer, our Great Physician. May You be the comfort of our family members who are physically in pain right now. Touch them with Your Healing Hands, Lord. Send forth your Word and heal their diseases. Let Your healing power flow through every cell of their bodies.
Loving Father, we also ask that you heal the members of our families who are hurting emotionally. Their affliction is not physical, but we know that they are also in pain. Give them comfort as well, God. Give them the peace that transcends understanding. Heal their hearts, Lord, which may be full of anger, hatred, strife, bitterness, and unforgiveness. Clear their minds of any doubt, anxiety, or depression. Renew in them a peaceful spirit, Lord. Amen. - Pearl Dye
A Prayer for Healing Sick Family and Friends
Lord Jesus, thank you that you love [name of person who needs healing]. I know that you hate what their illness is doing to them/me. I ask that you would heal this disease, that you would have compassion and bring healing from all sickness. Your word says in Psalm 107:19-20 that when we call out to you the Eternal one you will give the order, heal and rescue us from certain death. In the Bible, I have read of miraculous healing and I believe that you still heal the same way today.
I believe that there is no illness you cannot heal after all the bible tells of you raising people from the dead so I ask for your healing in this situation. I also know from my experience of life on earth that not everyone is healed. If that happens here than keep my heart soft towards you, help me to understand your plan and help me to be excited about heaven. God, I thank you that [name of person who needs healing] belongs to you and that you are in control of everything that happens from our first breath to our last sigh. Amen. - Wendy van Eyck
A Prayer for the Sick
As my Good Shepherd, Jesus, I know you will lead me beside quiet places and restore my soul and body. I trust you and want to follow your leading. Help me to welcome this time not as an interruption in my carefully planned schedule, but as an opportunity to draw strength and nourishment for the journey ahead. You are my healer and my Great Physician. I look to you and give thanks for the promises in your Word that assure me of your presence and your help.
Teach me what you want me to learn during these unpleasant times, Lord. Help me not to take out my discomfort on those around me, and show me how to be a good patient while I'm recovering. In these days of sickness, Lord, I'm trusting you and asking you to make me well. And when you've restored my health, give me wisdom so I can treat my body as the temple of your Spirit. I'm eager to get back on my feet serving you, but I realize that even in sickness, I can still draw near to you. Thank you, Jesus! - Rebecca Barlow Jordan
Prayer for Family Guidance
Guide our way, Lord, as we go on with our lives today. Also, be our shield as we go back home later. May you always preserve the bond that we have as a family, and may we look forward to seeing each other once again at home.
Guard our home as well, God, that no harm will fall on it as we are away. May it continue to be a sanctuary of blessing, comfort, and love for each one of us. Let it always be a restful place for our tired bodies at the end of the day.
Continue to protect us, Lord, as we rest at night. Allow no intruders or calamities to disturb my home tonight. I trust in your mighty power to keep me and my family safe from any form of evil. In Your Name, I ask all these things, Amen.
A Family Prayer for Gratitude by Marie Osborne
Lord, help us to be thankful for one another. Help my children to be thankful for each other, for our family to be grateful for each member, and to pray for one another continually. Our gratitude for one another will bind us together as a family, and our prayers for each other will further unify us in gratitude and love.
Prayer for the Protection and Safety of Family by Rebecca Barlow Jordan
Lord, I pray for Your emotional, physical, and spiritual protection over my family. Keep evil far from them, and help them to trust You as their refuge and strength. I pray You will guard their minds against harmful instruction, and grant them discernment to recognize the truth. I pray You will make them strong and courageous in the presence of danger, recognizing that You have overcome and will set right all injustice and wrong one day. Help them to find rest in Your shadow, as they live in the spiritual shelter You provide for them. Let them know that the only safe place is in Jesus and that their home on earth is only temporary. - by Rebecca Barlow Jordan
Prayer For Friends and Relatives
Have mercy, O Lord,
on all those tied with us in the bonds of friendship and family,
and grant that they, with us,
may be so perfectly conformed to your holy will,
that being cleansed from all sin, we may be found worthy,
by the inspiration of your love,
to be partakers together of the blessedness of your heavenly kingdom;
through Jesus Christ our Lord. Amen.
Prayer for Family Help
O God, King eternal, you divide the day from the night and turn the shadow of death into morning.
Drive away from us all wrong desires, incline our hearts to keep your law, and guide our feet into the way of peace, so that after we have done your will with cheerfulness while it was day, we may rejoice when night comes and give you thanks; through Jesus Christ our Lord. Amen.
Bible Verses to Pray Over Your Family
"May the Lord bless you and protect you. May the Lord smile on you and be gracious to you. May the Lord show you his favor and give you his peace." ~ Numbers 6:24-26
I pray that God, the source of hope, will fill you completely with joy and peace because you trust in him. Then you will overflow with confident hope through the power of the Holy Spirit. ~ Romans 15:13
"Bear with each other and forgive one another if any of you has a grievance against someone. Forgive as the Lord forgave you. And over all these virtues put on love, which binds them all together in perfect unity." ~ Colossians 3:13-14
"I know the Lord is always with me. I will not be shaken, for he is right beside me." ~ Psalms 16:8
God bless you and your family today and evermore. Rely on the Lord in times of trouble and He will comfort you! Subscribe to the iBelieve channel for new prayer videos.