4 Beautiful Prayers for Missionaries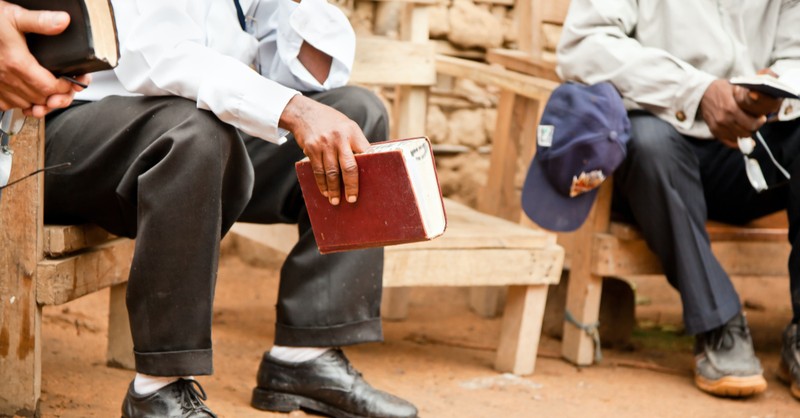 Brought to you by
The commission to Christians from God is to share the Good News of Christ, and missionaries strive to live out that commission every day.
In Matthew 28:19, Jesus gave the charge to "…go and make disciples of all nations, baptizing them in the name of the Father and of the Son and of the Holy Spirit, and teaching them to obey everything I have commanded you. And surely, I am with you always, to the very end of the age." Missionaries carry out this call daily, often risking their own safety and lives to do so.
The work of missionaries is imperative to share the gospel to every corner of the earth, so that all may come to know the truth of God in their own hearts. Whether overseas or on our own home field, missionaries need our prayers for the great and sacrificial work they are doing through the Holy Spirit.
A Prayer for Open Doors for Missionaries over Seas
Father God,

We lift up our missionaries overseas. Lord, you have called them away from their homeland to follow You for Your purpose in their lives and to the lives of those they come into contact with--just as Hebrews 11:8 reminds us of Abraham going by obedience, not knowing what he would find in the journey ahead. Overseas missionaries, much like Abraham, have awoken to the call in their own hearts to venture beyond what they have known to follow in obedience to share with others about You, Lord. Father, we pray protection over them. We pray for safety and favor as they take every step-in obedience into these lands. We pray that the hearts they come into contact with would be open and willing to hear and receive the beautiful and life-altering truth of Your Son, Jesus Christ. We pray for open doors and victory in Your Name so that more of Your children would come to the table of the Lord. May doors that have been long since closed to visitors swing wide open by Divine influence in order that Your call to all of Your followers may be carried out by Your Holy plan.

In Jesus' name, amen.
A Prayer of Boldness for Domestic Missionaries
Father God,

We pray over domestic missionaries sharing the hope and love of Christ on our very own soil. So many in our country have been shown a false view of what it means to follow Christ, but we pray through Your Holy Spirit missionaries would be given the words, guidance, and access to share Your true heart and love with those they come into contact with. May those they meet come with their honest and vulnerable hurt, experience, and perspective and be open to coming into personally knowing You, Lord God. Help missionaries to be tender to Your Spirit, knowing when to speak and when to listen. Help them to walk in boldness rooted in You, standing boldly and without fear, for they are sent from You. Just as Moses stood before Pharaoh boldly proclaiming Your assignment to him, our missionaries stand before others. Help them not to fear the wrath or harshness of men, but to know what matters is Your opinion in the end. Father, help Your children as they proclaim Your Name in this land.

In Jesus' name, amen.
A Prayer of Spiritual Protection for Discouraged Missionaries
Father God,

We lift up missionaries who are discouraged. John 15:18 is where You remind us that the world can be cruel and full of hatred, but it hated You first. Help us all cling to the truth that You have overcome the world, and we are chosen by You to not be of this world. Help that resounding fact to deeply indwell in the spirits of discouraged missionaries. Help them feel Your comfort and peace, reassure them that their work is not in vain. Pour out peace and security over them like a gentle rain, reminding them that You are proud of Your good and faithful servants. We pray overwhelming spiritual protection around them, so that no attack or plot of the enemy may be successful. We pray angels would surround them so that every strike of anything not of You would not be allowed to pass.

In Jesus' name, amen.
A Prayer of Safety for Missionary Families
Father God,

So many missionaries have families that join them on the field, and that can prove an entirely greater challenge. Father, we pray over those families. We pray that they would be of one mind and heart united in You. May the children of missionaries profoundly come to see the impact and difference their parents are making on the mission field, and seek to contribute as well through action or prayer. We pray for the safety of these families, ever guarded and protected by You. We pray for the connections they are making that they may only see family increase in number, for more of Your family is coming to the table. May peace and understanding reign stronger than anything fighting against them.
In Jesus' name, amen.
A Prayer of Guidance for Missionaries Returning from the Field
Father God,

We lift up missionaries returning from the field. Ecclesiastes 3 reminds us that You have a specific season for facets of our lives, and for many missionaries, their seasons in the field are not permanent. We lift them up in prayer as they return back to their homelands from the field. May the know they fulfilled their seasons in accordance to Your timeline for their lives, and the next assignment and chapter You have for them is important to Your heart. Help them to receive encouragement, affirmation, and support from those around them and for them not to become dry spiritually. They are following Your call for their next stage of life, and we pray for the glorious adventure to be unlocked in that season. Guide them as they venture forward, providing confirmation and assurance in each step they take. Your plans may not always make sense, but we can trust fully that Your lead is the best path.

In Jesus' name, amen.
Bonus: A Prayer of Health for Missionaries during COVID-19
Father God,

We lift up missionaries during the COVID-19 outbreak. For so many communities have been massively impacted by sickness, fear, or devastation. Father, help them to do all things through Your wisdom and guidance during this time. Protect them and help them to have full health, helping their immune systems to remain strong during this time. Father, as many are quarantined, we pray that outreach via the internet or other forms of communication may be all the more powerful. Help them to connect even when not in person and to truly represent You well during a tense time. This can be a time in which remarkable change can happen, so help them to follow the Spirit's lead and urgings. Help this be a time of miracles in Your Name.

In Jesus' name, amen.
Encouraging Scriptures for Missionaries
Matthew 28:19, "Therefore go and make disciples of all nations, baptizing them in the name of the Father and of the Son and of the Holy Spirit, and teaching them to obey everything I have commanded you. And surely, I am with you always, to the very end of the age."
Isaiah 61:1, "The Spirit of the Sovereign Lord is on me because the Lord has anointed me to proclaim good news to the poor. He has sent me to bind up the brokenhearted, to proclaim freedom for the captives and release from darkness for the prisoners."
Colossians 4:3-4 "Pray for us, too, that God may open a door for our message, so that we may proclaim the mystery of Christ, for which I am in chains. Pray that I may proclaim it clearly, as I should."
Matthew 25:40, "The King will reply, 'Truly I tell you, whatever you did for one of the least of these brothers and sisters of mine, you did for me."
Galatians 6:9, "Let us not become weary in doing good, for at the proper time we will reap a harvest if we do not give up."
1 Peter 4:10, "Each of you should use whatever gift you have received to serve others, as faithful stewards of God's grace in its various forms."
Matthew 24:14, "And this gospel of the kingdom will be proclaimed throughout the whole world as a testimony to all nations, and then the end will come."
Acts 13:47, "For so the Lord has commanded us, saying, I have made you a light for the Gentiles, that you may bring salvation to the ends of the earth."
Deuteronomy 31:6: "Be strong and courageous. Do not fear or be in dread of them, for it is the LORD your God who goes with you. He will not leave you or forsake you."
Philippians 3:14, "I press on toward the goal for the prize of the upward call of God in Christ Jesus."
Romans 8:31-35, "What then shall we say to these things? If God is for us, who is against us? He who did not spare His Own Son, but delivered Him over for us all, how will He not also with Him freely give us all things? Who will bring a charge against God's elect? God is the one who justifies; who is the one who condemns? Christ Jesus is He who died, yes, rather who was raised, who is at the right hand of God, who also intercedes for us. Who will separate us from the love of Christ? Will tribulation, or distress, or persecution, or famine, or nakedness, or peril, or sword?"
2 Corinthians 5:7, "For we live by faith, not by sight."
Photo credit: ©Getty Images/Himarkley
Cally Logan is an author and US History teacher from Richmond, Virginia. In her free time, she enjoys mentoring youth and spending time in nature. She is the author of Hang on in There, Girl! and Dear Future Husband: A Love Letter Journey While Waiting for God's Best. Check her out on Instagram and Twitter, @CallyLogan and TikTok Cally_Logan.
This article is part of our prayer resource meant to inspire and encourage your prayer life when you face uncertain times. Remember, the Holy Spirit intercedes for us, and God knows your heart even if you can't find the words to pray.
Prayers for Healing That Bring Daily Strength and Comfort
Prayers for Strength to Use in Difficult Times
Can We Really Pray Without Ceasing?
Powerful Morning Prayers to Begin Your Day
Types of Prayers We See in the Bible
What Is the Prayer of Jabez in the Bible?
How to Pray for Your Daily Bread
Prayers for Anxiousness
Related podcast:
The views and opinions expressed in this podcast are those of the speakers and do not necessarily reflect the views or positions of Salem Web Network and Salem Media Group.
Related video:
Read the full devotional here.
Video created by Kayla Koslosky.
Stock footage courtesy: ©Soundstripe Library
Thumbnail courtesy: ©SWN Design/Soundstripe Library
---
Now available is our new Daily Prayer devotional! An easy way to start your day with prayer: read today's prayer and sign up to receive it by email.
This article originally appeared on Christianity.com. For more faith-building resources, visit
Christianity.com.