4 Uplifting Prayers for A Friend's Healing and Recovery
Lisa Samra

Crosswalk.com Contributing Writer

2019

25 Apr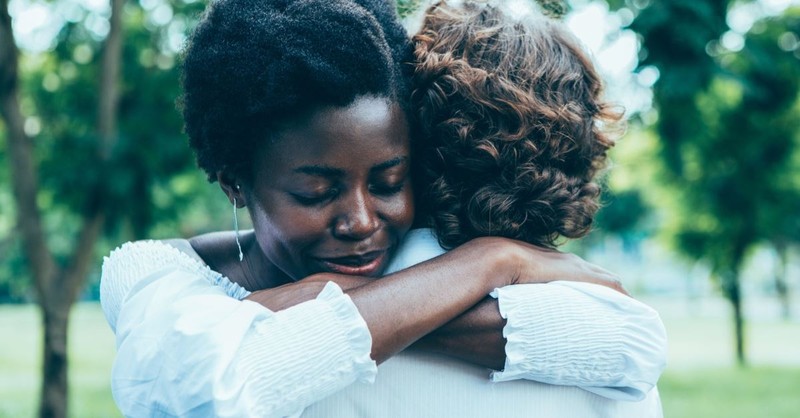 A devastating medical diagnosis, the unexpected loss of a loved one, the discovery of marital unfaithfulness, a debilitating chronic illness, unrelenting depression.
Looking over the names of friends and family that fill the pages of my prayer journal, my heart cries out for those whose suffering is so raw and gut-wrenching.
Often, my initial response when I hear difficult news is to promise to pray.
Despite my good intentions, it is sometimes hard to know how to pray for a friend, especially for healing and recovery.
It is a great comfort that God's Spirit helps me when I don't know what to pray, and I cling to the assurance that "the Spirit himself intercedes for us through wordless groans.And he who searches our hearts knows the mind of the Spirit, because the Spirit intercedes for God's people in accordance with the will of God" (Romans 8:26-27).
Although I am grateful for the Spirit's prayers, there is still an opportunity for me to pray because God hears us when we pray (1 Peter 3:12), and I want to talk with God about my loved ones who are suffering and who desperately need healing whether physically, emotionally, mentally or spiritually. Our God can start the process of complete recovery. 
As you come alongside friends and family who are suffering, I hope the following prayers will provide some words to guide your own prayers based on promises and encouragements from the best source of comfort: God's word.
1. Prayer for a Friend's Healing
When the shock of a health diagnosis seems to shake our world or the breakdown of a relationship shatters our expectations for the future, our desire is for healing and restoration.
I find it reassuring to know that God encourages us to pray for healing. Jesus grieved the devasting effects and pain caused by sin in the world, and part of his earthly ministry was to bring healing and restoration to a broken world (John 11:1-44).
In the New Testament book of James we read, "Is anyone among you in trouble? Let them pray. Is anyone happy? Let them sing songs of praise. Is anyone among you sick? Let them call the elders of the church to pray over them and anoint them with oil in the name of the Lord. And the prayer offered in faith will make the sick person well; the Lord will raise them up. If they have sinned, they will be forgiven" (James 5:13-15).
In addition to having your church elders pray for healing, we can all pray for those who are sick and facing trouble. And, while we are careful to realize that God may not provide earthly healing for our loved one, James wants us to pray in faith knowing that regardless of whether our friend experiences healing as a result of the prayers on earth, we will all receive the ultimate healing, eternity in heaven, that comes from the forgiveness of sins and the breaking of the cords of death that try to ensnare us.
Heavenly Father,
It is so hard to watch _________ suffer. It doesn't seem fair for her to have to endure so much pain. Even though I am powerless, I believe that you are powerful and capable of stepping into this situation and completely altering the outcome. In faith, I am responding to the promises in your word that you listen to our prayers and those prayers can make her well. So, I am bringing my friend before you to ask for your healing touch in her life. Thank you for the forgiveness of sin and the promise of eternal healing, but I am asking you to provide healing for her on this side of heaven. Amen.
The Old Testament prophet Isaiah paints a remarkable picture of what suffering can feel like that gives voice to the common experiences of suffering.
Isaiah described these situations like drowning, the feeling of being in a massive river or ocean that seems to be so vast and deep that there is no possibility of rescue, raging water that makes it difficult to stay afloat and crashing waves that topple us with doubt and fear.
Suffering is also depicted as a dense, hot fire generating so much smoke that it is difficult to see, creating the feeling of being lost and all alone.
Isaiah's encouragement in the midst of these realities is to not look to the circumstances but to Jesus.
The Lord says, "Do not fear…when you pass through the water, I will be with you; and when you pass through the rivers, they will not sweep over you. When you walk through the fire, you will not be burned; the flames will not set you ablaze." (Isaiah 43:1-2).
Jesus,
As I've heard my friend's latest news, it simply feels as if the water is too high and the flames are too intense. Please help ________ not to give into fear that can come from focusing on the circumstances swirling around him but to remember the promise that you are with him. While I know that you are always with him, please give him a tangible reminder of your presence today and that you will faithfully comfort the hurting. Perhaps a verse posted in an unexpected place or a prayer offered by a co-worker or a kind gesture from a stranger. I entrust him to you knowing that you will be with him on this journey and your presence is greater than anything he will face. Because of your love for him, please give him your comfort and peace that surpasses all understanding and guide him forward into your love. Amen.
3. Prayer for a Friend's Strength in Recovery
Our prayers for those who are suffering rightly focus on the person who is in the center of the crisis. As I have been part of these difficult journeys for people enduring all forms of sickness and suffering, my perspective has expanded to realize that the effects of suffering ripple out and touch many other people. Healing and recovery reaches more than just one. 
As we are prompted to pray for friends and family who are suffering, ask the Lord to expand your vision of people you can pray for in the situation. While the needs of close friends and family vary significantly, the one prayer relevant for anyone reeling from the effects and demands of suffering is the desperate, often daily, need for strength from the Lord.
Psalm 121 beautifully reminds us of God's living presence and his watchful care over his people in the specifics of the circumstances they face. When we feel forgotten in our suffering, the psalmist draws our attention to the God of history and creation, who acts on our behalf. Psalm 121 begins, "I lift up my eyes to the mountains—where does my help come from? My help comes from the Lord, the Maker of heaven and earth. He will not let your foot slip—he who watches over you will not slumber; indeed, he who watches over Israel will neither slumber nor sleep" (Psalm 121:1-4).
Gracious God,
My heart grieves for my friend but I am also so saddened for her family and friends who are deeply impacted by the magnitude of this heart-wrenching situation. As these family members navigate their own pain and suffering, please remind them that you are near to comfort them as well. When they are overcome by sadness and fear, provide them with the reminder that you do not sleep, or even take a nap; instead, you are always alert and available to provide the strength they need. You are the only true source of healing and recovery. As they provide practical care and faithfully serve, please strengthen them when they are discouraged. As they lift their eyes to you, remind them of your love and that the empowering presence of your Spirit is available to them at every moment of each day. Amen.
4. Prayer for the Hope of Heaven after This Life
A sneaky but devasting aspect of suffering is that we often lose our sense of security. Our plans for the future can be shattered and all that lies ahead can appear to be a dense fog. The ultimate uncertainty is death.
For Christians, facing the painful process of death is difficult, but we have hope that death is not the end.
The promise of an eternal home that is free of pain, suffering, and goodbyes gives believers something solid to grasp in the midst of suffering and pain.
On the night before Jesus' arrest, he comforts his disciples and prepares them for the reality of his death in the form of a promise, "Do not let your hearts be troubled. You believe in God; believe also in me. My Father's house has many rooms; if that were not so, would I have told you that I am going there to prepare a place for you? And if I go and prepare a place for you, I will come back and take you to be with me that you also may be where I am" (John 14:1-3).
Jesus,
When it came time for you to comfort your disciples you told them about the home you were preparing for them in heaven. Thank you for knowing we need the assurance that this life is not the end, and the promise that _________ will have eternity in heaven with you. For the pain and suffering he must endure now, please reassure his mind and help him to grasp onto the truth that he will be with you, and heaven will be his forever home. Please strengthen him with the knowledge that you will be the one to wipe away all his tears, and that there will be no more death or mourning or crying or pain. Though he can't see it now and it is beyond our human abilities to comprehend, give him faith to continue to believe your promise to help sustain him each moment of this journey. Amen.
It is a beautiful gift for you to pray for your friends and loved ones as they endure suffering.
As you pray, be encouraged that "The Lord is near to all who call on him" (Psalm 145:18). May his presence bring comfort and peace to you.
Lisa Samra was born and raised in Texas. She graduated with a Bachelor of Journalism from the University of Texas and earned a Master of Biblical Studies degree from Dallas Theological Seminary. Lisa now lives in Grand Rapids, Michigan, with her husband, Jim, and their four children. She and Jim have a joint ministry at olivesandcoffee.com. Lisa enjoys good coffee, running, and reading, just not all at the same time.
---
This article is part of our Prayers resource meant to inspire and encourage your prayer life when you face uncertain times. Visit our most popular prayers if you are wondering how to pray or what to pray. Remember, the Holy Spirit intercedes for us and God knows your heart even if you can't find the words to pray.
Serenity Prayer
The Lord's Prayer
Irish Blessings & Prayers
Morning Prayers
Good Night Prayers
Prayer for Healing
Prayer for Protection
Now available is our new Daily Prayer devotional! An easy way to start your day with prayer; read today's prayer and sign up to receive it by email.
Photo Credit: GettyImages/MangoStar-Studio