5 Reasons Why This Inauguration Shows Our Need for Grace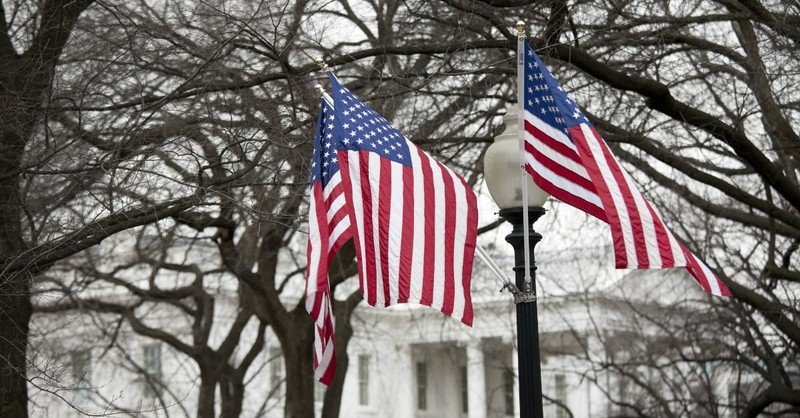 The inauguration of a new U.S. president is a ceremony that's historically known for its dignified grace. Prayers seek God's guidance. Speeches pay tribute to our nation. Concerts, balls, and a parade celebrate with pageantry. Our country's new leader places his hand on a Bible while taking the solemn oath of office vow to serve faithfully. Inauguration Day 2017 plans call for many of those graceful activities to happen when President-elect Donald Trump becomes President Trump. 
But beyond the official festivities, a culture of disgrace is exploding throughout the United States. Americans are divided over Trump's presidency after a close and hostile election process. Many people on both sides are speaking out about the political controversy through disgraceful words and behaviors that are deepening that divide. Christians can give Americans hope during this crucial time in our history by countering that culture with grace.
God's grace has unique power to communicate hope to people. Yet all too often, its message gets drowned out by the relentless shouting back and forth in our culture – especially now, when Trump's presidency is igniting a daily firestorm on social media and sparking protests like the Women's March on Washington that's planned for the day after his inauguration. 
Trump himself often jumps into the fray, speaking comments and tweeting messages that fan the flames of controversy. Other public figures, like Hollywood celebrities, do the same. Actress Meryl Streep made headlines recently by speaking out against our nation's current culture of disgrace at the Golden Globe Awards. Streep was calling for a change toward grace, observing that "Disrespect invites disrespect. Violence incites violence." Yet her speech still ended up provoking more hostility in our culture wars.
In his farewell address, President Obama pleaded with Americans to choose graceful, positive responses to issues that upset them. "Understand, democracy does not require uniformity," he said. "Our founders quarreled and compromised, and expected us to do the same. But they knew that democracy does require a basic sense of solidarity – the idea that for all our outward differences, we are all in this together; that we rise or fall as one."
God calls Christians to be role models of grace in any situation. So no matter what we think about Trump or any other political leader, we have a responsibility to choose graceful words and actions in our lives. Doing so will inspire others to stop and think about why grace is important – and that can lead many seekers to discover relationships with Christ for themselves.
Here are five reasons why this inauguration shows our need for grace:
1. Negative choices only lead to more negativity. 
Simply going along with the crowd to express hostility doesn't actually bring any positive change; it only fuels more negativity. When something we hear or see on the news disturbs us, we can't afford to simply react with negativity, because doing that will cost us our credibility. 
A far better approach is to follow the Bible's advice to "take captive every thought to make it obedient to Christ" (2 Corinthians 10:5). We can do so by asking the Holy Spirit to give us self-control so we can stop and think about how to respond wisely when we're upset. We can also cooperate with the Spirit's process of renewing our minds by switching our focus from what's negative to what's positive.
2. Positive choices reveal blessings and reflect the Gospel. 
The more positive choices we make, the more we notice what's good in our lives and in our nation. Training our minds to think about "whatever is true, whatever is noble, whatever is right, whatever is pure, whatever is lovely, whatever is admirable… excellent or praiseworthy" (Philippians 4:8) will bring our attention to blessings from God that we wouldn't see with minds clouded by negativity. 
There's always something good happening, for which we can be grateful – both in our country and in our own lives. When we look for good news and celebrate it, we also inspire others to learn more about Jesus, whose Gospel message literally means "good news."
3. Americans need to know that faith in Jesus transcends politics. 
The deep political divide in our nation right now stands in stark contrast to the unity that Jesus calls his believers to model for others. Many Americans have gotten confused about Christianity in light of this, mixing faith and politics. But Jesus is far greater than any political party, platform, or candidate. 
Rather than judging anyone's faith based on his or her political views, we can focus on what Jesus says in Mark 12:30-31 matters most: love. As we devote ourselves wholeheartedly to loving God and others, we'll send the right message about Jesus to people who are curious about him.
4. Our country will make progress when we start to learn from each other. 
No matter how much we want to get our opinions across to others, simply shouting at each other back and forth will prevent progress. However, by choosing to talk less and listen more, we will open up real conversations with each other about our differing political views. 
As James 1:19-20 advises: "My dear brothers and sisters, take note of this: Everyone should be quick to listen, slow to speak and slow to become angry, because human anger does not bring about the righteousness that God desires." Following that advice will defuse anger and inspire respect and understanding – making it possible for us to learn from each other.  
5. Grace empowers us to change. 
Real, lasting change for the better on any issue that our country deals with can only happen through grace. As the Apostle Paul reminds us in 2 Corinthians 12:9, God says, "'My grace is sufficient for you, for my power is made perfect in weakness.' Therefore I will boast all the more gladly about my weaknesses, so that Christ's power may rest on me." 
All Americans struggle with weaknesses of some kind – but God's grace enables us to overcome those weaknesses and move forward well. By relying on God's grace day by day, we can experience God's power flowing through us to bring about the changes we hope to see. We can take action with confidence that God will empower us as we work for change. So speak up, show up, and serve our nation with your time and talents, trusting God to use your efforts for good purposes.
This inauguration presents a valuable opportunity for Christians to show a watching world why grace is so important. So let's make the most of it! As one of our most respected presidents – Abraham Lincoln – famously said in his first inaugural address: "We are not enemies, but friends. We must not be enemies. Though passion may have strained, it must not break our bonds of affection. The mystic chords of memory will swell when again touched, as surely they will be, by the better angels of our nature."
Whitney Hopler, who has written for Crosswalk.com since 2001, also writes for Thrive Global and works as Communications Coordinator at George Mason University's Center for the Advancement of Well-Being. She regularly blogs about well-being in body, mind, and spirit. Learn more on Twitter, Facebook, and Google Plus.
Photo courtesy: Thinkstockphotos.com
Publication date: January 18, 2017