Albert Einstein Didn't Know Anything about Love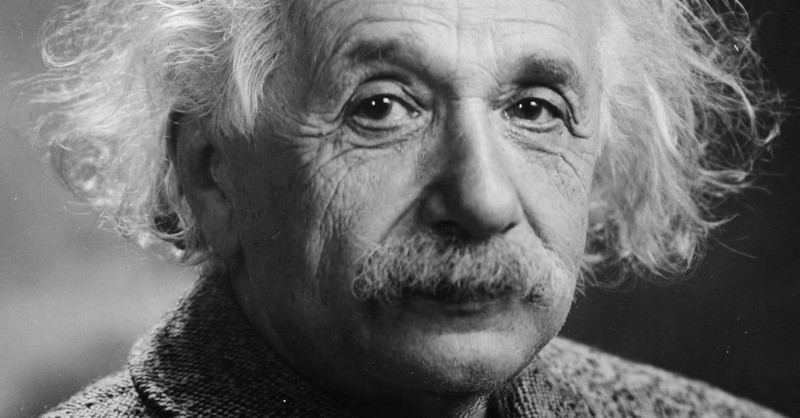 Love:  everyone has an opinion about it and yet few people know how to define it. When you see it, it is easily identified and yet it is also very easily mistaken. What the world calls love is so often hate, and what the world sees as hate is perhaps the most loving thing.
No one will disagree though, that Albert Einstein didn't know anything about love. Following, is a list of conditions he imposed on his wife with the hope of saving their marriage for his kids' sake.
CONDITIONS

A. You will make sure:

1. that my clothes and laundry are kept in good order;
2. that I will receive my three meals regularly in my room;
3. that my bedroom and study are kept neat, and especially that my desk is left for my use only.

B. You will renounce all personal relations with me insofar as they are not completely necessary for social reasons. Specifically, You will forego:

1. my sitting at home with you;
2. my going out or travelling with you.

C. You will obey the following points in your relations with me:

1. you will not expect any intimacy from me, nor will you reproach me in any way;
2. you will stop talking to me if I request it;
3. you will leave my bedroom or study immediately without protest if I request it.

D. You will undertake not to belittle me in front of our children, either through words or behavior.
This is quite the list of conditions. It is not hard to see how things went wrong. And yet, quite shockingly, Albert Einstein was pretty shocked to find out that his wife could only put up with these conditions for a few months. Eventually she left Einstein and took the kids with her.
One writer wrote about this moment and said,
It could not last. At the end of July, after just three months in Berlin, Mileva and the boys went back to Zurich. As he stood on the platform waving goodbye, Einstein wept, if not for Mileva and the memories of what had been, then for his two departing sons. But within a matter of weeks he was happily enjoying living alone "in my large apartment in undiminished tranquility."
Perhaps the smartest man to ever live knew nothing about love. This is a clear picture as to why the world who loves to demand love, has no idea what it is or how to achieve it.
While the world continues to write songs and make movies about its cheap version of love, Christians realize that only in Christ do we truly begin to grasp what true love is.
There is great debate over whether love is a feeling or a choice, but we can't help but see both in the way Christ loves. He chooses to love us despite the fact that we are unlovable and unable to provide the Lord with anything in return since we are utterly bankrupt, and yet He has joy in suffering for our sake (Hebrews 12:2) and longs to be with us for eternity (John 17:24).
Einstein serves as a reminder that the world simply doesn't have what it takes  to be able to define or even put love into action. Sure, the world can come up with glimpses, but ultimately it fails miserably in any attempt to produce lasting love.
All the recent events in Hollywood only prove this point even more. The world seeks to cheapen love. Joshua Harris said it best when he wrote the following words.
"The world takes us to a silver screen on which flickering images of passion and romance play, and as we watch, the world says, "This is love." God takes us to the foot of a tree on which a naked and bloodied man hangs and says, "This is love."
The greatest act of love ever displayed was when Jesus Christ stayed on the cross and was willing not only to suffer physically, but to suffer the wrath of the Father, whom He loved in perfection for all of eternity past. And yet Jesus still died for us.
Romans 5:7-8 says it best, "Very rarely will anyone die for a righteous person, though for a good person someone might possibly dare to die. But God demonstrates His own love for us in this: While we were still sinners, Christ died for us."
So many young people are desperate to find love, and they are in great danger. Even the most mature Christians who've been walking faithfully with Christ for many years can be tempted by the world. Let Einstein serve as a reminder about just how incapable we are as humans—even the most intellectual of us—to find love when we don't know Christ. Remember never to go to the world to find love, go to the Cross; there you will find love that will not only satisfy, but will bring you eternal joy.
This article originally appeared on TheCripplegate.com. Used with permisison. 
Jordan Standridge is a pastoral associate at Immanuel Bible Church in Springfield, VA, where he leads the college ministry. He is the founder of The Foundry Bible Immersion.
Photo courtesy: Wikimedia Commons