How to Break the Cycle of TV Binging
Dawn Wilson

Crosswalk.com Contributing Writer

2018

4 Sep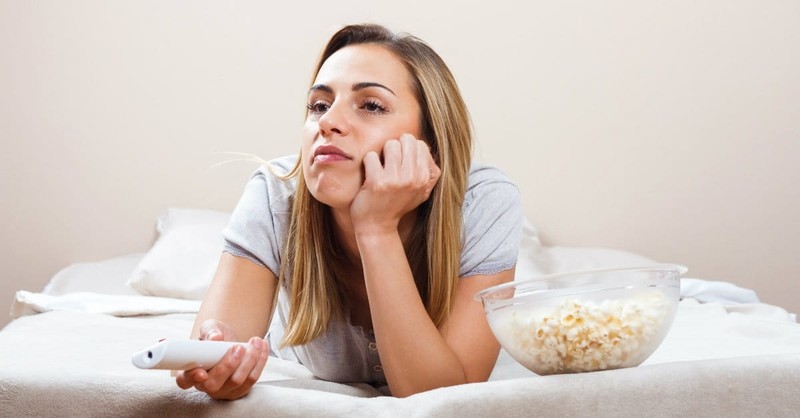 I heard His voice so clearly. I settled down to watch the fifth movie in the series of Hallmark's "Summer Nights Movie Countdown"—the 15 top Hallmark movies during summer 2018. 
Snacks? Check. The dog fed? Check. Computer shutdown for the evening? Check. 
But then there was this voice: "You were made for so much more."
I argued with the voice. "But these movies aren't like others. They aren't packed with sex, bad language, and violence." 
But the voice simply repeated the words.
My conversation with the Lord that night didn't have much to do with content. Oh, I knew some would argue about the "fantasy" aspects of romance movies, but that wasn't the particular issue God brought to my attention that night. Rather, he zeroed in on my endless binge-watching. 
In "The Battle of the Binge," I wasn't getting much victory.
More than Regular Watching
Binge-watching—also called binge-viewing or marathon-viewing—isn't everyday television watching any more than eating a cookie or two equates to polishing off a bag of Oreos. 
A science journal defined how many television episodes constitute a binge: "watching any more than two episodes of one television show in a sitting." Binge-watching has become more popular with the rise of streaming media services such as Netflix, Amazon Video, and Hulu that allow television shows and movies on-demand. 
Netflix calls people who binge-watch an entire Netflix series in one day—within 24 hours of its release on Netflix—"binge racers." The streaming service reported in 2017 that 8.4 million of its more than 100 million subscribers have binge-raced.
Serious Consequences
The binge-watcher reasons, "One more show won't hurt me." But hours later—perhaps still in the same position on the couch—a binge watcher is exhausted. But good sleep won't come.
A study with the Journal of Clinical Sleep Medicine shows more than 80 percent of young adults identify as binge-watchers, with 20.2 percent of them binge-watching several times a week. Ninety-eight percent of these binge-watchers admit to poor sleep quality. 
Research conducted at the University of Texas at Austin also indicated a correlation between binge-watching and depression, loneliness, self-regulation deficiency, and obesity. The research authors said while people argue binge-watching is a "harmless addiction," the study shows it clearly should no longer be viewed this way.
There's also a spiritual toll in binging. Whatever most demands our attention also captures our hearts. If we love entertainment, we will seek it out and spend more and more time with it. How often do we invest in marathon viewing to the detriment of our souls? What would happen if we invested that much time in the things of God?
One of the things God spoke to me about during my fourth-movie-of-the-Hallmark-summer-binge was my phony claim: "I don't have time to memorize Scripture." Oh, but I have time for eight hours of romance on TV? And what about the Great Commission? The exhortation to "watch and pray"? What other commands have I ignored during my binges? 
As I watched, I also distinctly remember the Spirit of God reminding me I was behind in my regularly-scheduled Bible reading. My Bible was so near, behind me on the dining room table. How could I so easily slough-off God's persistent call? 
There's a time and place to relax with a clean program, but my time issue was way out of hand—almost idolatrous. My priorities were clearly out of whack.
Mindless Binging
Just as we can get caught up in mindless binging on food—gluttony—we can become gluttons for entertainment. We can just as easily camp out on the couch and binge-watch as camp out at the buffet table and binge-eat.
I know, because I've struggled with both! In that process, I've learned how mindless binging can destroy my health and sideline my ministry.
The opposite of mindlessness is mindfulness, and not the sort of mindfulness the world offers. We need to be mindful of and obedient to the truth of Scripture. We need to pay attention to God's Word so we can live in wisdom, not foolishness.  
When the Spirit of God prompted me with "You were made for so much more," the Scriptures that came to my mind were Paul's prayers for believers' spiritual growth. God wants to open our eyes and heart to realize and embrace the calling of His purposes in our lives. He wants to strengthen us and give us understanding, hope, and power so we can live a fruitful life that's pleasing to Him.
Our potential, secured in Christ, is so often beyond what we imagine or dare to claim. We are distracted and defeated by the addictions in our souls, and derailed because we fail to put God first. 
How can we "walk in a manner worthy of the Lord" if we are so distracted, defeated and derailed? Why do we forget how God has changed us? We have been delivered from spiritual darkness, and transferred to the Kingdom of Christ. That should influence our daily choices, including our choices regarding entertainment.
Tune in to Something Better
So many articles deal with whether Christians should watch television at all, and if so, how to determine what to watch (here, for instance). Some Scriptures definitely speak to this issue. 
The biggest argument for entertainment is escapism. We do all need times of rest and recuperation, but we need to be cautious about escapism. Why are we escaping? What are we escaping to? Escapism may be into the world of fantasy, or it may be something foolish or even vile; but Paul gave us a good measure for determining what we should think about. 
Many years ago, while serving on a ministry team, I heard our evangelist challenge a youth group: "Would you watch it if Jesus was sitting there with you?" The teenagers squirmed. So did I. Of course, Jesus was there!
The evangelist wasn't saying we should only watch Christian shows, or never watch television or movies at all. He was calling Christians to a higher standard—to holiness. Nothing the Christian does is morally neutral. 
A good question to ask is: Will this draw me closer to God in some way and bring Him glory? Is this a strange question to ask of our entertainment? Why is this standard considered so radical today? 
How to Break the Cycle
1. Examine your heart. Is the Lord first? Do you want His will more than anything? Do you want to be holy and conformed to the image of Christ? 
2. Determine whether television has become an "escape idol," replacing your times of intimacy with God.
3. Consider whether your binge-watching is somehow related to a sinful habit—such as laziness, lack of self-control, impurity, self-will, fear, insecurity, or disobedience. 
4. Memorize Scriptures the Holy Spirit can use to help you frame your entertainment choices.
5. Pray before you consider watching every single program. Turn "commercial breaks" into prayer breaks to ask the Lord for wisdom, holiness and self-control.
6. Take note: conquering binge-viewing is not a matter of will-power, but rather skill-power. Use wise strategies to overcome Satan's designs for your life! Set firm boundaries and points of accountability to conquer the addiction of binge-watching. 
7. Place reminders near your television, such as "I will not set before my eyes anything that is worthless (wicked, vile)" (Psalm 101:3a).
8. Set your phone alarm to go off at the end of a TV show as a reminder to move on to something productive.
9. Pre-plan what you will watch on television.
10. Intentionally replace mindless TV watching with purpose-filled activities that will further your spiritual, physical, mental, emotional, and social goals and also bring honor to Christ. 
Two Helpful Words
I made some decisions that "Hallmark" night about what I would watch and how often. I set up some strong boundaries, and found encouragement in an unexpected place—my weight management check sheet.
I've been writing two words at the top of my check sheets that are helping me overcome gluttony: "beneficial" and "enough." So often, those words settle an issue for me over what and how much to eat. I discovered they also work for binge-watching. I want to watch what is beneficial, and I need to remember: "enough!"
Matt Walsh challenged readers with this statement, "The shows we set before our eyes ought to have something real and meaningful to say. Something about beauty, truth, sacrifice, heroism, goodness. There can even be value in a story about evil and hate… but it should not be promoted, trivialized, or glorified. Yet that's what so many shows are explicitly designed to do."
Reportedly, people who tend to binge-watch also say it gets in the way of pursuing other goals. How can that be beneficial to us or to the Lord? Christian writer Carlos Rodriguez wrote, "How does Jesus compete against all the noise and the distractions? How are we able to turn down the entertainment in order to turn up the awe and the hunger?" 
Rodriguez believes we are "desperate to be inspired," and we over-indulge in entertainment because we are looking for purpose aside from our everyday routines. "Our hearts are in a legitimate search for the story," he said. We need to tune into the story of the ages—Jesus' story—because Jesus is weaving us into it. 
We won't be aware of and captured by the beauty, genius and majesty of the Lord's story if we are constantly distracted by lesser tales.
Dawn Wilson and her husband Bob live in Southern California. They have two married sons and three granddaughters. Dawn assists author and radio host Nancy DeMoss Wolgemuth with research and works with various departments at Revive Our Hearts. She is the founder and director of Heart Choices Today, publishes Upgrade with Dawn, and writes for Crosswalk.com. Dawn also travels with her husband in ministry with Pacesetter Global Outreach. 
Photo courtesy: ©Thinkstock/LittleBee80