How to Calm Anxiety in a Biblical Way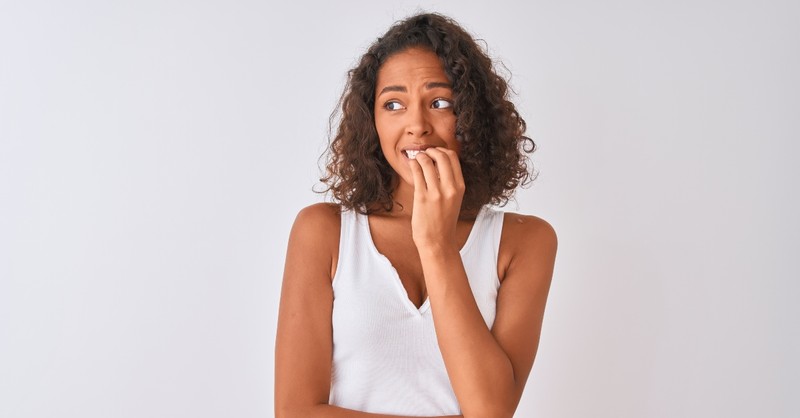 "Jesus loves me this I know, for he gave me Lexapro." Often in the mornings as I take my medication, I do sing these words to the tune of 'Jesus Loves Me.' It's not that I'm mocking the love of Christ, it's because he gave me the gift of managing my anxiety through medication.
For years, I struggled with anxiety and depression. More often than not, these go hand in hand. It is often misunderstood to be simply a person is stressing out too much. There's a fine line between stress and anxiety. Both are emotional responses, but stress is typically caused by an external trigger. There is a distinct difference between the sin of anxiety and the mental health disorder of anxiety that is characterized by physical changes in the brain. Anxiety is both a mental health issue and a spiritual issue.
Anxiety is defined by persistent, excessive worries that don't go away even in the absence of a stressor. It leads to a nearly identical set of symptoms as stress: insomnia, difficulty concentrating, fatigue, muscle tension, and irritability. It feels like the world is on your shoulders and darkness is closing in. It feels heavy in your chest and no matter how hard you try to snap out of it, you feel like you're drowning. I used to be there. I used to have panic attacks and was often paralyzed in fear as the waves of anxiety took over my body. Sadly, anxiety disorders are on the rise which makes it critical for the Church to understand the epidemic on our hands.
It's not that people like me worry too much and we "just need to trust Jesus more." It's because there is a chemical imbalance in the brain. According to the Anxiety and Depression Association of America:
● Anxiety disorders are the most common mental illness in the U.S., affecting 40 million adults in the United States age 18 and older, or 18.1 percent of the population every year.
● Anxiety disorders are highly treatable, yet only 36.9 percent of those suffering receive treatment.
● People with an anxiety disorder are three to five times more likely to go to the doctor and six times more likely to be hospitalized for psychiatric disorders than those who do not suffer from anxiety disorders.
● Anxiety disorders develop from a complex set of risk factors, including genetics, brain chemistry, personality, and life events.
Anxiety. Worry. Stress. Uncertainty. These four words have been on repeat in our world for the last year thanks to COVID-19, the election, killer bees, and so on. Anxiety levels are high in American society. Culturally, we are a nervous wreck, and no one is immune to it. God doesn't want them to be, and God certainly doesn't want his beloved children living in a state of constant worry.
What Are the Symptoms of Anxiety?
Anxiety symptoms vary from person to person however, the body reacts in a very specific way to anxiety. When you feel anxious, your body goes on high alert, activating your fight or flight responses. As a result, some common symptoms of anxiety according to Healthline.com include: nervousness, restlessness, or being tense, feelings of danger, panic, or dread, rapid heart rate, rapid breathing, or hyperventilation, increased or heavy sweating, trembling or muscle twitching, weakness and lethargy, difficulty focusing or thinking clearly about anything other than the thing you're worried about, insomnia, digestive or gastrointestinal problems, such as gas, constipation, or diarrhea, a strong desire to avoid the things that trigger your anxiety, obsessions about certain ideas, a sign of obsessive-compulsive disorder (OCD), performing certain behaviors over and over again, anxiety surrounding a particular life event or experience that has occurred in the past, especially indicative of post-traumatic stress disorder (PTSD).
Another symptom includes panic attacks. At one point in time, I ended up in the hospital because I thought I was having a heart attack even though I was in my 20s. The diagnosis: panic attack. Healthline defines a panic attack as a sudden onset of fear or distress that peaks in minutes and involves experiencing at least four of the following symptoms: palpitations, sweating, shaking or trembling, feeling shortness of breath or smothering, sensation of choking, chest pains or tightness, nausea or gastrointestinal problems, dizziness, light-headedness, or feeling faint, feeling hot or cold, numbness or tingling sensations (paresthesia), feeling detached from oneself or reality, known as depersonalization and derealization, fear of "going crazy" or losing control, and fear of dying
What Does the Bible Say about Anxiety?
If this describes you, it's okay. It's important to tell someone and make an appointment with your doctor and a biblical counselor. The darkness and fear and panic will not be your forever, I promise they won't. So does God. He created you to have life and to live it to the fullest. It's the reason he sent Jesus. As believers, we can know this truth, but if we're honest, abundant life can feel far from accessible. The enemy loves to make us worry–truly it's one of his best and most sneaky tactics.
By introducing worry and anxiety, Satan steals our attention from God and keeps us focused on what is happening right in front of us. The enemy knows that he doesn't have to remove God completely from our minds, he just has to divide our focus. Paul knew this, and it's one of the reasons he began Philippians 4:6 with such an emphatic statement. He wrote, "Do not be anxious about anything, but in every situation, by prayer and petition, with thanksgiving, present your requests to God." But he doesn't stop there with instructions, he also wrote, "And the peace of God, which transcends all understanding, will guard your hearts and your minds in Christ Jesus."
Jesus also knew we would struggle with feeling anxious, it's why he gave us the gift of Matthew 6:25-26:
"Do not be anxious about your life, what you will eat or what you will drink, nor about your body, what you will put on. Is not life more than food, and the body more than clothing? Look at the birds of the air: they neither sow nor reap nor gather into barns, and yet your heavenly Father feeds them. Are you not of more value than they?"
Look out your window. There are millions of birds out there. Not one of them sows, reaps, or worries about food or clothing. If God can care for them, how much more will he care for you and me? God has given us healing from anxiety through the gift of therapy, self-care, medication, prayer, and Jesus is the key. We can go to him with our worries, even when our hearts feel unsettled about our lives, no matter what is weighing us down. Even when we doubt or stress, we can acknowledge our sin.
Bible Verses to Calm Anxiety
Whether you're worried, stressed, or have been diagnosed with anxiety, God provided words of comfort within the pages of the Bible. His words are like a warm blanket on a cold winter day. It provides peace and healing. Here are six of my favorite scriptures. Otherwise, you can visit iBelieve for 20 Psalms to Calm Anxiety.
Jeremiah 29:11: "'For I know the plans I have for you," declares the Lord, "plans to prosper you and not to harm you, plans to give you hope and a future.'"
Isaiah 41:10: "So do not fear, for I am with you; do not be dismayed, for I am your God. I will strengthen you and help you; I will uphold you with my righteous right hand."
Psalm 27:1: "The Lord is my light and my salvation—whom shall I fear? The Lord is the stronghold of my life—of whom shall I be afraid?"
Psalm 55:22: "Cast your cares on the Lord and he will sustain you; he will never let the righteous fall."
Deuteronomy 31:6: "Be strong and courageous. Do not be afraid or terrified because of them, for the Lord your God goes with you; he will never leave you nor forsake you."
Isaiah 41:13-14: "'For I am the Lord, your God, who takes hold of your right hand and says to you, Do not fear; I will help you. Do not be afraid, for I myself will help you,' declares the Lord, your Redeemer, the Holy One of Israel."
How to Calm Anxiety in a Biblical Way
Just as those who are familiar with the steps of AA, the first step to combating stress is admitting there is a problem. Sometimes it's not easy to admit and you're barely hanging on by a thread, but admitting we feel stress frees us from feeling trapped. However, it requires that we get honest with ourselves. Ignoring stress or pushing through it will have major negative consequences that will manifest in ways we won't expect or aren't equipped to handle. It requires humility and going to God. Psalm 32:2 says, "Yes, what joy for those whose record the Lord has cleared of guilt, whose lives are lived in complete honesty!"
Once we admit there's a problem, we can get help whether it's making an appointment with a doctor and Biblical counselor. The next step is to evaluate the things in your life that brings calm and toss out whatever brings chaos.
The next step is to organize your schedule in order to get up early and spend time with Jesus. This step is vital. We must exchange whispers with Jesus before shouts with the world. Take this time to journal and bring your thoughts, worry, and cares before him. Spend time in his Word and soak in the scriptures. Breathe deep and trust him. Transfer your anxiety to God and place your concern where it belongs: on the things of God.
The next step is to develop a routine where you ground yourself in nature and exercise. I often go for a jog because it gets me outside where I can take in God's creation. It also cleanses the body of stress and produces a powerful chemical serotonin–the feel-good chemical our brains need.
These practices will help recalibrate our spiritual, mental, and emotional responses to stressors that disrupt the equilibrium in our lives. Yet, we can let stress have a positive impact on our lives too. The first indication of stress can serve as a warning that we are not leaning on God as we should. Remember we serve a mighty God and he genuinely cares about the little things and big things in our daily lives.
Photo credit: ©Getty Images/AaronAmat
---

Heather Riggleman is a believer, wife, mom, author, social media consultant, and full-time writer. She lives in Minden, Nebraska with her kids, high school sweetheart, and three cats who are her entourage around the homestead. She is a former award-winning journalist with over 2,000 articles published. She is full of grace and grit, raw honesty, and truly believes tacos can solve just about any situation. You can find her on GodUpdates, iBelieve, Crosswalk, Hello Darling, Focus On The Family, and in Brio Magazine. Connect with her at www.HeatherRiggleman.com or on Facebook.